Channing Tatum Magic Mike XXL
Cast: Elizabeth Banks, Channing Tatum, Joe Manganiello, Amber Heard, Matt Bomer, Jada Pinkett Smith, Adam Rodriguez
Director: Gregory Jacobs
Genre: Comedy, Drama
Rated: MA

Synopsis: The continuing story of male stripper, Magic Mike.

Magic Mike XXL
Release Date: July 9th, 2015
About The Production
Who's Ready for an Encore?

The guys who wowed audiences around the world in the rousing hit 'Magic Mike" are back. This time, they're turning up the heat and taking it on the road – with a revealing new story, a fresh perspective on the future and a bigger, bolder set of some of the hottest and most exciting dance moves ever captured on the big screen.

Three years after Mike Lane quit the stripper spotlight for a different kind of life, he's come to realise he traded one grind for another. The business he launched isn't exactly crushing it, and the girl he thought was the one…wasn't. But it's more than that. Channing Tatum, who reprises the title role and again serves as a producer on 'Magic Mike XXL," explains, 'You definitely get the sense that something vital is missing. He's just not -switched on' the way he was when he was dancing."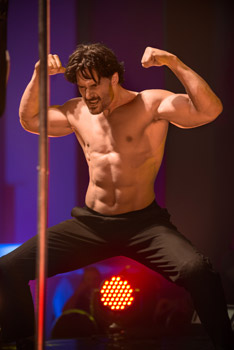 For Mike, it was never just about the money. Or the women, or the parties, or the fame. It was his passion. And the crew he left behind? They were the best friends he ever had.

Describing the new story, Channing Tatum says, 'The first movie was more about him rejecting that life because he feared maybe it was holding him back from seeing what else he could do. But now that he's stepped away and some time has passed, he remembers everything that was good and cool and fun about it and, most of all, about the guys who were on that wild adventure with him. It might not have been perfect and neither were they, but he loved those guys and they had some great times. Mike has been working very hard since the closing frame of the first movie, and we catch up with him at the point where he realises he needs a little bit of that old mojo. He needs some of that crazy life to shake things up for him again."

It's time to get out there and have some fun, doing what he does best. So, when the former Kings of Tampa look him up on their way to the stripper convention in Myrtle Beach – an event that is every bit as outrageous as it sounds – Magic Mike can't resist. He's in.

'Magic Mike XXL" director Gregory Jacobs echoes the sentiments of moviegoers around the world when he says, 'I wanted to know what happened to these guys. I love these characters, and the possibility of following their story was something that really intrigued me, plus the aspect of Mike reclaiming his bond and his friendship with them, his realizing that he missed them and that they missed him, too. I felt it would be great to get the band back together and make a road trip movie."

Though purely fictional, some of the elements and atmosphere of Mike's world are inspired by Channing Tatum's own experiences from his early days as a dancer, and not all of it could be contained in one telling. 'One of the things Channing originally brought up was his trip to a stripper convention back in the day," says screenwriter Reid Carolin, who, along with Nick Wechsler, Gregory Jacobs and Channing Tatum, also returns as a producer on the sequel. 'We tried to work it into the first movie, but it's such a big set piece that it was a story unto itself."

As happy as the characters were to get the show on the road, so were the actors who portray them. 'There was never a dull moment," states Joe Manganiello, reprising his role as Big Dick Richie (BDR), alongside Matt Bomer as the picture-perfect Ken, Adam Rodriguez as Latin sensation Tito, Kevin Nash as wild-man Tarzan, and Gabriel Iglesias as their freewheeling MC, Tobias. 'When we were cast in the first movie, none of us had a clue we would have this kind of chemistry, but it didn't take long. There was some kind of providence in assembling this group. It just works. Gregory Jacobs has a great heart and I think that sensibility really lent itself to this script, which is essentially about bros bringing out the best in each other and having a good time."

Longtime producing team Channing Tatum and Reid Carolin, who have lived with some of these ideas germinating for years, long before the first film was even conceived, would concur. 'Gregory Jacobs was so focused and yet so open to us as creative partners from the very beginning," says Channing Tatum. 'There were countless hours spent turning over ideas and bringing this thing together. He completely understood that what would keep this story going was these guys, these characters we created but had really only scratched the surface of who they were."

Consequently, while showcasing the tight group dynamic, 'Magic Mike XXL" also plays up their individual personalities and talents to a greater extent. The cast also got the opportunity to demonstrate their comic timing, as the story takes them from a rowdy reunion in Tampa to some hilariously bumpy but rewarding detours through Savannah on their way to the big event.

Says Gregory Jacobs, 'It's Mike's journey but it's also a journey for all of them. We spent a lot of time fine-tuning and weaving each one into the story because it was important to all of us that the other characters were well developed and that everybody had his moment to break out and shine."

'Everyone took the letters XXL to heart," says Matt Bomer, who additionally makes his big- screen singing debut in the film. 'We put everything into our performances because so much of what this movie is about is the culmination of this one last ride these guys want to share. They want to go out with a bang so that, whatever happens after this, they can say, -We closed that chapter on a high note.'"

The filmmakers also amped up the volume with new characters that introduce unexpected challenges and directions. Amber Heard is the elusive Zoe, a photographer who catches Mike's eye; Andie MacDowell is Nancy, an uninhibited Southern Belle who might have something BDR had given up hope of ever finding; Elizabeth Banks is Paris, who must be convinced to allow them a place on the convention bill; and Jada Pinkett Smith is Rome, a woman from Mike's past.

Rome is now the impresario of a one-of-a-kind exotic entertainment palace, which takes them down a rabbit hole of possibilities that are nothing short of inspiring and brings a fresh focus to their performances. Likewise, Jada Pinkett Smith, who had never been to a strip club before, says, 'When I saw how exhilarating it was to be with other women in that environment and see how much joy they were getting from celebrating these beautiful men and really exploring that primal nature within us, it was an eye-opening experience for me."

'Rome's club is so far removed from anything they know, they come away from it realising that they all have something unique to offer," adds Adam Rodriguez.

Rome's stable of talent includes Donald Glover as the romantic charmer Andre, with a gift for song; NFL Super Bowl Champ-turned-entertainer Michael Strahan as Augustus, who infuses raw athleticism into his act; and dancing phenom Stephen -tWitch' Boss as Malik, who displays his virtuosity in a solo before later joining Mike in a show-stopping performance that takes it to a whole new level. 'This is three years later so you can't go backwards," Stephen tWitch Boss emphasises. 'You can't stay in the same place. You have to do more, and do it better, and every single guy in this movie committed to that and went for it."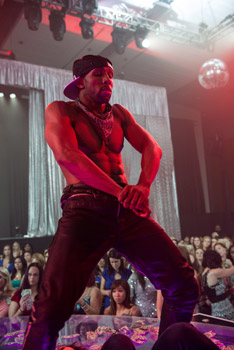 'Although it's a sequel, -Magic Mike XXL' stands on its own as a road trip and a dance experience that I believe will surprise and entertain at every turn," offers producer Wechsler.

Knowing they'd have to seriously step it up on every number while retaining what audiences loved about 'Magic Mike," the filmmakers welcomed back premiere choreographer Alison Faulk. Also returning were production designer Howard Cummings and costume designer Christopher Peterson, who advanced and enhanced the venues and wardrobe palette to accommodate the three-years-later time frame in a way that didn't forget who these guys are and where they came from.

Steven Soderbergh, director of the first film and the executive producer of 'Magic Mike XXL," once again fulfilled the dual creative roles of cinematographer and editor.

Opting overall toward naturalism and practical light, Gregory Jacobs says, 'Because there was a palette established on the first movie, I didn't want to deviate from it too much but still wanted to give this one a different feel and mix it up visually. For one thing, the camera moves more, so there is an evolution in the style, especially at the convention."

Such was the camaraderie on set that actors who had wrapped their day often stayed on late into the night to watch and encourage others through their numbers. Says Wechsler, 'It was like coming back to summer camp and seeing all your friends; everyone wanted to do that," 'They responded to the story and, once on board, their bond ensured they would work hard to be the best dancers they could be. The fun you see these guys having on screen is authentic. They just dig each other."

Bringing all that natural energy, kinship and excitement to the screen, Jacobs concurs, 'It really was a locker room on wheels."

Welcome back, Brother

Production began in Savannah, Georgia, and included locations in and around Savannah and Tybee Island, Georgia, as well as Myrtle Beach, South Carolina, for a taut 30- day schedule of principal photography. But preparation began months prior to that, as the principals worked on their stamina, strength, timing and dance moves, whipping already toned bodies into possibly the best shape of their lives.

It was vital that the dance routines were not only original, sexy and breathtakingly intense, but integral to the story and the characters. Jacobs affirms, 'We wanted the dances to connect thematically to each of the guys and reflect some kind of character development with a big payoff at the end; they couldn't just be spectacular moments that didn't relate to anything."

Alison Faulk and assistant choreographer Teresa Espinosa factored in thoughts from the director, Channing Tatum, Carolin and the cast, as well as music coordinator Season Kent, to tailor every sequence, beat by beat, to each actor's role and skill-set. 'Channing Tatum, honestly, has the most incredible ideas; he's so instinctual and a lot of it comes from him," Alison Faulk says. Offering a couple of examples, 'Adam plays on the machismo element and he's athletic, so we challenged him with some hip-hop moves and a kip-up, which is a kind of full-body rising movement from the floor that requires a lot of abdominal strength. Kevin's strength is his theatrics so we showed that off – along with his legs. His muscle definition goes all the way up his thighs so our costume designer, Chris, put him in a cape and really short shorts."

Alison Faulk's scripted direction was often quite specific. But not always, as she laughingly recounts, 'Reid would sometimes write a description of what a dance entailed, for example, Joe Manganiello's scene in the mini-mart would read, -Then he pours water on himself and rips his shirt off.' But for Channing Tatum's big number, it was more like, -And then the most insane routine in the history of cinema occurs.'"

Carolin responds, 'We'd all go over the broad strokes together, and then, when we went into the dance studio later, 90 percent of what we saw would be exactly the fantasy of what we had hoped it would be. The other 10 percent would present possibilities of another way to go, and that might send me back to retool a scene. It was a collaborative process because these routines are such an important part of the story."

Channing Tatum lent his expertise, working closely with Alison Faulk and Gregory Jacobs to craft the most powerful dance performances, not only for himself but for all the roles – a process that could have been far more awkward if not for the fact that he and the choreographer share a longtime association. 'We spent hours in a room, trying to figure out the right dance moves," he says. 'We were saying things like, -Don't put your crotch here; put it more over here.' It was ridiculous."

Their dedication was evident throughout, starting with the first beats of Channing Tatum's opening number, a stirring freestyle solo that Mike executes in the garage where he makes furniture, triggered by Ginuwine's 'Pony" on the radio. As Magic Mike, it was his signature song, and hearing it still sets his body irresistibly in motion. Alone, he moves seemingly for the pure pleasure of it, ingeniously incorporating the drills and sanders of his trade while gliding across workbenches and spinning off chairs as the music guides him – perhaps reminding himself that dancing is still a part of who he is.

Not that there was any doubt. 'Channing Tatum's performance is unbelievable," Gregory Jacobs states. 'It's really impossible to take your eyes off him when he starts to move. And it's there, in that first dance, when he hears that song and the call of this trip is so strong that he can't pass it up."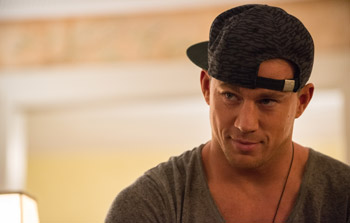 The guys then officially kick things off with a visit to drag-queen night at the fictional Mad Mary's in Jacksonville, featuring real-life drag performer Vicky Vox as Miss Tori Snatch. It's a riotous free-for-all that sweeps everyone onto the stage in a voguing wave – including Tobias, in   platform heels, ruffled sleeves and a fruit-laden headdress that would have done Carmen Miranda proud. 'The deal is, they're going to dish out some money to the winner, so Tobias gets inspired," comedian Gabriel Iglesias sets the scene. 'After the first film, I told them, -Hey, whatever you want me to do in this one, just let me know…as long as I can have a fig leaf or something.' We need to keep certain things a secret."

Production designer Howard Cummings used an existing strip club whose owner didn't want to close during peak hours. So they converted it into the anything-goes Mad Mary's during the day for rehearsals and shooting, and relinquished it to the locals at night.

As the festivities spill over into a beach party, illuminated mainly by car headlights, Mike has his first of several chance meetings with Amber Heard's Zoe. An intriguing young woman with a flair for candid photography, Zoe is someone he'd like to learn more about, but, for the moment, she gives him only a smile and something to think about. 'What I like about the way these two interact is that they don't follow a traditional trajectory of -boy meets girl, boy chases girl,'" Amber Heard observes of their keep--em-guessing interplay. 'It's not about that. We get the impression that they have something to impart to each other which is not possible in their first meeting, though they're drawn to each other."

The night also brings an unspoken friction between Mike and the usually laid-back Ken to a flashpoint, prompting Kevin Nash to quip on screen, 'It's always the pretty ones" – one of many ad-libs the actor deftly landed, to the delight of his comrades. 'I couldn't stand next to him because he'd chime in with something like that off the top of his head and make me laugh," Matt Bomer admits. 'It was the combination of the Tarzan character with Kevin's deadpan delivery and his sheer size that just cracked us up."

The cast credits director Gregory Jacobs for fostering an atmosphere that encouraged banter, as well as allowing them to help develop characters who were introduced in the first film, and who we are getting to know a little better this time. 'Looking back, you can see the growth of the group," says Nash. 'At the same time, when we're in our comfort zone, it's like we're back at camp and everyone wants to party with their buddies for as long as possible."

But as much as they have changed, Mike points out that those changes have not found their way into the act, which, as good as it is, features choreography imposed on them years ago by their former manager. Why not create something new? If this is their blow-out performance, why not embrace the risk and the adrenalin and do it on their own terms?

It's Big Dick Richie who takes the plunge first, with a dance that will likely impact how audiences feel about gas station mini-marts forever, not to mention chips and water bottles.

Making use of the non-traditional setting and props for an immediate, organic feel, Faulk focused on Joe Manganiello's many strengths. 'Joe Manganiello is full-out," she remarks. 'No matter what he's doing, he's doing it completely, and he moves fast. He's all about power and strength and precision, and striking beautiful shapes with his body, and he got really good at sliding and body rolls. He came to us during rehearsal and said he'd been practicing a dolphin dive, and wanted to work it into the act."

Joe Manganiello also injected a fair amount of humor into the playful scene.

The way Gregory Jacobs staged the sequence, BDR's buddies eagerly follow the action from outside the store windows while he puts on a one-man show for perhaps the luckiest clerk who ever stepped behind a counter, a decision that reaped rewards beyond what the director expected. 'I knew I wanted to have the guys outside cheering him on but didn't realize how important it was going to be to cut to their reactions as he got into it, and how much it would come alive in the moment, because they were genuinely overjoyed watching him do that," he says.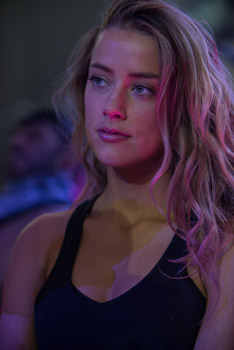 Domina: Redefining Possibility

If it's change they're looking for, Mike, Ken, BDR, Tito and Tarzan are headed in the right direction with an unscheduled stop at Domina, Mike's pre-Tampa stomping grounds, though it's nothing like he remembers. A private club in a gated Victorian mansion with a hint of classical Greek, it bears an elegantly rendered 'R" for its proprietor, Rome. Inside is another realm, at once dazzling and sensual, earthy and refined.

The sprawling compound is composed of two buildings that appear side-by-side but were actually found eight blocks apart in different Savannah neighborhoods: one an occupied family home from which production borrowed the first floor, and the other an empty house on the market, which required completion of renovations and landscaping. A restaurant adjoining the empty house, Elizabeth on 37th, allowed them to break through a wall to create an impressive archway through which Rome escorts her guests. Its interior décor is eclectic and sumptuous, with patterned wall coverings, rich draperies, glittering drapes and interesting details like a panther statue that figures in one of the dances, while the exterior offers sensual play of light and shadow under a canopy of trees.

'This is Rome's interpretation of what she believes the world should look like – an equal playing field of feminine and masculine energies and a place where men and women can explore and enjoy those energies together," offers Jada Pinkett Smith. 'She's not selling sex; she's celebrating beauty. It's a place where women have the opportunity to enjoy their fantasies in the way they choose, rather than the way in which people tell them they should. It brings what's in the dark into the light. Nobody's getting hurt. Nobody's getting exploited. We're able to come together as adults and bask in this energy and have a good time. That was my foundation for this character and what she does."

Rome's attitude encompasses one of the film's main themes. Channing Tatum explains, 'It's about these five guys not doing what so many others are doing in the world of male stripping. The idea with -Magic Mike XXL' was to have them discover for themselves what's hot and fun and sexy, and a huge part of that is by asking women what they want, instead of telling them it's a cowboy in ass-less chaps. The beauty of Rome's domain is that it's designed to be a unique experience. You walk from room to room in this traditional southern house and you don't know what you're going to find."

It's a concept all the more spot-on considering the evolution of the part. As Jada Pinkett Smith recalls, 'When I first got a call from my agents, they said, -Just listen. There's a role in 'Magic Mike XXL" that's written for a man but Greg Jacobs and Channing Tatum would like to talk to you about it.' In that first script, Rome was a guy. And an interesting guy, at that. But I loved the possibility I saw with the character and the opportunity to work with Reid and Greg to figure out who this woman was who would have this club. That was really intriguing for me."

'Jada Pinkett Smith was a revelation," says Gregory Jacobs. 'We introduced that character but she made it special. And because her Rome is so strong, feminine and smart, you buy the backstory of her with Mike in a huge way. She's a jolt of electricity when she enters the story in the second act."

Rome also brings her headliners to the party: Andre, Augustus and Malik, played, respectively, by Donald Glover, Michael Strahan and Stephen -tWitch' Boss. Not a traditional strip-club act, Andre, in an open jacket over his bare chest, gets hearts racing by greeting fans with a romantic song they know, followed by a piece he composes on the spot for whichever lucky woman Rome has singled out for some special attention. Getting inside the character, Donald Glover says, 'He's a guy who sees himself as a healer. Not that he doesn't want to meet some ladies and -get down,' but I think he really sees himself as providing a service for women. It's not really about the sex as much as it is the fantasy."

Donald Glover was cast after Channing Tatum heard him perform a freestyle rap on a radio show and brought him to the attention of 'Magic Mike XXL" casting director Carmen Cuba. He wrote the piece his character sings as an impromptu tribute to a shy club patron.

Andre also motivates Ken, who has been privately nurturing his own vocal aspirations. Says Donald Glover, 'Andre opens him to the possibility of working song into his act since it's one of his strongest talents, in keeping with another of the movie's themes, which is recognizing what you're good at and what you really want to bring."

Michael Strahan's casting had a similar spontaneity, harking back to an appearance Channing Tatum made to promote 'Magic Mike" on Michael Strahan's first day hosting ABC's 'Live with Kelly and Michael." Says Carolin, 'They got to talking about stripping and Michael Strahan said he'd do it if he had the chance. Channing said if there's a second movie he should be in it, and Michael Strahan agreed. Three years later, he was as good as his word. He did it, and he was fearless."

'I didn't know what to expect," says Michael Strahan, making his feature film debut. 'When I looked in the mirror, I didn't even know myself anymore. There were a whole bunch of hot women there, but the guys were stealing the show."

Alison Faulk initially envisioned a lower-impact, sensual massage sequence for Augustus but, after viewing Strahan's Hall of Fame highlight reel, her choreography escalated to an athletic exhibition that made full use of his killer physique. 'Nobody came in here half-stepping," attests Kevin Nash, another actor who made the successful transition from the sports world. 'Michael looked like he was ready for training camp. He was in good shape and he gave it everything he had. There's a scene where he leaps over a table and I'm thinking, -That dude could still play in the NFL.'"

The filmmakers knew from the start there would be a role for tWitch. Once again, Channing Tatum had a hand in bringing him aboard, as an admirer of his hip-hop and 'popping and ticking" technique. A fan of the first film, tWitch had been looking forward to a sequel and perhaps a chance to participate, saying, '-Magic Mike' was close to my heart. When they asked if I'd be interested, I said -Absolutely!'" It's a comedy about male exotic dancers, but what people are also going to witness is art. We really infuse the art in there. It's a lot more than taking your shirt off. Learning choreography reprograms your body to move in different ways and it's incredibly difficult. I've been doing it for 16 years and my hat is off to every actor in this movie." Though he and Tatum worked with Faulk for their grand finale, tWitch's solo at Rome's was entirely his own, delivered with a passion and inventiveness designed to put the fear into Mike. Says Channing Tatum, 'Watching Malik makes Mike realise that as much as he might have thought of himself back in the day, if this is the competition, he'll have to prove himself again. When Rome calls him out, in a room full of women who have a strong opinion of whether or not you can actually dance, he finds himself on that terrifying precipice. He either has to jump and go through the fire or back out and fade into the background."

Of course, Mike chooses the fire.

As Adam Rodriguez observes, 'The last time you do something ends up being the first time you start moving in another direction, and that's the way this odyssey is heading."

Similarly, for each one of the former Kings of Tampa, Gregory Jacobs notes, 'Rome's club and the performances they see there really inspire them and make them realise what is possible, and what they need to bring to their own routines and to the convention."

Be Careful What you Ask For

Another unscheduled but equally inspiring detour takes them to a formal-looking plantation house owned by a very informal woman: Nancy, played with authentic southern charm by the South Carolina-born Andie MacDowell, whose breakout role was in Steven Soderbergh's now-classic 'sex, lies and videotape." Says Gregory Jacobs, 'She was the first person I thought of when this character was written."

Recently divorced, unabashedly flirtatious and a mite inebriated, Nancy is toasting her newfound freedom with some girlfriends, and they couldn't be more delighted when these five handsome hunks in shorts and sleeveless shirts enter the floral-wallpapered parlor like gladiators taking the arena. For Andie MacDowell, 'It was a totally different experience than I've ever had in my entire career; a lot of big, crazy, talented male energy."

Pressed to introduce themselves to these fine ladies, the guys go surprisingly deep, revealing information they didn't even know about each other, and which will ultimately figure into their stage personas in ways they don't yet fully realize. Mike makes another serendipitous connection with Zoe, but the evening's real winner might be BDR.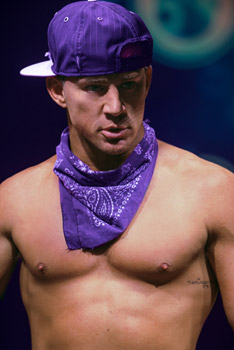 Playing at being mysterious, Joe Manganiello offers, 'My character has had some difficulty romantically, that has become a source of concern for him. Let's say it takes the right kind of woman to handle a guy like Big Dick Richie."

'And Nancy says, -Bring it on,'" Andie MacDowell counters enthusiastically. 'She's primed for a good time and she may have finally found the right man."

Burning Down the House

Everything comes to a climax at the stripper convention.

In a venue where many roads will meet, Mike and Zoe reconnect again in a potential 'third time's the charm" scenario, and Mike encounters an old friend in the form of the show's self-assured master of ceremonies, Paris, played by Elizabeth Banks, the convention gatekeeper who has her doubts about whether or not Mike still has the magic. Paris also proves she can still surprise him when Mike discovers they aren't the only attendees with an interesting past.

But what the convention really offers is the opportunity to spotlight each member of the talented ensemble with thrilling individual routines on multiple platforms, leading up to a spectacular number everyone has been waiting for: Channing Tatum and tWitch, matching their combustible energies in a dance duet, on opposing sides of a giant picture frame bisecting the main stage.

Costume designer Christopher Peterson says, 'We wanted a graphic look so when you saw the mirroring movement it was very clear, so we went with black, white and silver. Nike came up with a sneaker for us made of Scotchlite, a reflective fabric made by 3M that's used in road signs. We embellished their jeans with strips of the same material so that when the strobe lights hit, they flash, and when they move their legs in a particular way, you really catch that movement, not only because of the stripe defining the leg but also the light it's kicking back at the camera."

The number was Channing Tatum's idea, based partly on the fact that he and tWitch are good physical counterparts and that it would be strikingly different. For their characters, Mike and Malik, it's a suitable melding of partnership and competition.

'It's something I've never done before, performing with another person as their reflection, not to mention dancing with Channing Tatum, which, in itself, is pretty crazy," says tWitch. 'While your partner is moving to the right, you move to the left, and you have to match each other's speed and other nuances." The dancer concedes it also marked another passage in that 'it's the first time I've danced in such little attire. So, not only was I worried about getting the steps and the timing right, and making sure the angles were good for the camera, but I knew that by the end I'd be standing there with my butt showing. Solidarity was the only thing that helped. I'd look to my right and left and there were my brothers standing there the same way."

At least he knows it will be appreciated. 'I think we could have charged admission for people to just to watch Channing Tatum and tWitch rehearse," relates Gregory Jacobs, who staged the number before a room full of enthusiastic extras. 'They're both such incredible dancers, the performance was amazing and the response was thunderous. When the dance finished and the pants came off, and they were standing there in thongs, it was the loudest roar I've ever heard."

All the characters hit that venue with newfound confidence and fervor, because they're doing it their way. The old routines are gone – out the window in more ways than one – and each man brings to the stage a personalized performance mixed from his own style, experience and imagination, and served up hot.

Even their clothing reflects a new individuality, though Peterson remarks, 'These guys are so good-looking, I could put them in trash bags with belts and look like a genius." Gone is the standard stripper fare and in its place are costumes the group had to put together themselves, while creating their routines. For example, artistic Tarzan uses a tablecloth from the hotel to fashion a dashing cape for a fantasy bit Peterson calls 'Elizabethan filtered through International Male"; budding Fro-Yo entrepreneur Tito launches a flavor-themed routine with a twist on an ice cream vendor's uniform; and the romantic BDR makes an elegant entrance in a groom's tuxedo that tears away to reveal his untamed alter-ego in a segue to the wedding night, fueled by Nine Inch Nails' pulsing 'Closer."

The convention is also where Ken stakes a claim on his singing career with a soulful rendition of D'Angelo's 'Untitled (How Does it Feel)," a moment that similarly marks Matt Bomer's movie singing debut. 'It was a crazy dream come true," he says, before describing the idea's inception. 'Between shots on the first movie, we'd go out and entertain the extras. One day, Channing handed me a microphone and asked, -What do you do?' and Joe, who I've known since I was 18, said -Sing something,' so I did it. Channing remembered that, and when we started on the sequel, he felt I should sing. It was an unforgettable experience, and I'm so grateful that Greg let everyone bring something to the table from their own bag of tricks."

'It was a blast, watching these guys perform. We were all rooting for them," says Jacobs, who captured the finale footage in approximately four days and admits, 'I loved filming those dance sequences. We didn't need to do a lot of editing because they were all so good, it was often more about trying to cover the space and not get in the way."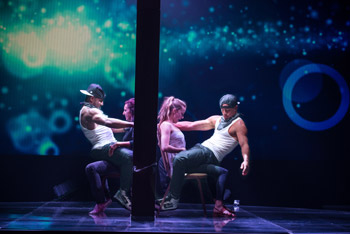 Though Channing Tatum's original experience of a stripper convention was more of a day-and- night dance marathon in a very large strip club, the director opened it up by selecting a convention center in Savannah. Seeking a more environmental, theater-in-the-round approach to sync with the idea of everyone supporting each other, production designer Cummings constructed multiple stages around a central stage, through which their MC would transition from one spotlight to another.

The space's seating capacity allowed for a host of approximately 900 extras which, cast and crew agreed, 'raised the energy level in a very positive way. They made us feel like rock stars," Adam Rodriquez proclaims.

'It was electrifying, deafening, it made the hair stand up on the back of my neck," says Joe Manganiello. 'I have never witnessed anything like it. It was amazing to see all those women cheering each routine. I have to give credit to the choreographers who came up with routines so good that audiences couldn't help but react. And it's a real tribute to Greg, who put the whole package together in such a dynamic way that makes you feel like you're at a live show."

The cast's genuine, supportive and playful camaraderie absolutely shone on screen. The hours they logged together working, training, rehearsing and just hanging out became an accurate reflection of the bonds of friendship depicted in 'Magic Mike XXL."

For Channing Tatum, the core of the film is 'about guys, doing guy stuff, and trying to figure out what women want. This time, you get into them a little more as people and understand who they are. Yeah, they're all a little crazy. They're just trying to get on with life and have a blast, and a lot of it is hilarious and ridiculous, but that's how a lot of friendships are.

'They're going out on this one last night and you know it will end with everybody on stage in thongs," he continues. 'These guys like walking on the edge and knowing it's there. But they all love each other and no one will let any of the others completely fall off, and you end up loving them for that."

'I hope audiences will feel as if they went on a ride with these guys, and that it was a fun, funny and wild road trip with good friends," Gregory Jacobs concludes. 'Most of all, I hope they find it as joyous an experience to watch it as we did to make it."


Magic Mike XXL
Release Date: July 9th, 2015