Amy Schumer Trainwreck
Cast: Amy Schumer, Colin Quinn, Devin Fabry, Carla Oudin, Ryan Farrell
Director: Judd Apatow
Genre: Comedy
Rated: MA15+
Running Time: 125 minutes

Synopsis: Having thought that monogamy was never possible, a commitment-phobic career woman may have to face her fears when she meets a good guy.

Trainwreck
Release Date: July 23rd, 2015
About The Production
Don't Hold Back: Trainwreck Begins

While driving to work and listening to The Howard Stern Show, Judd Apatow grew intrigued by a young stand-up comedian named Amy Schumer, whose Inside Amy Schumer on Comedy Central had debuted in 2013 and became a hit with audiences and critics alike. On the radio show, the comic who is known for her ribald routines and her program's hilarious, caustic sketches"ones that frequently upend accepted social norms"discussed her serial relationships, sex life, family and her father's battle with multiple sclerosis. Judd Apatow grew more curious the longer that he listened and found her dark humor fascinating.

The filmmaker, whose movies have helped to make stars out of comedic talent from Steve Carell, Leslie Mann and Jonah Hill to Seth Rogen, Kristen Wiig, Paul Rudd and Jason Segel, was moved by what he heard and found himself unable to leave his car until Amy Schumer's interview was over. 'She was hilarious but was being very candid about relationships," recalls Judd Apatow. 'I thought this was someone who would be great starring in a movie and telling her story. Amy Schumer's very honest and vulnerable, and that's my favorite type of comedy. It's very human."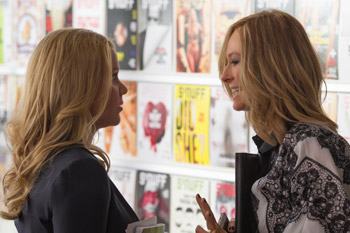 After listening to her entire interview, Judd Apatow reached out to Amy Schumer and suggested that they meet. 'I couldn't sleep the night before," Amy Schumer shares. 'I was too excited to meet Judd Apatow because Knocked Up changed my life." The longtime fan of the director/producer's work knew that the next day could mean everything to her burgeoning career.

Fortunately, that meeting, and the subsequent ones, went very well for all involved. Barry Mendel, who has collaborated with Judd Apatow on This Is 40, Funny People and Bridesmaids and has been nominated for Academy Awards® for his work on Munich and The Sixth Sense, explains that he was as impressed as his fellow producer. 'We met Amy Schumer, and she was just super-intelligent and fun, and seemed like the type of person Judd likes to work with," he recounts. 'If somebody is really good and makes him laugh, he'll seek them out and meet them. He wants to hear what they have to say, and ask, -What do you want to write about?'"

Amy Schumer's initial idea for a script was a high-concept comedy, but Judd Apatow worked with her to explore another direction, one that has given him so much success and many audience members catharses of their own. 'One day, I said, -I think it would be better for you to write something more personal,'" Judd Apatow states. 'We started talking about her life, her relationships and what she thought was holding her back from having more successful ones. We realised that's what the movie should be all about."

The comedian's decision to get more intimate with her writing changed everything, according to Barry Mendel. He says: 'When Amy Schumer sent in her first set of pages, Judd was working on five or six projects at the same time. He said: -There are more jokes that make me laugh on the first page of this than in all my other projects; her writing is so good.' It was clear how great a writer she was. She was just on fire."

Despite a demanding schedule for her Primetime Emmy-nominated and Peabody Award-winning television show, Amy Schumer dove head first into penning the first draft of what would become Trainwreck. 'We started meeting, and we wrote and rewrote," Amy Schumer recalls. 'If I finished the show at 7, I would go home and write from 7 to 10 on the movie."

As Amy Schumer's development collaboration with Judd Apatow got more satisfying and deeply creative, he decided to helm Trainwreck. This would mark the first time in the director's career that he would lens a motion picture he hadn't authored. 'I was having such a great time working with Amy Schumer, and I felt like we were in sync. It just occurred to me one day: -This would be a really fun movie to direct,'" Judd Apatow says. 'I haven't done that before. I've directed TV that I didn't write, but this just seemed right."

Although she was quite comfortable in the world of stand-up"having indisputably slayed televised audiences and her fellow comics during her inaugural appearance at a roast on Comedy Central"the first-time screenwriter admits that having a director of Judd Apatow's caliber agree to lens her first film was humbling. 'I didn't know that Judd was going to direct it until late in the game," Amy Schumer says. 'When I let it in that this was really happening, I cried like a one-year-old."

Amy Schumer gave herself permission to go very personal with her story and wove in elements from her own past struggles with familial and romantic relationships, as well as her internal battles growing up. Naturally, her film avatar would take every one of the real Amy Schumer's own experiences to the extreme. Her script told the tale of a young professional in Manhattan with a great job, a nice apartment and a guy she's seeing who is into her more than she is into him. Trainwreck's Amy Schumer lives the life of a modern woman with a social life governed by two simple rules for a fun night out: Don't give them your phone number and never, ever sleep over.

Her producers appreciated that their writer and star was delivering a character who could have been a stock one, but is instead so much more complex. 'Everybody knows somebody who's like Amy Schumer's character in this movie," provides Barry Mendel. 'They're the wild one who is probably not going to settle down. They're having a lot more fun than we're having, and they're unapologetic about it."

Admittedly not a model of moral integrity, straight-talking Amy Schumer considers herself a sexual girl who does what she wants, even if it means ending up doing the walk of shame among early morning commuters with whom she takes the Staten Island ferry. 'I would say she thinks she's happy, she thinks she's fine and nothing's wrong," adds Amy Schumer. 'From the outside we know this is really self-destructive, and this girl's not okay. But she doesn't know that."

Judd Apatow found this protagonist a fascinating one to explore in comedy. 'She's a person who maintains distance from people by having a lot of relationships and cheating on people and drinking and smoking pot," the director states. 'She's avoiding intimacy by having a lot of contact with a lot of people."

As does Amy Schumer, Trainwreck's Amy Schumer has a younger, married sister named Kim. 'Amy Schumer and Kim Schumer are as close as sisters can be but have just wound up on different paths," the comedian offers. 'Kim Schumer is married, starting a family and lives in the suburbs. She is throwing herself into that life, and Amy Schumer's sprinting in the other direction." Amy Schumer's real-world sister, Kim Caramele, meanwhile, is the actress' frequent collaborator and serves as associate producer on Trainwreck.

As well, the story mirrors Amy Schumer's life in the character of Gordon, the sisters' father, who is a former wild man and current live wire of his assisted-living facility. He supports Amy Schumer's freewheeling ways and sees in her the freedom he once had and deeply misses. In Trainwreck, Gordon has recently moved into a nursing home because he, as does Amy Schumer's real-life father, suffers from multiple sclerosis. When we first meet Kim Caramele, she is clearing out their father's house of his possessions, including his prized New York Mets memorabilia. Amy Schumer is having none of it.

Where this story diverges from real life, however, is the manner in which the sisters relate to their dad, who has long been divorced from their mother. 'Amy is the daughter who is doting over him and is concerned about him," says Judd Apatow. 'Kim went the other way. She got married very young and is still mad at her dad for cheating on their mom. So she keeps her distance and her boundaries with him."

When not caring for a father with a debilitating disease or carousing out on the town, Amy finds success at work writing puff pieces for the racy and snarky S'Nuff magazine. Still, she strives for more fulfilling assignments that would test her acumen as a serious journalist. Amy also hopes to please her demanding boss, who suggests that if the young writer plays her cards right, a better-paying job as executive editor might just be hers.

Still, our anti-heroine is less than thrilled when she's assigned to write a feature story about an up-and-coming sports doctor named Aaron Conners, who's about to perform an innovative knee surgery on famed former New York Knicks star Amar'e Stoudemire. 'She doesn't like sports, and the magazine thinks it might be a good article if she writes some dirt about athletes and their lives," Judd Apatow explains. 'Unfortunately for Amy, she falls in love with her subject."

Amy walks us through her character's introduction to the surgeon: 'Amy goes into this meeting picturing what she thinks a sports-medicine doctor would be, and it's not this guy. He's this adorable man who's unlike anyone that she's ever met. He's a sweetheart and he's funny, and she hasn't met someone who's her intellectual equal yet." Unlike the bar-hopping, frequently pot-smoking Amy, Dr. Conners lives a rigidly structured life, one without much experience with the opposite sex. 'Aaron is a brilliant surgeon who probably hasn't had a real relationship, maybe ever," Judd Apatow says. 'All we know is that six years ago he dated someone for five weeks."

The juxtaposition of the two characters would prove fertile ground for fantastic banter and an unexpected courtship. With the script in place, it was time to cast the players in the world of Schumer's doppelgänger and allow some of today's most incisive and brilliant fellow comics to join in on the fun.

Comics and Sports Stars: Principal Cast

As Amy completed the screenplay and worked with Judd Apatow and Barry Mendel on reaching out to their dream cast, she first considered the ideal actor with whom she could partner on screen. When Amy is assigned by her editor to write a S'Nuff story on Aaron Conners, a charming-yet-nerdy sports doctor, she is shocked to discover she may have met her soul mate. How does she react to meeting such a kind, funny, considerate guy who wants more than anything to be her boyfriend? Immediately she hightails it in the opposite direction.

To play the role of Aaron Conners, the filmmakers cast former Saturday Night Live star Bill Hader, who during his eight-year stint on the show created such beloved characters as Stefon and Vinny Vedecci and performed countless uncanny, hilarious impressions. Having recently starred in the independent film Skeleton Twins, Bill Hader has also appeared in memorable supporting roles in such Apatow films as Superbad, Pineapple Express, Forgetting Sarah Marshall and Knocked Up.

According to Trainwreck's director, the comic actor's casting was a long time coming. 'For years I've been trying to figure out a way to do a movie with Bill Hader as the lead," Judd Apatow says. 'Throughout the whole process, I thought he would be right for this part, and I hoped we would land there."

When first approached about the film, Bill Hader assumed he was being considered for the supporting role of Amy's brother-in-law, rather than for the role of Dr. Aaron Conners. 'I'm usually the guy walking in on the romantic lead and going, -Whoa! Hey, guys…sorry!' I'm never -the guy,'" Bill Hader attests. Still, he trusted his frequent director's thought process. 'Judd Apatow is so tapped into who is doing interesting things. So when he said he was doing a movie with Amy, I was like, -Yeah, of course you are!' Then, when I read the script, I was so surprised at how emotional it was."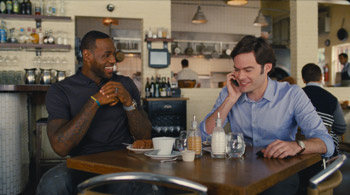 According to Bill Hader, a distinctive feature of Trainwreck is actually common to many Judd Apatow films"characters usually seen in supporting roles are at the very center of the filmmaker's stories. 'Any other movie would be starring Kate Hudson or Anne Hathaway, and Amy would be their best friend, like the drunk friend at work," he explains. 'Judd Apatow's like, -I want to do a whole movie about that woman and how self-aware she is and what her family life is like.'"

Once Bill Hader was cast, the script evolved to fit his sensibilities, and Aaron became a larger part of Amy's story. Bill Hader gives us some background on his character: 'Aaron is a guy who's an overachiever in the world of sports medicine. He wants to help people and does work with Doctors Without Borders, which is an organisation that he feels strongly about." Aaron meets Amy during a momentous time in the doctor's life, not long before he is scheduled to perform a cutting-edge surgery that he actually developed. 'It's the worst point in his life to meet and fall in love with someone like Amy."

Despite her misgivings about beginning a relationship, their mutual attraction proves too much for Amy to resist. Still, while Aaron insists that they are in fact dating, Amy wholly resists the idea. 'They sleep together, and he tells her, -We're boyfriend and girlfriend,'" says Bill Hader. 'That's something she's never had happen before in her life. She's trying to let him down easy by telling him, -We're working together; we shouldn't do this.' He's -No, no, no. We like each other. We're dating.' It's very scientific."

The other significant man in Amy's life is her grousing father, Gordon, who isn't quite sure how to apologise to his two daughters for the mess he made of their young lives. To play the role of Amy's charming-but-argumentative father, the filmmakers cast respected stand-up comedian Colin Quinn, known to many for his work on Saturday Night Live, and most recently, as writer of 'The Coloring Book: A Comedian Solves Race Relations in America" and star of several one-man shows on Broadway, including Colin Quinn Long Story Short. Remembers Judd Apatow: 'Colin Quinn was a comedian who I met through Adam Sandler when they were on Remote Control together on MTV in 1990, and he was always the funniest guy and so nice."

For Amy, bringing the comic onto the production was a homecoming of sorts, although she acknowledges that he initially resisted his being cast. 'Colin Quinn is one of my best friends and has been a total mentor," she explains. 'I've seen him give speeches about not sabotaging yourself and not getting in your own way in this business, and then when I wrote this role, and I said, -Colin Quinn, I want you to play my dad,' he was like, -Oh, I'm too young.' He didn't even want to audition."

Colin Quinn recalls the conversation: 'Amy came to me and said, -I'm doing a movie, and I want you to play my father.' I was like, -Alright, I'll just find a way to get out of that.'" He remembers telling the actress: '-Amy, why do you want to destroy your movie?' and she said, -No. I know you're right for it.' She was very insistent."

'My only reservation was wondering if he looked old enough to be Amy's dad," adds Judd Apatow. 'It was mathematically possible, so we did a screen test. We never read anybody else."

Confined to a wheelchair, Gordon pleads with his daughter to maintain her freedom and stop seeing the surgeon. According to Colin Quinn, Gordon tells her: '-You don't want to be around these dull people, these nerdy types who don't have fun.' He's concerned for her going straight. And he's also a little jealous because they have their special relationship." Amy is especially important to Gordon, because his younger daughter still resents him for having cheated on the girls' mother years before.

During pre-production, Colin Quinn researched his role by accompanying Amy to visit her father in his assisted-living facility. 'They were arguing over pot and DVDs and Netflix, and I just listened in," he says. 'Then I went by myself, and we hung out, just the two of us. I felt like we almost became friends. He was just telling me stories of his life and trying to give me things that would help me."

At the top of the list of actresses for the role of Amy's sister, Kim, was Brie Larson, who has garnered acclaim for such projects as Short Term 12 and United States of Tara. 'She's one of the great actresses right now in America," Judd Apatow commends. 'We didn't read anybody to do it. We just begged Brie, and she said yes. She brings a lot of warmth to the movie, but she's also very funny."

Amy Schumer found her on-screen sibling to be quite grounded. 'It just felt like there was a sister vibe right out of the gate," the comic says. Indeed, Brie Larson would play a character loosely based on Kim Caramele (née Schumer). As a frequent collaborator of her sister's, Kim Caramele was on set every day as Trainwreck's associate producer.

While the screen sisters are close, they have taken very different paths, according to Larson. 'Amy has decided to be very similar to Gordon on the surface," the actress says. 'She thinks that flakiness is funny, and it doesn't really allow you to get in that much trouble because you're always just skimming the surface. Then Kim goes in the opposite way, which is wanting ultimate security and dependence in every way possible, and getting the guy that she doesn't have to worry about cheating on her."

The core Trainwreck cast is rounded off by none other than Academy Award®-winning actress Tilda Swinton, who plays Dianna, editor of S'Nuff magazine and Amy's boss. Dianna explains to her staff that her mission is to create a magazine that teaches the 21st century male how to think, dress, eat and, last but not least, fornicate. For the editor, nothing is too outrageous for the pages of S'Nuff, which features articles with such salacious headlines as 'What's in Your Man Cave?" and 'What Your Phone Says About Your D**k."

The production team found that their dream Dianna was actually their first choice. 'When Amy Schumer was writing the movie, she described the character as looking like Tilda Swinton. So then we wondered if maybe we could get Tilda Swinton," Judd Apatow recalls. 'Tilda Swinton had told me years ago she'd love to be in one of our projects, so we asked her to do it. Luckily, it timed out perfectly."

'I'm here because I'm such a fan of Judd Apatow's and Amy Schumer's, so how could I miss this?" Tilda Swinton says. 'I want to see the movie, but to be in it is just a dream."

Tilda Swinton describes the character of Dianna"a brassy, no-holds-barred boss with a London accent that reeks of the British tabloid press"as a woman who has gotten around. 'She has learned to armor herself," Tilda Swinton says. 'There's pretty much not a thing she hasn't done, and she has grown a skin for every single adventure. And she's numb, she's completely sensation-free."

In fact, the white-blond Tilda Swinton is barely recognisable under the layers of makeup, fake tan and long dark-blond wig she wore as Dianna. 'The look was something I had a ball with: Judd Apatow said, -Go away and make something up that you want to try on,' which was a huge luxury," Tilda Swinton remembers. 'It was something that really tickled me. It's true that I've never actually been up that (tandoori tan/panda eye/hair flick) path before, but I suppose you've got to do it once."

Also a first for Tilda Swinton was working in the improvisational comic style favored by Judd Apatow. 'She's so smart and funny, and she had an incredible time," the director commends. 'When you watch the footage, she really is one of the greatest actresses you've ever seen."

The role of Aaron's best friend, meanwhile, was played by none other than the Cleveland Cavaliers' LeBron James, 11-time All-NBA star and winner of four NBA MVP Awards. Judd Apatow explains the logic of casting King James: 'Aaron's best friend in the world is LeBron James, and so, in the movie, whenever Aaron talks about his relationship problems, he's talking about them with LeBron James. We had an idea that this would be like the Bruno Kirby part in When Harry Met Sally, so, what if it just happened to be the greatest basketball player that ever lived?"

Bill Hader had worked with LeBron James in 2007 when the basketball legend hosted the season premiere of Saturday Night Live, and accompanied Judd Apatow to a lunch with LeBron James to discuss the part. 'Bill Hader and I went out to lunch one day with him to pitch this idea," Judd Apatow recalls. 'He was hilarious and totally got the joke."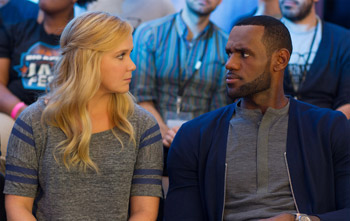 Although LeBron James had never taken on such a large acting role, he was game for the challenge. 'They said, -You're going to play yourself, and I told them that I can do that easily," says LeBron James. 'I can just show up and say, -I'm LeBron James. I play basketball. I can shoot some jumpers, and I can dunk.' They said, -No. You're actually going to be Bill Hader's best friend in the movie, and you're going to be a love doctor who helps him patch things up with his girlfriend.'"

In the comedy, LeBron James is far too interested in Aaron's life and his relationships. He's always the doctor, following up and trying to understand why Aaron's making certain decisions. Happy that Aaron has finally found a girlfriend, James is also extremely protective of his pal. Says the relatively new thespian: 'Amy is a bit of a trainwreck, and she sends my best friend, Aaron, through a collision course mentally, physically, emotionally and spiritually. But you got to go through pitfalls in order to get what you want, and that's the best part of this flick."

The entire production assumed that it would receive nothing but professionalism from the well-respected athlete, but they had no idea he could be so, so spot-on with his comic timing. Still, it was a bit humbling to realise with whom they were working. 'We had a fantastic time shooting this movie with LeBron James," adds Judd Apatow. 'It was funny, because while he was shooting every day, just in the chair next to us was the Babe Ruth of basketball."

Doting Husbands and Legends: Supporting Players

For the role of Kim's faithful husband, Tom, Judd Apatow called stand-up comedian Mike Birbiglia, who wrote, directed and starred in the acclaimed independent film Sleepwalk With Me in 2012. 'I said, -What's the part?'" Mike Birbiglia remembers. 'Judd Apatow said, -a boring husband guy.' I said, -Yes, I can play that.'" The performer muses: 'I didn't have to do a lot of research to be a boring married guy. It was pretty much my existence."

Judd Apatow knows that Mike Birbiglia is far too humble. The director calls him 'one of the great stand-up comedians of our time, and also a fantastic actor, writer and director."

Once cast, Birbiglia made much more out of the role of Tom than was on the page. 'Mike Birbiglia did such a beautiful job; he just made that role a whole other thing," Amy Schumer says. 'At first his name was Vinny, and he was a totally different guy. And then he came in just like Winnie the Pooh and made it the sweetest role ever."

Cheerful Tom is never far from his wife's side, whether on rollerblades or shadowing an intimate lunch between two sisters. Tom is also devoted to brainy Allister, his 11-year-old son from a previous marriage who is played by Evan Brinkman. Explains Larson: 'Allister is smart, has a lot of hobbies and is very ambitious and it drives Amy crazy because he's smarter than her and purer. It drives her nuts to see that in a kid."

'Evan as Allister was fantastic because we wanted him to be just slightly weird, but then also very sweet," adds Judd Apatow. 'He's a great kid, and so easy to work with. By the end, he was just as strong as any of the adults and is going to have a big career."

In Gordon's assisted-living facility, the cantankerous patient is watched over by Temembe, an African health-care worker. In Trainwreck, he is played by Cliff 'Method Man" Smith, best known as a member of the legendary hip-hop group Wu-Tang Clan. Of the performer's casting, Judd Apatow explains: 'He was someone we always wanted to get into a movie. He's funny and an amazing actor who was on The Wire. It was a pleasure just having him on set every day."

Temembe, who has a genuine affection for the opinionated Gordon, presented Method Man with an unusual challenge: He needed to have great comic timing while speaking with an accent. Prior to filming, the actor/musician studied the accent, one with which he was already familiar. 'I'm from Park Hill," he says, of his Staten Island neighborhood. 'We were flooded with Africans."

Scenes of sparring and ad-libbing with Quinn's Gordon called upon Method Man's more well-known talents as a rapper. 'It's like freestyle; you've got to think on your feet," he says. 'When you're working with someone like Judd, you got to be locked in right there with him."

Amy Schumer appreciated that the two schools of expression are not so dissimilar. 'Rap battles are like roast jokes," the performer adds. 'I think there's a big connection there and with people in hip-hop, their minds work the same as a lot of comedians."

'I love the fact that this is Amy Schumer's first movie, and she was nice enough to let me be in it with her," lauds Method Man, who also shared the screen with 99-year-old actor Norman Lloyd, conveniently named Norman, who plays a chatty resident of the facility.

Perhaps best known today for his role as Dr. Daniel Auschlander on the hugely popular '80s TV series St. Elsewhere, Lloyd was a member of Orson Welles and John Houseman's Mercury Theatre, and went on to appear in such classic Hitchcock films as Saboteur and Spellbound. 'Norman Lloyd is 100, and he is sharper than me at 46," shares Apatow. 'We had a chance to hear all his wonderful stories, and we had a truly magical experience shooting this movie with this very special person."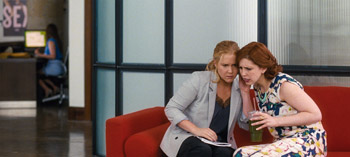 Trainwreck also reunites Tilda Swinton with young actor Ezra Miller, who co-starred as her homicidal son in the drama We Need to Talk About Kevin. 'It makes perfect sense; here we are on another comedy," laughs Ezra Miller, who portrays aspiring journalist Donald, an intern at S'Nuff magazine.

'Tilda Swinton is a master of her craft," says the young actor, who describes Dianna as a boss who puts fear into her staff. 'Everyone's met Dianna, especially if you live in New York City. The characters in the office just want to be seen and recognised and want approval from this false deity who seeks their praise."

As a young male, Ezra Miller's character of Donald is the model reader of S'Nuff and may even best illustrate the magazine's power over its audience. 'It's so fun having Ezra in the movie because he's so youthful and so talented," says Judd Apatow. 'He's about to explode into being a giant movie star." He dryly adds: 'In 10 years, it'll be weird that he had this little part in this. But for us, we made him do many things which he'll be ashamed of in the future."

Donald learns about this particular brand of journalism from an odd assortment of S'Nuff writers played by some of the funniest comic actors working today, including Saturday Night Live's Vanessa Bayer as Nikki, Jon Glaser (TV's Parks and Recreation) as Schultz and Randall Park (The Interview) as Bryson. Hader explains his director's rationale: 'Judd Apatow is just obsessive about comedy; that's all he talks about. He's a fan of all these people, and he wants to see them score."

Glaser, a former writer for Late Night With Conan O'Brien and creator and star of Delocated on Adult Swim, plays Schultz, an annoying and shameless guy who, for some reason, more often than not scores the S'Nuff cover stories. Schultz can't be faulted for a lack of candor, even if his co-workers might prefer he keep his odd opinions to himself. 'If you talk to comedians, they say there's no one funnier than Jon Glaser," says Bill Hader.

Bryson, played by Randall Park, on the other hand, takes his job very seriously. At a meeting in which writers pitch story ideas to their feared editor, Bryson does his best to impress. Quite deeply embedded in this culture, one of Bryson's ideas for an article is actually -You Call Those T**s?"

Making her feature-film debut is Bayer as Nikki, Amy's best friend at S'Nuff and a young woman who shares Amy's single, hard-partying lifestyle. 'Vanessa's one of the people who makes me laugh hard," says Judd Apatow. 'As Amy's friend Nikki, she's a bit of a mess, also. Maybe she is not as sharp as Amy…or maybe she is."

Bayer describes Nikki as a young woman who somehow doesn't find the magazine's stories at all demeaning to women. 'Her emotions work differently than some people's," describes the actor. 'She's confused a lot." According to Bayer, Dianna favors Amy over Nikki: 'I think she sees Nikki as a real dummy but as someone who's weirdly good at her job."

'Vanessa is one of the funniest people I've ever met," commends former fellow SNL player Hader. 'This is her first movie, and she just knocks it out of the park."

In fact, Amy Schumer often had trouble keeping a straight face when filming with Bayer. 'We debated having a stand-in for Amy during the scene," remembers Kim Caramele. 'Amy's head is turned when she's supposed to be talking to her because Vanessa would just make a face, and Amy would absolutely lose her mind."

An actor new to many fans of comedy is John Cena, the WWE superstar who plays Amy's well-meaning boyfriend Steven"a committed guy who wants to make an honest woman of her. Although they have been seeing each other regularly when our story begins, Amy just can't seem to remain faithful to Steven, who is deeply upset to discover sexts from other men on her cell phone.

When John Cena came in for a table read, the star of Monday Night Raw surprised everyone. 'He got bigger laughs than anyone in the entire movie," recalls Judd Apatow. 'We just fell in love with him as a comedic actor."

Although John Cena has already appeared in several films, the performer is new to comedy. 'This was an opportunity of a lifetime because it's very different from what I normally do," he says. John Cena describes his character as a disciplined guy who's the opposite of Amy. 'Steven is a very in-shape, very OCD CrossFit instructor. All he can relate to is CrossFit, or working out or being strong. It's just oil and water, the dynamic between the two of them. She just wants to party and to coast. Steven wants to be totally committed and monogamous."

Out of all those in the production, his leading lady was most impressed. 'Of everyone in this movie, John Cena will blow your mind the most," adds Amy Schumer, who notes that John Cena ended up ad-libbing on the set. 'I did not write most of his lines. He just would open his mouth and it would fly out."

Amy Schumer was also instrumental in filling smaller roles with other talented comedians, including those who often appear on her Comedy Central show. In one scene, when Amy brings her new boyfriend Aaron to her sister's baby shower, the suburban guests are played by Inside Amy Schumer producer/actor Kevin Kane and writer/actor Kyle Dunnigan, as well as stand-up performer Nikki Glaser, bawdy cabaret singer Bridget Everett, Australian sketch-show performer Claudia O'Doherty and Saturday Night Live alum Tim Meadows. 'Amy Schumer has so many stand-up friends who are in the clubs, on the road, in New York," says Mendel. 'She's brought in two dozen of them to help spice up our movie, and it's just better than anything we could have thought of ourselves."

Kim's conservative, well-to-do friends, whose identities are wrapped up in their beloved offspring, don't hold back from judging Amy's child-free lifestyle. 'They must just be people in the neighborhood who Kim invites because they are wackos," says Larson. With so many comics packed into Kim's picture-perfect home, Larson admits: 'I had a headache from laughing so hard."

While Kim has 'close" friends on her cul-de-sac, Amy has additional confidants of her own. Noam, the homeless guy who lives just outside her building"and offers a color commentary on the goings-on of Amy's day"is played by the immensely talented Dave Attell, a no-holds-barred mainstay of the stand-up circuit, host of Comedy Central's Comedy Underground With Dave Attell and featured player on Arrested Development. Attell also recently joined Schumer, Apatow, Quinn, Birbiglia and Bayer on 'The Trainwreck Comedy Tour," one of the greatest lineups in comedy history that benefitted various charities during its seven-city cross-country run.


Other comedians who make appearances in Trainwreck include Dan Soder, Ali Wong, Max Alexander, Leslie Jones, Mark Normand, Jessica Kirson, Marina Franklin, Katy Mixon, Pete Davidson, Rachel Feinstein, Keith Robinson and Victoria Dicce, who, along with Schumer and Kane is a co-founder of the theater group The Collective.

Another welcome comic who appears in Trainwreck in a supporting role is Jim Norton, who plays a hansom-carriage driver in a scene in which Amy and Aaron take a memorable horse-and-carriage ride near Central Park. 'It occurred to us that Jim would be perfect," says Judd Apatow. In the story, this carriage driver has less driving and more running to do when a drunken Aaron takes control of the reins. Needless to say, Norton didn't have the luxury of much rest during his shooting day, as the comedian ran for five blocks up Central Park West over and over to chase his runaway horse and carriage.

In addition to LeBron James, Trainwreck features several other professional athletes in supporting roles as patients of Aaron's, including former New York Knicks' (and current Dallas Mavericks') star player Amar'e Stoudemire. 'Normally, I'm focused on training and getting prepared for the season," says Amar'e Stoudemire. 'But I thought it would be great to have an opportunity to act in this movie."

The 6'11" Amar'e Stoudemire plays himself, but as a basketball superstar who comes to Dr. Conners for potentially career-saving knee surgery just at a time when Amy enters Aaron's life. 'My character is going to have a procedure on his knee, and his doctor is a little bit all over the place," describes Amar'e Stoudemire.

While Amar'e Stoudemire had previously made appearances on shows such as Law & Order: SVU and Entourage, he is still relatively new to acting. 'We watched Amar'e Stoudemire on talk shows, and we thought, -Here's a guy who's very comfortable with himself and has a great personality,'" says Judd Apatow. 'Within 45 minutes on the first day of shooting he relaxed, and suddenly he was giving this fantastic performance."

'Amar'e Stoudemire shocked me because he was so funny by playing the honesty of a weird situation," adds Bill Hader. 'He innately knew that, which was smart."

Amar'e Stoudemire appreciated the freedom to play out the comedy on a film helmed by someone who wasn't so rigid. 'Judd Apatow wants you to be yourself, so that makes it easier for the actors, for myself," he says. 'Working with him is a dream come true, and to be on a film with him is brilliant."

Because of Aaron's career, many of the people in his life are sports figures, including such notables as quarterback Tony Romo, tennis legend Chris Evert, ESPN's Kenny Mayne and TNT's NBA announcer Marv Albert, who all appear in cameo roles. 'They're all used to being in front of the camera or shooting commercials," Judd Apatow says. 'I watched what they do and tried to subtly steer them in ways that they didn't notice. Before you knew it, they were comfortable and did it well."

Bill Hader adds that it takes a lot to impress a seasoned New York-based film crew: 'When the sports guys are on set, the New York crews really lit up. They don't give a sh%t about anybody, and then, -Hey, what the f**k happened last year, man?'"

Reflecting upon the assembled players, Amy Schumer sums: 'This cast is so crazy. It looks like a parody. It became, -Oh, Tilda Swinton and Method Man. Finally…their vehicle!'"

Places to Get Wrecked: Filming in New York City

Principal photography on Trainwreck began on May 19, 2014, on location in New York City, where the film would shoot in its entirety. For New York native Amy Schumer, filming in the Big Apple was key. 'I'm very much a New York gal," she says. 'I filmed my TV show here, and it was important to me that we filmed the movie here." She received no disagreement from her director. 'I didn't have to convince Judd. He was into it."

Though originally from Long Island, Judd Apatow has long been based in Los Angeles. 'All of Judd Apatow's movies have been in L.A.," says Barry Mendel, who has collaborated with Judd Apatow on a number of films. 'It's been refreshing to shoot in New York. The cliché is true: It's teeming with life, with human stories everywhere you turn."

Even for Bill Hader, who had lived in the city for years when starring on Saturday Night Live, filming Trainwreck in New York was a unique experience. 'Basically, I would just go from my apartment to 30 Rock for eight years," he reveals. 'I didn't really experience New York. This is one of those movies that is New York for New York, and it's been very cool."

According to Judd Apatow, he and cinematographer Jody Lee Lipes, whose credits include the TV series Girls and the independent film Tiny Furniture, chose to buck the digital trend by lensing Trainwreck on film. 'We shot on film so we have the look of classic romantic comedies," the director explains. 'Jody Lee Lipes did a beautiful job of coming up with new ways to shoot the city. Kevin Thompson, our production designer, was asked to find some unique spaces in New York, and he did an incredible job."

New York-based Kevin Thompson, who designed such films as The Bourne Legacy and Michael Clayton, offers that his objective was to 'get the real New York into the movie, whether it be interiors or exteriors. If I can encourage locations that are distinct from one another and can offer variety and bring you into the New York world a bit more, then I've been successful."

For one of the film's main locations, the office of S'Nuff magazine"the fictional 'lads' mag" where Amy works as a staff writer"Kevin Thompson found a space in the Starrett-Lehigh building on West 26th Street between 11th and 12th Avenues. Taking up an entire city block on Manhattan's far West Side, the Starrett-Lehigh building was originally a freight terminal before it was repurposed in recent years. It now serves as an office space for creative businesses. With its double-height ceilings and large windows offering superb city and Hudson River views, the building gave the filmmakers a unique spot in which to build the S'Nuff offices.

Prior to filming, the team conducted extensive research into the world of men's magazines and relied on costumer Leesa Evans' decades of experience in creating looks for every member of the New York City cast. 'We were trying to create the reality of a real magazine, so we visited all these different magazines to see what their offices looked like," says Judd Apatow. 'We were trying to have some fun but also be somewhat legitimate."

Key to the design of the office were the many racy and outrageous magazine covers that decorate the writers' cubicle area, as well as an entire wall of editor-in-chief Dianna's office. 'We hired professional graphic artists and people who do great covers of books and magazines to make all these weird covers, and we asked a lot of celebrities if they minded if we put them on the covers," explains Judd Apatow.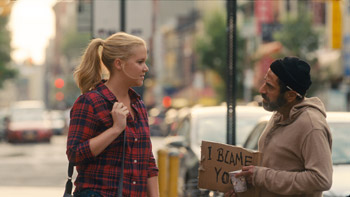 'Our graphic designer in the art department, Eddie Ioffreda, lived and breathed the design of this magazine for months," states Thompson. While the fictional magazine is designed for laughs, it's not that far removed from what young men are reading today.

For one of the cast members, however, the possibility of the publication coming to life isn't so far-fetched. 'By the time the movie is out, there will be this magazine out there," laughs Tilda Swinton. 'It will probably be called S'Nuff, and it will have these covers, and there will be many people lining up to be subscribers."

The production also filmed in the actual offices of Vanity Fair magazine in the Condé Nast building off Times Square, while a scene in which Aaron is honored by the charity Doctors Without Borders was filmed in the ballroom of the elegant Pierre Hotel on Fifth Avenue.

Scenes of Kim and Tom's simple suburban life were filmed in leafy Douglas Manor, Queens, while Gordon's house was located in Whitestone, the northernmost section of Queens. The production traveled just over the New York City border into Long Island for scenes at Gordon's assisted-living facility, which were shot at the Plattduetsche Retirement Home in Franklin Square. As well, the Nassau County Correctional Center in East Meadow served as the location for the jail that Amy visits for an important story.

When scouting locations for Amy's apartment building, Thompson landed upon a loft building on busy Grand Street in lower Manhattan. 'We decided to put her in a neighborhood that was between the Lower East Side, Chinatown and Little Italy, so it was at the crossroads of three different worlds colliding," explains Thompson. 'It suggested that her character was at unrest; it is dynamic and moving a lot."

The interior of Amy's apartment, filmed at Steiner Studios in Brooklyn, is a one-room studio. 'It's a bit of the Mary Tyler Moore approach, where no matter what scene is taking place in this room, you've got an interesting background," Kevin Thompson says. 'Her world is visually noisy. She's not a messy girl, but she has a lot of clutter."

The production also filmed at iconic New York restaurants such as Indochine and Veselka in the East Village and at Alice's Tea Cup, a favorite of Schumer's on the Upper East Side, before moving on to the Knicks' home court in Madison Square Garden.

As Dr. Conners, Bill Hader filmed a scene in which he was talking with Stoudemire during warm-ups before an actual Knicks game. 'I had to sit with an earwig in, with Judd telling me how to react," Hader recalls. 'It was during a live game, so people were yelling at me to move. It was very funny."

The production later returned to Madison Square Garden for two days to shoot a dance sequence with Schumer, the Knicks City Dancers and the Air Elite Dunkers. Long before principal photography began, choreographer Danielle Flora (Saturday Night Live, 30 Rock) had met with Schumer to introduce her to the dance that her character performs in the film. 'I asked, -So, who's doing that? What time does my stunt double get here?,'" Amy Schumer recalls. 'But I worked my ass off and learned this dance." For months, including every weekend once filming began, Amy Schumer rehearsed the dance with Flora and the performers, some of whom were in fact real Knicks City Dancers.

'The rehearsals with Amy Schumer were amazing because she's such a hard worker," Flora commends. 'She came ready to learn, and she got it down. Watching it all come together and seeing how she could stand up and hold her own with the girls amazed them."

Fortunately, the rehearsal paid off. 'When they dance at a game, the longest dance is 45 seconds," Schumer advises. 'This dance was three minutes and 50 seconds. And we did it a million times."

'Amy Schumer crushed it," Judd Apatow raves. 'She was so good at it I had to tell her to do it worse because she looked like one of the professional cheerleaders."

When she wasn't rehearsing the dance sequence, Amy Schumer took advantage of being in New York by performing at the Comedy Cellar throughout the filming of Trainwreck. 'It was fun to do stand-up on the weekends and just get to be an actress during the week," says Schumer, a regular at the Comedy Cellar who often tours with her comedy show.

Remarkably, Judd Apatow also performed at the Comedy Cellar almost every day, often after putting in 12 hours or more on the set. 'Every night after work I would go to the Comedy Cellar and do stand-up, which I hadn't done in 22 years," the director recalls. 'I felt like it just put me in a better mood and made me feel funnier during the day when we were working. It was either that or go home and watch CNN. So for me it was like comedy camp all day and all night. For some reason, it helped me unwind."

Funniest Wins: Apatow School of Improv

Beginning with the earliest stages of development, Trainwreck marked an especially close collaboration between writer/actress Amy Schumer and veteran director/producer Judd Apatow. While Amy Schumer has been a stand-up comic for more than 10 years, she was a neophyte screenwriter and relied on Apatow's expertise during the writing process. 'We just kept on crafting, crafting, crafting the script and understanding the story until it was whittled down to this material we love and are proud of," says Amy Schumer. 'Judd Apatow just works his ass off and demands the most so that he can give the audience the best."

Once filming began, the close collaboration between the two continued, with Judd Apatow in the novel position of having his screenwriter on set each day. 'Amy Schumer entrusted her script to Judd Apatow," Barry Mendel shares. 'In turn, Judd would come back to her and ask her advice about a script idea or something new on set. It's been a very open collaboration where there are no ideas you can't bring up."

The director's primary goal was making sure that the voice of Trainwreck's creator remained clear. 'I'm trying to make sure we accomplish her intentions," Judd Apatow explains. 'When I direct something I've written, I might throw everything out every day and rethink what my feelings about it were and start over."

All of his films have been replete with improv, and Trainwreck would be no exception. New lines were added or improvisation was invited in additional takes only after the meat of the scene had been captured on film. 'We try to shoot the scene as well as we can and then say, -What else might we need?'" Judd Apatow states. 'If this scene is not funny enough, let's get some extra jokes. If it's too sad, let's get something slightly lighter. I always assume that I'm going to be in an editing room, and I'm going to want the ability to tune it one way or another."

His leading lady appreciated the attention to detail. 'There was no ego; there's no fighting for the way you saw something," shares Amy Schumer. 'It's just whatever felt the best and whatever's the funniest. The funniest thing will always win for both of us."

Amy Schumer is in fact a trained actress, having studied the Meisner technique of acting with teacher William Esper before entering the world of stand-up. 'She knows what she's doing, and I don't have to worry about her acting," Judd Apatow commends. 'I could just focus on the scene and the language…and if we are getting the right jokes and the right levels."

Bill Hader has worked with Judd Apatow many times before, so he was familiar with the director's unique technique of adding lines as the camera is rolling. But on Trainwreck, Judd Apatow opted to deliver those lines in a new fashion: out of the camera's view. He accomplished this by having his crew hide a small speaker on the set so the actors could hear the lines that Judd Apatow wrote on the spot.

'On other movies, Judd Apatow would shout something out, or someone would come over and ask us to try these lines," Bill Hader reveals. 'But now he has a -God' mic, where he would shout things out. Sometimes what he shouts out is really funny so you start laughing at it. Then you have to calm yourself down and then try to deliver the line.

'This was a collaboration with Amy Schumer. He's so inclusive and listens to her, and it's been fun watching them," continues Bill Hader. 'They both come from stand-up backgrounds so they both understand and respect each other so much. It reminds me of SNL, where there's a mutual respect. If you disagree on something, you find a solution that is better than what the both of you had to start."

For his part, LeBron James quickly acclimated to Judd Apatow's shooting style. 'When you get on set with Judd Apatow, it's free-flowing," the performer explains.

It turns out that Judd Apatow and Amy Schumer weren't the only improv masters on set. LeBron James wasn't about to allow a strictly choreographed and tightly framed basketball game to appear in his first feature comedy. Two buddies getting together to shoot some hoops is something quite different when your best friend is LeBron James. Bill Hader laughs: 'In one scene we play one-on-one together, which is in every romantic comedy: Two guys play one-on-one while they talk about relationships. But LeBron didn't hold back at all. He just kicked the sh*t out of me."

'That turned out not too well for him," LeBron James returns. 'That's my best friend, but listen, I hold no prisoners."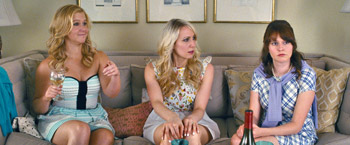 With the production wrapped, the Trainwreck team takes a moment to reflect on their experience and how they hope the comedy will be received. 'My favorite thing in making movies is to find new people and to give them opportunities to figure out who they are on screen, and it's never been more fun than with Amy Schumer," ends JuddApatow. 'She is as hard a worker and as nice a person as I've ever had this experience with. We had a fantastic time the entire shoot, and that's a rare, wonderful experience. We've hopefully made a hilarious, emotional movie together. I think audiences will find it romantic, and that it will touch your heart and your soul."

'I feel like we are watching a star get born," adds Barry Mendel. 'You get goose bumps when you see it happening."

For Amy Schumer, finally, Trainwreck also offers a new definition of the word…and it's one she'll take with her the rest of her career. 'If you say, -Yes!' to having Judd Apatow reveal all the details of your life," she dryly concludes. 'You might be a Trainwreck."


Trainwreck
Release Date: July 23rd, 2015