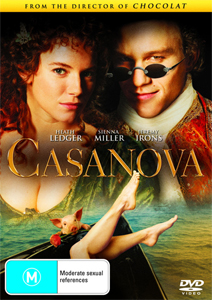 Starring: Heath Ledger .... Casanova / Sienna Miller .... Francesca Bruni / Jeremy Irons .... Pucci / Oliver Platt .... Paprizzio
Director: Lasse Hallström
Genre: Romatic Comedy
Rated: M
Running Time: 107 mins

There's No Greater Adventure Than True Love

'Casonova' is loosely based on the memoirs of the writer, adventurer, and infamous lover Giacomo Casanova--themselves notably unreliable--and fortunately has no pretensions to historical realism. Instead, it's a witty, light-hearted romantic comedy, which uses its 18th century setting and renowned hero as a jumping-off point for sexy banter and ruminations on love, lust, and freedom.

Abandoned by his mother as a child, Casanova has grown into a lascivious yet oddly innocent young man, who pursues pleasure wholeheartedly and mistakes lust for love. His biggest concern is eluding Italy's puritanical Inquisitors, until he meets Francesca Bruni (Sienna Miller). In the time-honoured tradition, Casanova is instantly smitten with the one woman in Venice who doesn't want anything to do with him.

For the first time in his life, the legendary Casanova (Heath Ledger) is about to meet his match when the alluring Francesca (Sienna Miller) does the one thing the notorious lover of women never thought possible - refuse him. Through disguises, subterfuges and wit, Casanova manages to get closer and closer to Francesca. But he's playing the most dangerous game he's ever encountered. A game that will not only risk his life and reputation, but his only chance at true love.

Special Features:
Creating An Adventure
Dressing In Style
Extended Sequence "Hidden In Plain Sight"
Visions of Venice
Audio Commentary

Review www.femail.com.au/casanova-movie-review.htm

Romantic, exciting with top performances throughout the film. Heath Ledger & Sienna Miller are the perfect mismatched pair that makes this film delicious.