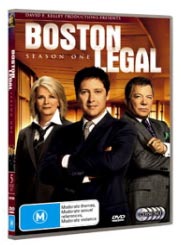 It's finally here, Boston Legal Season 2 on DVD.

James Spader stars as Alan Shore and TV legend William Shatner as Denny Crane, who lead a brigade of high-priced civil litigators in an upscale Boston law firm in a series focusing on the professional and personal lives of brilliant but often emotionally challenged attorneys. Quirky, funny, and never forgettable, this original series has proven to be one of the 'must see' programmes of the last few years.

Multi-Emmy Award winning, the series will confront social and moral issues, and the pursuit of happiness and money, with varying degrees of priority.

Review: Hilarious! Thanks to Twentieth Century Fox Home Entertainment we don't have to stay up late to watch this awsome series. Showing the funny side of the legal system and adult banter, this 3 ringed circus is clever and will have you in stitches. Own it!