Twentieth Century Fox Home Entertainment announces the anticipated release of the best new television crime drama BONES Season 1 on DVD now.

David Boreanaz (Angel, Buffy the Vampire Slayer) stars as F.B.I. agent Seeley Booth, who teams up with forensic anthropologist Dr. Temperance "Bones" Brennan (Emily Deschanel) and her quirky team of scientists, to solve some of the most baffling and bizarre crimes ever, relying on gritty instinct and state-of-the-art criminal investigation procedures and technology. Inspired by the real-life adventures of forensic anthropologist and author Kathy Reichs, Bones is a compelling investigative drama filled with romantic tension and dark humor.

This six disc DVD set includes:
Audio Commentaries
Character Profiles
Three featurettes
Rated M

Bones Season 1 is available to rent or buy now.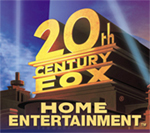 "TCFHE LLC 2006. All rights reserved"