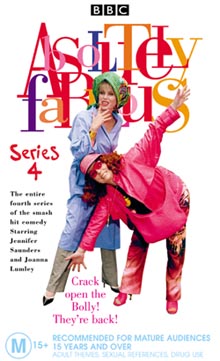 Break out the Bolly,

Jennifer Saunders and Joanna Lumley are back in....

Absolutely Fabulous Series 4

The doyennes of PR and fashion are back! Five years have gone by, Edina has a new TV production company, Patsy's been promoted and they're simply more fabulous than ever. Now the long-awaited new series of Absolutely Fabulous is available on video.

In the heady world of film and television, fashion takes a momentary back seat while Eddy and Patsy rub shoulders with the hoi-polloi. The six outrageous new episodes find Edina and Patsy trying to iron out their wrinkles with the latest wonder drug, Eddy submits to yet another detox diet, while the spectre of menopause results in a new, altogether fluffier, Patsy.

Absolutely Fabulous Series 4 stars Jennifer Saunders, Joanna Lumley, June Whitfield and Julia Sawalha with celebrity appearances from heart-throb Sacha Distel, Ruby Wax and fashion guru Christian Lacroix among others

Absolutely Fabulous Series 4 is available from ABC Shops, ABC Centres and video retailers from 4 February 2002.