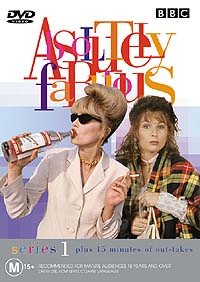 Jennifer Saunders and Joanna Lumley are...
Absolutely Fabulous
Series 1 now available on DVD.
In 1992 a new comedy series was launched - the exploits of fashion guru and PR queen Edina Monsoon and her sex-crazed, alcoholic friend Patsy Stone were an instant hit and have since become part of British comic legend. Now you can own a piece of that legend with the release of Absolutely Fabulous Series 1 on DVD.
Dreamt up for a sketch by Dawn French and Jennifer Saunders, Eddy and Patsy were soon transformed into television's most outrageous duo, indulging in every fantasy modern life has to offer... with absolutely fabulous results - darling!
But for Eddy, it's not easy being doyenne of the fashion world, especially when you're too fat to fit into your Christian Lacroix! And with her passion for alternative therapies and sincere belief in self-improvement through massage, Eddy has somehow managed to acquire a fashion business, a house, a child and two ex-husbands. Patsy of course, is always there to lend a little immoral support and always begins the day with a glass of Bollinger. From there it's off to work - if only she can remember where her office is!
Absolutely Fabulous Series 1 is a 1992 BAFTA winner for comedy and also stars Julia Sawalha as Eddy's daughter, Saffron, June Whitfield as Eddy's mother and the irrepressible Jane Horrocks as secretary Bubbles.
Absolutely Fabulous Series 1 DVD is available from ABC Shops, ABC Centres and video retailers from 3 October 2001.
For more great videos and DVD's go to
VILLAGE
Order Now from CD Wow