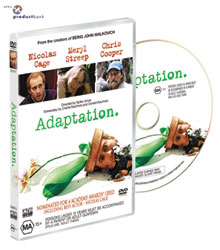 BRILLIANT PERFORMANCES. BRILLIANT STORY.
ADAPTING IT ALL TO DVD THIS JUNE

ADAPTATION
RELEASE DATE: 25 JUNE 2003

Reaching over $2.2 million at the Australian Box Office and nominated for four Academy Awards© Adaptation has been proclaimed by critics as one of the most outstanding films of the year. A mesmerising off-beat comedy focussing on the writing process as well as the nature of beauty and the beauty of nature.

Funny and thought-provoking, Adaptation teams the director (Spike Jonze) and writer (Charlie Kaufman) of the critically acclaimed Being John Malkovich with the producers of Silence of the Lambs and Philadelphia in yet another quirky film boasting inspiring performances which are intriguingly based on real life people.

Delivering one of his finest performances, Oscar - nominated Nicolas Cage stars as Charlie Kaufman and his fictionalised twin brother Donald. Although they share looks and careers as screenwriters, the similarities end there. Whilst Donald is a hit with women and seems to be able to produce the formula-written script that Hollywood requires, Charlie is nervous, insecure and troubled by both his neuroses and his new project, adapting Susan Orlean's novel OEThe Orchid Thief' into a film.

The more Charlie suffers from writer's block over the project the more he becomes fixated on Orlean (Academy Award - winner and 2003 nominee for Best Supporting Actress, Meryl Streep from THE HOURS, OUT OF AFRICA). His brother's advice? Turn her sensitive story into a thriller loaded with car chases, shootouts, sexual obsession and murder.

In the process, fact and fantasy blur in Kaufman's and our minds creating a brilliantly complex movie that both inspires and entertains.

Adaptation is available to rent and buy on DVD and rent on VHS from 25 June 2003 at retailers nationally.

For more information on this or any of the other Columbia TriStar Home Entertainment DVDs being released this month, please refer to the Software Features Table attached.

ACADEMY AWARD© AND OSCAR© ARE REGISTERED TRADEMARKS AND SERVICE MARKS OF THE ACADEMY OF MOTION PICTURE ARTS AND SCIENCES.

Click here to read Adaptation's Movie Review!