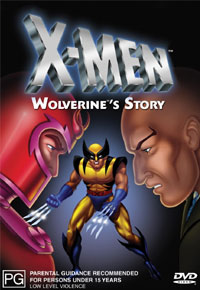 X-perience Wolverine's Story in the latest X-Men power packed action adventure!
Before Hugh Jackman and Halle Berry brought X-Men to the box office masses, the original X-Men had already amassed a cult like following which included fans of the original comic book series, action hero enthusiasts and kids of all ages.
Now faithful followers and new fans both have the opportunity to own the latest movie in the classic X-Men series; X-MEN: WOLVERINE'S STORY.
Mystery and non-stop action combine in the latest thrilling adventure coming soon to DVD and Video from Buena Vista Home Entertainment.
The story unfolds when a powerful band of villains set out to destroy the X-Men. To combat their common enemy, long time rivals Professor Xavier and Magneto must join forces to keep the mutants from being annihilated. The action-packed adventure will keep you on the edge of your seat and the plot will keep you glued to the small screen as this movie unfurls one the greatest mysteries - the origin of one of the most powerful and popular X-Men; Wolverine! As Wolverine tracks down the man who made him what he is, Rogue, Cyclops and all your favourite mutants wage an all-out war for their own survival.
To unravel the Wolverine's past and find out the destiny of the X-Men, don't miss this original story in this series of classic X-Men adventures.
X-MEN: WOLVERINE'S STORY (PG) is available to own and keep from 19 November 2003 and is a must have for any X-Men enthusiast or Action Hero fan. Extra DVD features include a Bonus Episode: Enter Magneto and special commentaries on select episodes by X-Men creator Stan Lee and Stan Lee's Soap Box.
Order Now from CD Wow
r>