Starring: Ellen Page, Marcia Gay Harden, Kristen Wiig, Drew Barrymore, Juliette Lewis, Jimmy Fallon, Daniel Stern, Alia Shawkat, Eve
Director: Drew Barrymore
Genre: Comedies
Rated M
Running Time: 113mins

The directorial debut of DREW BARRYMORE, stars ELLEN PAGE (Juno) as Bliss, a rebellious Texas teen who throws in her small town beauty-pageant crown for the rowdy world of roller derby, much to her mother's dismay.

Bliss fights to break the mould that her parents (MARCIA GAY HARDEN, Mystic River) and DANIEL STERN, Home Alone) want her so desperately to fit into. Co-roller-girls include KRISTEN WIIG (TV's Saturday Night Live, Adventureland), JULIETTE LEWIS (Old School), JIMMY FALLON and controversial rapper, EVE.

Special Features:
Deleted Scenes

"The knockabout (and knock 'em flat) way in which Barrymore captures the wired atmosphere of roller derby is genuinely irresistible." DAILY TELEGRAPH

Review: Hats off to Drew Barrymore for directoring a fantastic look into the world of roller derby. Not only does it follow the story of a young 17 year old's struggle finding herself, after years of forced pagent participation, it's also a story of friendship, first love and best of all finding the courage to take a chance on a dream.

With a full storyline and lots of fun action on the track, Whip It has now put roller derby on my 'to see' list. Anyone who enjoys ice hockey & skating will appreciate this funfilled dvd.

Whip It
RRP $39.95
Buy Now from Fishpond

Ellen Page Whip It Interview - www.girl.com.au/ellen-page-white-it-interview.htm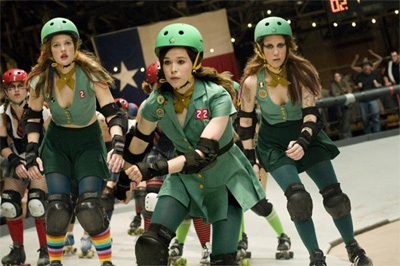 ROLLER DERBY 101: RULES AND LINGO

Everyone knows the basics of roller derby - skaters in wild outfits, fishnet stockings and chin-strap helmets round an oval track at a frenetic pace bashing into each other. But there's much more to it than that. Derby rules can vary from league to league but here are the rules the Hurl Scouts learned:

* Roller derby is a race. One skater - known as a JAMMER - must get through the pack and pass all of her opponents in order to score points. For every opponent a jammer passes, she scores one point. If the jammer can't get past her opponents the team scores no points at all. Jammers receive additional points for lapping the other team's jammer.

* Teams are made up of 5 skaters. In addition to the jammer, each team also has a pivot and 3 additional blockers. The PIVOT's job is to keep track of the team's jammer, call out plays and signal the blockers to speed up or slow down in her defense. The BLOCKERS have the high-adrenaline task of keeping the opposing team's jammers from passing them and scoring.

* Blockers skate together in a PACK.

* The jammer has 60 seconds to score - this time period is known as a JAM. Each game, known in roller derby as a BOUT, has two 12-minute periods. The lead jammer can CALL OFF THE JAM at any time by putting her hands on her hips.

* Full body contact, such as HIP-CHECKING, is allowed in blocking but players cannot grab, yank or trip one another. They must keep their arms bent and may not use any part of the arm below the elbow. Players who foul another player get a penalty of one minute. Severe fouls can result in the loss of a player.

* Blockers can also ASSIST jammers with movies like THE WHIP, in which a blocker grabs a jammer's arm and pushes her forward with momentum, or THE TRUCK-AND-TRAILER, in which teammates skate, with one (the truck) pulling the other (the trailer) from behind

* The key to roller derby is not just skill but strategy and, as in football or basketball, smart plays can take the other team by surprise

www.derbydolls.com/la/aboutus/rules.html

And some other facts about Roller Derby:
* Despite the rules, and despite protective equipment including mouth guards, helmets, knee pads and elbow pads, roller derby fights and fouls do happen and injuries are common - ranging from the sport-specific "FISHNET BURN" and bruises to broken bones and concussions.
* Most amateur roller derby leagues welcome new recruits, even those who haven't skated in years or at all, and provide training. Players, who come from all backgrounds - from lawyers to nurses to stay-at-home moms -- learn how to skate at high speeds, dodge obstacles, fall without injury and jump on moving skates
* There are now more than 400 amateur roller derby leagues worldwide . . . and counting . . .



Extended Whip It Story Overview & comments from Drew Barrymore
For years, Bliss Cavendar (Academy Award® nominee Ellen Page) has been dreaming of escaping her tiny, truck-stop of a town Bodeen, Texas. Unfortunately her devoted, beauty pageant obsessed mother (Academy Award® winner Marcia Gay Harden) is convinced that Bliss can only succeed in life if she wins the crown at the local Miss Blue Bonnet Pageant, but the awkward outsider knows there's something bigger and better out there. When Bliss sneaks off to the big city of Austin with her best friend Pash (Alia Shawkat) she discovers a world unlike anything she could ever imagine: roller derby, with its girl-power-meets-punk-rock spirit and its liberating celebration of wild individuality.

Inspired by the likes of Maggie Mayhem (Kristen Wiig), Bliss secretly tries out for a spot on the Hurl Scouts, a rag-tag team of scrappy underdogs. Soon she's trading in her gowns and crowns for skirts, skates and scrapes becoming her alter ego, Babe Ruthless. Leading a precarious double life, Bliss may be a waitress at Bodeen's Oink Joint by day, but by night, she's becoming the fastest thing on eight wheels. Now she's doing things she never dreamed of -- fearlessly facing off with bad-ass rivals like Iron Maven (Academy Award® nominee Juliette Lewis) and falling for a boy in a band (singer/songwriter Landon Pigg) -- while trying to be a heroine to her new friends and teammates. But when her secret gets out, Bliss will face her toughest fight yet: to take control of the future . . . on her own terms.

Rounding out a dynamic ensemble cast, WHIP IT also stars Jimmy Fallon, Eve, Zoë Bell, Ari Graynor, Eulala Scheel, Andrew Wilson, Carlo Alban and Daniel Stern. The film marks the feature film directorial debut of Drew Barrymore, who also stars as the feisty Hurl Scout, Smashley Simpson. The film is produced by two-time Academy Award®-nominee Barry Mendel along with Barrymore from a screenplay by Shauna Cross, author of the semi-autobiographical novel from which WHIP IT is adapted. The film is executive produced by Peter Douglas, Nancy Juvonen, Kirsten "Kiwi" Smith, Nathan Kahane, Joe Drake and Chris Miller. Nicole Brown, Kelli Konop, Jason Lust and Karyn McCarthy serve as co-producers.

In a sharp, gritty yet poignant role, Ellen Page stars as Bliss Cavendar, whose sudden encounter with roller derby gives way to a rough-hewn, bruise-filled dream that will collide with her mother's (Academy Award® winner Marcia Gay Harden) honest hopes for a more gilded future.

Setting in motion the story's sincere but defiantly bold tone - one in keeping with roller derby's mix of high humor and true grit -- is Drew Barrymore, who makes her directorial debut. Barrymore could not resist any of the multicolored strands of WHIP IT -- not its dashing free spirit, not its candid depiction of family conflicts, not its sweet moments of friendship and romance, and definitely not the backdrop of one of the edgiest, most empowering, underground sports in America - so she put them all in the mix to whip up a comedy-drama full of energy, humor and yearning.

Says Drew Barrymore: "This film is really personal and important to me because it's about a girl finding out who she is, going after what she believes in and bringing out the best in herself. It's set against the world of roller derby, which is about grit and toughness, but there's also this great wink and celebration and fun to it. It's feminine on its own terms, it's about power without anger and it's exhibitionism that entertains. It's a world where you get to be your own hero and find your own tribe."


Behind the Scenes of Whip Itwww.femail.com.au/behind-the-scenes-of-whip-it.htm