Wei Qiang Huang New Shanghai Interview
Melbournians are being treated to the very best of Chinese flavour as New Shanghai arrives in Melbourne.

Located in Melbourne's prestigious Emporium on level 3, New Shanghai boasts Melbourne's most authentic Chinese cuisine, at Melbourne's most affordable prices. Well known for its range of delicious and traditional dumplings and buns, including the coveted pork and crab bun, the team at New Shanghai craft quality food representative of what you'd find along the waterfront streets of The Bund.

Xiao Long Bao, Tofu coated with salted egg yoke, eel with garlic and ginger, and prawn wontons coated in peanut butter and chilli are just some of the mouth-watering favourites on the extensive menu.

Owned and operated by the Chen family, New Shanghai captures the heart of Chinese cuisine, with every dish on the menu created using traditional flavours and techniques that have been passed down through generations of the Chen family and is now being recreated on your plate right here in Melbourne.

The entire menu boasts bold Shanghai flavours and is hand crafted using a keen eye for detail. Every bun produced has more than 30 folds in the skin, all created by hand by the New Shanghai dumpling masters on display in the window for all to see.

With ex-HuTong head chef, Wei Qiang Huang at the helm of New Shanghai Melbourne's kitchen, guests can expect an authentic experience with bold flavours and textures on the palette.

New Shanghai Melbourne is the 8th restaurant under the New Shanghai banner, with other restaurants located in Sydney, Newcastle, Brisbane and in the homeland, Shanghai.

New Shanghai Melbourne is opened seven days a week. For more information please visit www.newshanghai.com.au or www.facebook.com/newshanghai



Interview with Wei Qiang Huang
Question: Tell us about your move to New Shanghai?

Wei Qiang Huang: I made the decision to move from HuTong because of the menu and history behind every element at New Shanghai. The New Shanghai menu is much more traditional, using traditional ingredients and flavours to create something exotic and flavoursome, which reminds me of home – it really is quite a nostalgic experience coming to work every day. I've been working in restaurants in Australia for the last 10 years and have worked with many different fusions of cuisines, but it was the ancient element to each dish at New Shanghai that drew me over; it is a menu that I can be really proud of.


Question: Would you say creating authentic Shanghai dumplings is an art form? Can you tell us about how you went about creating dumplings with the perfect balance?

Wei Qiang Huang: Yes, it is absolutely an art form. Western dumplings can be quite large, sometimes oily and fatty, and very dough-heavy, however traditional, authentic dumplings are quite small in size and have a huge array of detail in each individual piece. Dumplings are such a delicate and flavoursome dish, meaning each element needs to be spot on throughout the making process, otherwise the flavour or texture will not be right.

This intrinsic attention to detail is something that I, and New Shanghai, is very passionate about, and differs greatly from other restaurants in Melbourne. For example, each of our Xiao Long Bao has no fewer than 30 folds in the dough to create the aesthetic peak at the top that traditional Xiao Long Bao is known for.

The balance between dough and filling needs to be just right. The dough should always be thin, light in flavour and delicate, whereas the filling should be full of texture, not oily or fatty, and contain a small portion of well seasoned broth – to get all these elements right each time really is a skill, and this is something all of my team prides themselves on.


Question: When did you first begin making and experimenting with dumpling dough?

Wei Qiang Huang: Around 20 years ago when I was 19 years old, I first starting working in a restaurant in China and became familiar with dumpling dough and the detail needed to create the perfect dumpling. From there, I moved throughout restaurants and eventually into high-end hotels in China before moving to Melbourne.

Whilst my first experience with dumpling dough was because of work commitments, it has become a huge part of my life and I have great appreciation for the technique and detail needed when creating authentic flavours, particularly in a western country.


Question: Can you tell us about the authentic menu at New Shanghai?

Wei Qiang Huang: The menu at New Shanghai is very unique – each dish on the menu is created from ancient recipes that have been passed down from generation to generation of the Chen family. It is a menu that really is reminiscent of the streets of Shanghai; it feels very much like home to me, and also to many others as we have numerous Shanghai natives coming in to New Shanghai who comment that the food is exactly the same as what they're familiar with in Shanghai, which for us is the ultimate compliment.

We use a range of Shanghai imported ingredients, as well as local ingredients to recreate the Shanghai flavour, for example the sweet and sour pork ribs in dark vinegar sauce is a favourite on the menu and showcases traditional Shanghai flavour in all its glory; a unique blend of sticky sweet, slightly tangy sour and deep and distinguished vinegar.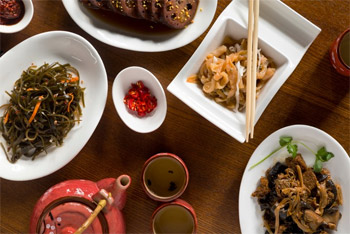 Question: Do you have a favourite dish, from the menu?

Wei Qiang Huang: Deep fried barramundi topped with sweet and sour sauce, sprinkled with pine nuts and mixed vegetables is definitely one of my favourite dishes. It is a dish that is exciting to prepare and cook, as well being exciting for the palate. The texture of the fish is crispy on the outside topped with all of the flavours from the seasoning, whilst the inside remains delicate, soft and juicy from the slow cooking process. It is a dish that is very appealing to all, as it has a delicate flavour and looks amazing when plated. It is a very traditional dish in China.


Question: When cooking at home, what is your signature dish?

Wei Qiang Huang: My cooking at home is very similar to the dishes at New Shanghai. I like working with traditional flavours, combining sweet and sour elements and slow cooking meat until it is soft and tender. One of my favourite dishes to make at home is braised pork belly in a sweet soy sauce. The secret to this dish is braising the pork over night to allow it time to soak in the flavour, retain its moisture and become really tender.

I really enjoy experimenting with flavours and techniques when cooking at home, and this is something I really love about Australian cuisine. Australians love creating dishes that showcase a fusion of flavours, and a lot of diversity and depth to each dish. I love being able to recreate these flavours, experiment and create my own as well as learn new techniques that are traditional to different ethnicities.


Interview by Brooke Hunter