F E E D T H E F A M I L Y P H Ở
Admired for abundant fresh ingredients, minimal use of dairy and oils, the perfect balance of herbs, spices and lean proteins, traditional Vietnamese food is the one of the healthiest cuisines in the world!

The balance of sweet and spicy flavours and contrasting textures ensures a variety of delicious meals that are not only beneficial for the body, but will leave you feeling satisfied time and time again.

To continue sharing the goodness with more Australians, Roll'd have launched the Roll'd Meal Box!

Avaliable from the 7th of September, the Roll'd Meal Box is a ready-made kit that will include all the pre-portioned essential ingredients for FOUR different fresh, tasty Vietnamese soups for your friends and family.

The best bit? You don't need to shop or think. The Roll'd Meal Box is available for pick up from your local Roll'd store or can be dropped straight to your door via contactless delivery. A QR code on the box will take customers to a range of cooking demonstration videos, available in multiple languages, hosted by Roll'd's Quinnie Hoang. Customers will be shown a step by step guide on how to make and assemble traditional, fresh Vietnamese food at
home.
A vital aspect of the Roll'd Meal Box, is that it will be available to people from different cultural and ethnic backgrounds. This is because it will be translated into multiple languages for a range of culturally and linguistically diverse backgrounds.

Roll'd is intent on educating Australia on the Vietnamese principal of eating fresh and sharing truly great food that transcends geographical borders.

"Especially so", says Quinnie, "When you learn about the background and the significance of a dish, you respect what you are eating more as you understand it more."

With FOUR different boxes to choose from, bring the delicious Vietnamese flavours of Roll'd home and impress family and friends every single night of the week.

Follow along with Quinnie to assemble a perfectly balanced tender beef Phở topped with fresh herbs and a squeeze of sour lemon. Get crafty with the kids and gather together for a step-by-step DIY guide to assembling Roll'd's NEW soups Bún Bò Huế, Bánh Canh Cua or Mì Tôm Thịt. Pick and choose from fresh, pre-cut, raw ingredients, season to your liking and tuck in.
Cause good food is meant to be shared and hey, we don't mind if you take the credit!
W: rolld.com.au
F: facebook.com/rolld.australia
I: @Rolld_Australia
P: @Rolld_Australia
Review: When you are working all day or just don't have the mindset to think about dinner, what a wonderful surprise it is to get a Roll'd Meal Box delivered right to your door the family (4). Our pho pack included meat already portioned & cut thinly, ready to add, vegetables, spices, sauces, an extra large pack of noodles (more than we could eat), and x2 supersize broth packs. Plus 8 spring rolls which are now my favourite, rice noodle exterior, instead pastry was a satisfying texture change and really delicous. Cook up your spring rolls while getting, reheating the stock to boiling and heating the noodles. Then it's simple, add noodles, meat, vegetables, spices & sauces to taste and ladle in your boiling broth. Amazing to watch, the meat is cooked instantly and ready to eat.
Roll'd Meal Boxes have made it so easy to enjoy Vietnamese flavours and added fun to the kitchen and table. We had enough for 6 bowls, enough to satisfy the largest of appetites. Thanks Roll'd, check out our pack & dinner pictures @girl.au
This would make a nice surprise for friends or family, or just enjoy dinning in! Give it a go.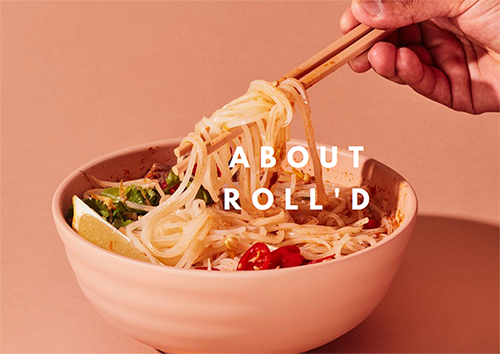 Roll'd is inspired by great Vietnamese family recipes from owner Bao Hoang's Mother,
Phien, who with Bao's father, Quy and their two first born sons, escaped from Vietnam to Australia on a refugee boat on June 1, 1981.

Established in 2012, the first Roll'd was a humble Vietnamese eatery in the competitive heart of Melbourne's CBD and has since expanded to 82 stores throughout Australia, who each morning prepare the same fresh rice paper rolls, Phở, bánh mì and Bún as Phien would prepare for her family, as her mother prepared for her and her eight
siblings.
In what might be the ultimate COVID-19 hospitality pivot, Roll'd saw an opportunity to take home delivery to the next level and tackle the problems inherent to transporting restaurant food to the customer. In May, 2020, Roll'd launched the Roll'd Runner, a food truck that parks outside your house and cooks fresh Vietnamese on the spot!
Roll'd is a business venture that grew from friendship and family into a significant national QSR success story. But most importantly, Roll'd is a story of shared enjoyment.