Award-winning design studio loopcreative unveils its bold multi-level revival of Sydney Tower venues with Trippas White Group.
Set over three levels and perched more than 80 storeys above the CBD, the multi-million dollar refurbishment comprises Infinity fine dining, SkyFeast buffet and Bar 83 cocktail lounge on turret levels one, two and three respectively. With a luxurious aesthetic throughout and a distinct identity for each space, loopcreative has transformed the tower's dated 80's revolving restaurant, bar and lacklustre event space into Sydney's most elevated drinking and dining destinations.
"Visiting Sydney Tower used to be a once only experience that was marketed to international travellers, one that the local population largely dismissed as a tourist trap. Our intention was to define the personalities of each venue and nest them within a cohesive whole that would appeal equally to the city's residents and visitors," says Rod Faucheux, director of loopcreative.
For Rod, this has been a unique opportunity to revitalise an icon. "It is not every day that you work on a project that turns out to be the highest venue in the country. Sydney Tower is a landmark location that features in almost every tourist's photos of the city, and it has been exciting to put our signature on it," says Rod.
Bar 83crowns level three and exudes jet set appeal. A spiral staircase connecting all three venues entices diners from Infinity and SkyFeast for pre- and post-meal drinks in a setting suggestive of ambitious space odysseys and the chic exclusivity of the world's first luxury airport lounges.
A retrofuturist slant is articulated through bold curves and portals, exaggerating the round, radial form of the tower itself. Visitors can strike a pose on circular lounges by Australian furniture house Didier, that hark back to an era when plush conversation pits were filled with fascinating people. Accessorised by Bellhop and complemented by Atollo lights from Euroluce and red-as-sin carpets by Shaw Contract, Bar 83's saturated hues and luxe details speak of glorious, hedonistic excess.
In contrast to Sydney Tower's two other revolving venues, this floor remains static. Just as well, given the abundant flow of cocktails within. Raising a glass to the past, yet entirely of the moment: this is a bar with iconic personality, made for a city with character.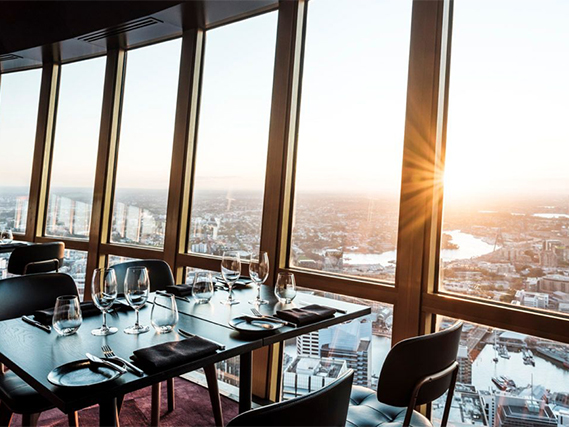 Infinity fine dining is a study in opulence with a theatrical twist. Elevator doors open to a sophisticated entrance space that hints at the conviviality within through a wall of smokey quartz-tinted glass blocks, by Obeco. Upon arrival, guests are greeted at a polished concierge desk in Artedomus' Concordia stone and escorted to their table on one of two levels. The lower terrace provides a semi-private dining space that hosts up to 16 guests, while smaller groups of between two and eight are seated above. As Infinity rotates slowly, diners enjoy the full spectacle of 360 degree views across Sydney's glittering skyline to the horizon from their dress circle and box seat settings.
An atmosphere of indulgence is achieved through a curated palette of deep purple carpeting, marble table tops, dark-stained timber and rich leather banquettes. Gold metal accents echo the lustre of the building's anodized exterior. Guests can relax in Stellar Works' Utility Chair fashioned in upholstered timber and brushed brass. Low key lighting design, featuring Euroluce's Atollo and custom pieces by Darkon, imbues the space with a sense of glamour and drama. These luxe interiors are designed to meet the site's matchless vantage point. Infinity is set to become a contemporary classic among Sydneysiders and visitors alike.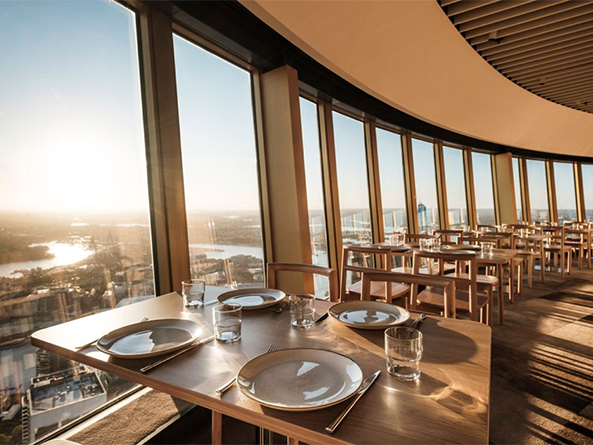 Sydney Tower's second level venue, SkyFeast, is an inviting casual eatery in view of the horizon – the country's most elevated buffet experience.
Placing a distinctly Australian suburban vernacular at its core, its relaxed and engaging interior finds opportunities to delight guests with global delicacies and views for days. Cultural immersion by design begins with an arrival area clad in pebblecrete by Alternative Surfaces, the nostalgic texture of Aussie backyard pools. Custom terracotta breezeblocks define ThreeByThree's curved internal wall.
Venture into the dining space and the venue's vertiginous position is emphasised through a bright airy environment, complemented by a crisp palette of white and timber with tactile finishes. Tan leather banquettes and Didier design house's solid oak Fable chairs and bespoke tables offer a variety of considered seating options that accommodate solo guests and couples as well as families and social gatherings.
This floor rotates slightly faster than the Infinity below, setting a more energetic pace. A delightful lookout, SkyFeast provides a stylish sky high social setting for locals to rediscover and tourists to enjoy.