Enjoy the magic of three enchanting new Walt Disney Collection Titles on DVD & video!
In true Walt Disney style, Buena Vista Home Entertainment has released three magical animated classics for you to take home on video or DVD.
Pete's Dragon, The Emperor's New Groove and The Black Cauldron are perfect additions to your collection of Walt Disney classics and will provide the whole family with hours of joy and amusement.
Full of endearing characters, memorable songs and action packed adventure, these movies will bring a smile to your face, a tear to the eye and a laugh to your belly!
The Walt Disney Collection consists of Disney's best-loved titles available on Video and DVD.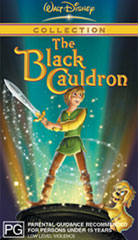 The Black Cauldron (PG)
The Black Cauldron is an exciting tale of heroism and overflows with colourful characters, trailblazing animation and countless action-packed moments.
Young Taran, a boy from the mystical land of Prydain, dreams of a future as an invincible warrior. Taran's fantasy becomes a reality when he finds himself fighting against the evil Horned King in a race to find the mysterious Black Cauldron before its dreaded powers are unleashed!
Armed with his magic sword and with the help of an enchanting princess, an adorable clairvoyant pig and a furry little creature named Gurgi, Taran triumphs over winged dragons, batty witches and more. Most importantly, Taran learns that nothing is as powerful as courage and friendship.
Bonus DVD features include the game: Quest for the Cauldron and the Animated Short: Trick of Treat.
Order Now from CD Wow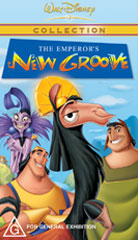 The Emperor's New Groove (G)
If you liked Aladdin, you'll love The Emperor's New Groove, where outrageous comedy and animated adventure rule! The whole family will be glued to the screen as Yzma and Kronk fight to rid the kingdom of the arrogant Emperor Kuzco's rule and in the process turn the Royal pain into a llama.
Now the Emperor must form an unlikely alliance with a pleasant peasant named Pacha. Can the arrogant Emperor Kuzco develop a kind and more gentle personality and brighter life perspective? Discovering the good in everyone has never been this much fun!
Featuring Academy Award® nominated song, 'My Funny Friend And Me' The Emperor's New Groove provides a laugh a minute - another Walt Disney classic that the whole family can enjoy again, and again.
Bonus DVD features include; deleted scene "practice destruction of Pacha's village', music video 'walk the llama llama dance sequence', walk the llama llama game, the Emperor's got featurette, behind-the-scenes, theatrical trailer, audio commentary and the Sting music video 'My funny friend and me'.
Order Now from CD Wow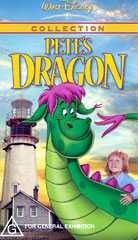 Pete's Dragon (PG)
Pete's Dragon, the heart-warming musical adventure filled with thrilling plot twists, is now fully restored for the whole family to enjoy.
A young orphan named Pete runs away to a Maine fishing town with his best friend Elliot, a lovable and sometimes invisible Dragon. Things are looking good for Pete and Elliot when the kindly lighthouse keeper, Nora (Helen Reddy) and her father (the legendary Mickey Rooney), take the pair in. Elliott's pranks however, land Elliot and Pete in trouble with the town-folk.
When a crooked salesman tries to capture Elliot, it is up to Pete to rescue his magical friend and in the process, discover the real meaning of friendship and family. Another Disney favourite on DVD and video, Pete's Dragon is full of action, suspense and delightful friendships - a classic that the whole family will enjoy watching!
Order Now from CD Wow