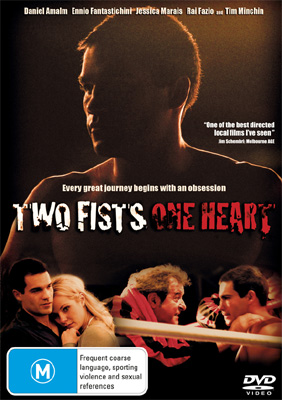 Two Fists One Heart DVD
Cast: Daniel Amalm, Ennio Fantastichini, Jessica Marais, Rai Fazio.
Director: Shawn Seet
Genre: Drama, Boxing
Rated: M
Running Time: 105 Minutes

In the tradition of tense, rugged and thoughtful Australian cinema, Two Fists One Heart is a superb drama of immense honesty and self examination, released to DVD 26 August 2009.

Set in modern day Perth, Two Fists One Heart is the story of a successful young boxer Anthony Argo, played by Daniel Amalm (Underbelly and Home and Away), and his relationship with his hardened Sicilian father and boxing coach Joe (Ennio Fantastichini).

A chance meeting with a young Australian psychology student Kate, played by Jessica Marais (Packed to the Rafters), has Anthony questioning both the traditional ways of his father and his boxing career. Before long Anthony's mother, played by Rosemarie Lenzo, is desperately trying to hold the family together, only to no avail when Anthony leaves the ring and is kicked out from the family home.

But the violent code of ethics that Anthony had been reared to is not so easily left behind; when he becomes involved in a street brawl, Kate ends the relationship. Alone and confused, Anthony is helped by Kate's brother Tom, played by Tim Minchin, to reflect on his life and find the strength to determine his own path.

Joe on the other hand deals with his son's departure by doing what he knows best - getting back in the boxing ring. Determined to find a replacement for Anthony, he works to create tough Sicilian boxer Nico, (played by Rai Fazio, writer and executive producer of Two Fists One Heart) into a similar mould to shadow what Anthony could have been.

Nico however soon betrays Joe, leaving the door open for Anthony to return and honour his father in a showdown the only way he knows how, with his two fists and one heart.

Inspired by Sylvester Stallone's creation Rocky, writer Rai Fazio brings to life his own upbringing as a young boxer in a script that attracted and inspired Australian producer David Elfick (Newsfront, Blackrock and Rabbit Proof Fence) to make Two Fists One Heart.

Two Fists One Heart is also the first feature film directed by Shawn Seet following his distinguished career directing Australian television drama series including Underbelly, Dangerous and Rain Shadow.

Acclaimed by film critics, Two Fists One Heart skilfully explores the clash of cultures that many Australians deal with as they seek a path that both honours the traditions of their cultural past and the values of a young nation.

Special Features:
The Making of Two Fists One Heart and How to Throw a Punch.

Review: A deeply personal movie and is based on a real story of a father (joe) has his Olympic boxing dream dashed as a young man, and lives through his son pushing him to reach the top. A Western Australian version of Rocky. In an interesting twist, Rai Fazio plays his own characters nemesis Nico Mancini.