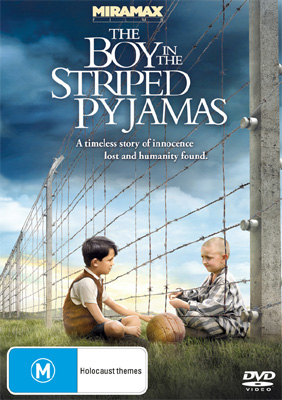 The Boy in the Striped Pyjamas DVD
Cast: Asa Butterfield, Vera Farmiga and David Thewlis
Director: Mark Herman
Genre: War, Drama
Rated: Running Time: 91 minutes
Release Date: 2nd September 2009

A haunting and tragic tale of a forbidden friendship between two children divided by war is brought to vivid life in The Boy in the Striped Pyjamas , one of the most anticipated dramas of the year, released to DVD 2 September 2009.

Written and directed by acclaimed playwright Mark Herman, and based on the international bestselling novel by John Boyne, The Boy in the Striped Pyjamas is a tragic yet inspiring story that offers a rare perspective on how prejudice, hatred and violence can have devastating consequences in times of war.

Set during World War II, we observe the world through the eyes of Bruno (played by Asa Butterfield), an eight-year-old boy enjoying an affluent lifestyle in Germany with his mother (Vera Farmigu), sister and Nazi commandant father (David Thewlis).

When Bruno's father is assigned to oversee a concentration camp, Bruno leaves his friends and Berlin behind. Soon desperately lonely and bored in his new home, Bruno, against the wishes of his family but compelled by curiosity, secretly explores his new surroundings and discovers the 'farm' next door. It is here on the other side of the barbwire he meets Shmuel, a Jewish boy his own age held captive in inhuman circumstances.

Although their lives are separated by the barbed wire fence, the lives of Bruno and Shmuel become inescapably intertwined. As Bruno becomes increasingly suspicious of the real purpose of the 'farm' and when Shmuel's father mysteriously disappears, the boys devise a plan for Bruno to enter into the camp to help look for Shmuel's father.

The Boy in the Striped Pyjamas has received enormous acclaim across the globe, with three nominations along with Best Actress Award (Vera Farmiga) at the 2008 British Film Independent Awards, as well as being awarded the Audience Choice Award at the 2008 Chicago International Film Festival.

Intelligent, thoughtful and haunting, The Boy in the Striped Pyjamas is an unforgettable portrait of man's extraordinary ability to perform such devastating acts of evil as witnessed by the Holocaust.

Special Features:
Captivating bonus features include:
Deleted Scenes
Audio Commentary
Exclusive look at the creation of the film.

Review: Seen through the eyes of an 8 year old, The Boy in Striped Pyjamas is confronting and a powerful portrayal of life through the eyes of a Nazi Commendant's son.