Tucker and Dale vs. Evil DVD
Cast: Alan Tudyk, Tyler Labine, Katrina Bowden, Jesse Moss
Director: Eli Craig
Genre: Comedy
Rated: MA
Running Time: 89 minutes

It's memorial day weekend, and Tucker (Alan Tudyk) and Dale (Tyler Labine) are on their way to their dilapidated, backwoods vacation home to drink some beer, do some fishin', and fix 'er up. Dale is a good-hearted but oafish man who is plagued by an inability to talk to the opposite sex while Tucker, the leader of the two, is a wise cracking ladies man. When the duo see a group of college kids on their way to go camping, Tucker encourages Dale to go talk to the beautiful co-ed Allison (Katrina Bowden). After all, he says, she's just human and what's the worst that could happen? But when Dale approaches her, nonchalantly carrying a scythe over his head, Chad (Jesse Moss) misinterprets his advance as a hostile gesture. The college kids quickly race out of there leaving Dale in the dust to contemplate his incompetence with women once again.

After being pulled over by a policeman and warned not to go into these woods, Tucker and Dale finally arrive at their cabin. They are overwhelmed at the sight; plants have grown all over it, the wood is rotting through, the paint is worn and faded… it's perfect! They decide to do a little work on the place, but first they stock up on beer and head to the lake to go fishing.

While the pair fish off their dinghy in a nearby lake, the college kids go skinny dipping. While Allison is disrobing she sees the two hillbillies gazing up at her from the reeds. She screams, then slips and bangs her head against a rock, knocking herself unconscious and tumbling into the water. Seeing that she doesn't come up, Tucker and Dale immediately leap to the rescue.

By the time the college kids respond to the scream, they see the hillbillies hauling Allison into their boat. Their worst nightmare is happening! The hillbillies from the store… they captured Allison!

When Allison awakens in the cabin, she soon realises that Tucker and Dale are harmless. Unfortunately, the college kids have already made up their mind that the hillbillies are inbred backwoods killers who have abducted Allison and they are going to do everything in their power to save Allison. The only problem is that every time they attack Tucker and Dale one of them ends up accidentally killing themselves. As the body count of dead teenagers rises, the two grow more and more implicated in a crime they never committed.

What ensues is a horror/comedy based on a series of preconceptions, followed by terrible misunderstandings. In an unusual twist on the classic horror genre, the good guys are the two backwoods hillbillies and the bad guys are the prejudiced and over-privileged college kids attacking them for seemingly no good reason.

The film consistently utilises irony and misperception to create both comedy and dread. And in the end, the roles are flipped as Chad evolves into the evil and deranged villain while Dale becomes the if not dashing, at least charming, hero and saves Allison.

Tucker and Dale vs. Evil
RRP: $39.95
Blu-ray: $49.95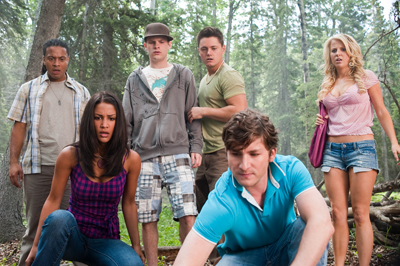 About the Production
"Tucker and Dale vs. Evil' is a zany story about love, friendship, and the occasional death by woodchipper. The comedy takes the 'college -kids-go-into-the-woods-and-bad-things-happen' horror sub-genre and turns it completely around.

The script is the brainchild of the writing team of Eli Craig & Morgan Jurgenson who attended University of Southern California Graduate School of Cinema (USC) and they wrote this screenplay together just after graduation in 2005.

Morgan Jurgenson said he was stuck in traffic one day while returning to Los Angeles and was re-routed through a small town that shall remain nameless for its own protection. "It was a strange little town and it started me thinking about all the clichés of college kids losing their way and winding up in places like this," he said, adding, "I thought it could be interesting if you flipped it around. Set it in the back hills but instead of crazed hillbillies, have a couple of good old boys who are simple and sweet and don't have a mean bone in their bodies, with the college kids as the cause of the friction."

"So when I returned to LA I was working with Eli Craig on a couple of projects and we started knocking around ideas as to what our next script might be. I threw out the idea and I saw his head tilt and a light went on. He really liked the concept so we wrote the script." Before they went out with their spec script, Eli Craig and Morgan Jurgenson agreed that subject to financing Eli Craig would deliver his directing debut with this project, and in exchange, Morgan Jurgenson would be attached as producer.

In 2006 the screenplay had still remained unsold but studio development executives all over Los Angeles had read and loved the screenplay, they just didn't know how to convince their respective employers to finance it. One of those bright young executives, Alissa Ferguson (now Alissa Phillips) who runs Michael De Luca's Sony based production company in Los Angeles, sent the screenplay to independent producer Thomas Augsberger (Mr. Brooks, Waiting, Incident At Loch Ness) at Eden Rock Media, her former boss. "The studios are unlikely to ever make this but you are used to working with first time writer/directors and maybe just crazy enough to take it on - and then they can buy it from you in Sundance" she told Thomas Augsberger jokingly.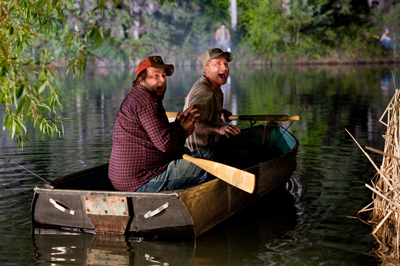 Thomas Augsberger immediately read the screenplay and saw potential in the fresh take on a conventional horror set-up. He watched Eli Craig's short film the The Tao of Pong and felt that the young man had it probably in him to become a great comedy director. A couple of days later, in June 2006, after Thomas Augsberger met with Eli Craig and Morgan Jurgenson for a few hours in his office on the old Charlie Chaplin Lot in Hollywood, the three of them struck a deal to partner up on the project 12 months later Thomas Augsberger had been turned down by all equity investors, Gap-Financiers, foreign and domestic distributors, US Studios and anybody else he vaguely knew who could potentially help him get the film off the ground. With few options left, Morgan Augsberger approached his long time friend Deepak Nayar of Kintop Pictures. Deepak Nayar had produced films like Bend It Like Beckham and Bride and Prejudice in such unlikely locations as Isle Of Man, one of the Channel Islands off the coast of England, with partial financing from an Isle of Man Film Fund.

Deepak Nayar immediately sent the Tucker & Dale screenplay to the fund managers who liked the screenplay and a few days later pre-production started with a surprisingly successful location scout in the Isle Of Man, While Deepak Nayar and Thomas Augsberger convinced Eli Craig that they could shoot the entire film on the British Island the Financiers had second thoughts. Eli Craig, who had been convinced, was heartbroken and the project languished for nine more months until Deepak Nayar struck a deal with Reliance Big, the Indian Entertainment giant, to co-finance a small film slate with him.

Deepak Nayar decided to risk his fresh production funds on Tucker & Dale. In addition to Reliance Big, Thomas Augsberger and Deepak Nayar brought in Canadian line producer Rosanne Milliken and - once it became clear that the most advantageous funding structure was available not in Vancouver but in the Province of Alberta, Rosanne Milliken's then business partner Albert Klychak was brought on board to help fulfill the Alberta financing requirements. While Thomas Augsberger had to give up his producer credit in favour of Rosanne Miliken and Albert Klychak to make the Canadian producer credit requirements work, he felt his sacrifice was worth it after three years of trying to get the picture financed. A substantial investment from the UK's Mark Ryan's Loubyloo Productions completed the financing of the picture which finally closed in April 2009 and was soon followed by Thomas Augsberger and Eli Craig starting the casting process while Deepak Nayar and Rosanne Milliken focused on prepping and pre-production in Calgary.

Tucker and Dale vs. Evil was to be Eli Craig's feature directorial debut, but he was no stranger to production. A graduate of USC's Graduate School of Cinema, Craig worked for several years as an actor before his desire for more creative control lead him toward writing and directing. He wrote and directed the award winning short film, "The Tao of Pong" in 2005 and produced, edited and shot dozens of music videos, commercials, and documentaries since then. Eli Craig was well tuned to the stresses of independent filmmaking Eli Craig found Director of Cinematography David Geddes, whose previous work on The Messengers and his second unit work on Night at the Museum was a big reason for Eli Craig's interest in hiring him. David Geddes also had experience shooting fast and furious on smaller films like Smokin' Aces 2. The combination of horror experience and comedy made David Geddes a perfect match for the film.

For David Geddes, the contrasting genres of horror and comedy forced the filmmakers to make decisions about the look and feel of the film. "When you are shooting horror you try to make it look dark and creepy. You want the bogeyman to jump out of the shadows, while comedy is light and airy and well lit," he said, adding, "We approached this as more of a comedy. In post-production we were able to de-saturate the visuals and produce more of a scary look where needed. Working with Eli Craig did not have the feel of working with a first time director," said David Geddes.

"First time directors can sometimes be tricky, but Eli Craig comes from an acting background and had some experience. So I do not consider him a true first timer. He had a big head start with the staging and blocking of the scenes". David Geddes added, Eli Craig has done a great job directing this film. We had great fun every day on set, which is true to form working on a comedy."

First assistant director Jason Furukawa echoed the opinion of David Geddes regarding working with Eli Craig, when he said, "Normally when I work with a first time feature director I am concerned about time, communication and his or her personal attitude toward the crew and the stress of the day and the ability to keep a calm set.. He always had a great sense of humor and was open to collaboration. I will work with him any time again."

It was fortunate that Eli Craig exhibited such grace and control under pressure, for there was plenty of unforeseen pressure brought on by the very unseasonable Alberta weather.

Filming for the vast majority of Tucker & Dale vs. Evil took place on acreage just west of the Calgary city limits in the summer of 2009. Calgary is renowned as the city in Canada that gets the most days of sunshine. You would not have known it from the production shoot on this film.

"Said Eli Craig, jokingly. "Everyone lied and said it was hot in the summer and the truth was we actually had one day of sunshine and day one was indeed great. From then on it was constant rain, sleet, dark clouds, storm, lightning - you name an adverse weather condition and we had it."

"We had more loss and damage on this show than I have ever had in 10 shows," said Rosanne Milliken, who is based in Vancouver on Canada's west coast. "In large part this was due to the weather and the muddy locations. On our first day, the camera truck driver drove into the honeywagon, creating a massive hole in it. We had close to twenty-five loss & damage claims and previously I had never had more than three, in fifty productions! The constant rain (the Calgary crew was not as accustomed to shooting in the rain as Vancouver crews are) proved to be problematic but fortunately no one was electrocuted, and in the end it did add to the atmosphere."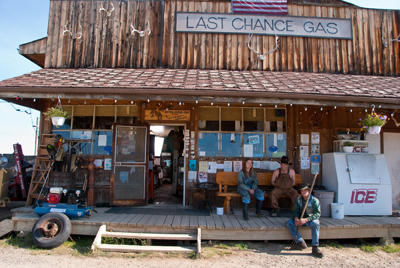 Beyond the weather another problem the location presented was the lack of a usable sawmill, which was essential for a climatic scene in the film. The only sawmill in the area was unavailable and production designer John Blackie was able to transform an old barn near the woods where the majority of the action was filmed.

John Blackie saw that as a plus. "Actually it was a beautiful accident that we didn't find a sawmill, for in the end this kept us in one location, allowing us to stay together in the same spot for the majority of the filming and that helped us in the long run.

Other than some scenes in a bowling alley in the nearby Town of Cochrane, a store, a park in Calgary which provided the lake scene where Tucker and Dale are fishing and some driving segments, the entire film was shot on a private ranch outside of Cochrane.

Despite the hardships that the weather constantly provided the cast and crew kept their spirits up every day and the rapport between Eli Craig and the actors was outstanding.

Tyler Labine, who plays "Dale," called the entire filming a "fantastible" experience (adding that he was taking credit for the word!). He also said that throughout filming Eli Craig was "as cool as the other side of my pillow," adding, "It is not always easy as an actor to place all your trust in a first time director, but Eli Craig made it remarkably so."

Eli Craig saw in Tyler Labine "the heart of gold" combined with the superb comical timing that "Dale" needed to have. Adds Thomas Augsberger: "With Tyler Labine being relatively unknown outside Canada but being so right for the role we were initially hoping to cast at least 'Tucker' and 'Alison' with actors who would be a more widely recognisable stars. But the casting fell smack in the middle of the US pilot season and despite the best efforts of our US and Canadian casting directors and pretty strong support from the US talent agencies we didn't really cast our co-leads, Alan Tudyk and Katrina Bowden, until three days prior to start of principal photography. Says Thomas Augsberger: "In the end, we just went with who Eli Craig, Morgan Jurgenson, our casting directors, my producer colleagues and I considered the best actors for the role, knowing full well that this decision would potentially come to haunt us when we would try to get a US distribution deal down the road - which it did."

Tyler Labine describes his character as "a good old boy but he doesn't have sage wisdom, but at the heart of it he is a softie. Put a canvas in front of him he just might paint a masterpiece."

The chemistry between Labine's "Dale" and Alan Tudyk's "Tucker" was magical and produced some great moments on screen where both actors would run off on their own dialogue.
"My background is adlibbing and theatre sports and Alan Tudyk and I just clicked on screen and off," said Tyler Labine, enthusiastically adding, "If Eli Craig wants to shoot a sequel, for instance - 'Tucker & Dale go to Yale' - count me in!"

Alan Tudyk, who had not met Tyler Labine prior to filming, also enjoyed the onscreen banter with his co-star.

"Tyler Labine is very talented and has a sense of humor that blended well with my own. Despite the bizarre un-summer-like weather we had a lot of fun filming."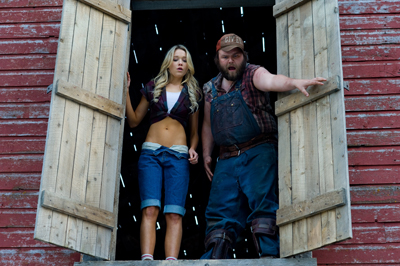 Eli Craig said working with the talents of Tyler Labine and Alan Tudyk was a tremendous experience. "Both men are capable of such depth and range beyond the jokes. They are playing full characters. The humor comes not only from the lines, but from their looks and how they react with each other."

For the female lead role of "Allison," Katrina Bowden, best known as Cerie on the hit series "30 Rock," was cast as the girl who steals Dale' heart.

Katrina Bowden said she appreciated the fact that Eli Craig had a lot of acting experience. "Eli Craig understands the actors? perspective and he always presented what he wanted to us in a way that we understood. For a first time feature director this is rare, but it made the filming so enjoyable."

One thing Katrina Bowden said she wasn't prepared for was how the effects - especially the gore and the makeup - would look. "Seeing it all being shot is crazy - the gory aspects are so visually great. The effects are so shocking. You read the script but you don't expect it to look as graphic as it is."

The spattering of gore and blood work that crops up in the film provided its own difficulties for costume designer Mary Hyde-Kerr, who said she had to have half a dozen identical outfits of many of the costumes in order to allow for additional takes where a character would get his apparel "blood soaked."

When asked how she researched what Tucker and Dale should be wearing, Mary Hyde-Kerr said, "I watched Deliverance and I Googled 'West Virginia hillbillies' - you wouldn't believe what I found on the Internet!"

The filming of Tucker & Dale vs. Evil began on June 10, 2009 and continued through July 15.

One final note - Eli Craig would like everyone to be assured that no actual hillbillies were harmed during the filming of Tucker & Dale vs. Evil. So PETH (Persons for the Ethical Treatment of Hillbillies) - relax!


Tucker and Dale vs. Evil