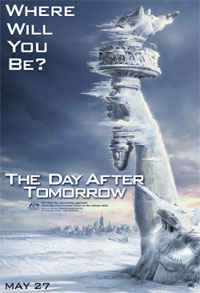 Starring: Dennis Quad, Jake Gyllenhoal, Ian Holm, Emmy Rossum, Sela Ward.
Director: Roland Emmerich
Rated: M15+
Running Time: 118 mins

From the director of "Independence Day" comes a spectacular roller-coaster ride that boasts pulse-pounding action and sensational, mind-blowing special effects. When global warming triggers the onset of a new Ice Age, tornadoes flatten Los Angeles, a tidal wave engulfs New York City and the entire Northern Hemisphere begins to freeze solid. Now, climatologist Jack Hall (Dennis Quaid), his son Sam (Jake Gyllenhaal) and a small band of survivors must ride out the growing superstorm and stay alive in the face of an enemy more powerful and relentless than any they've ever encountered: Mother Nature!

This epic tale of survival and heroism is packed with Special features two disc DVD includes:
- 10 Deleted Scenes, The Science Of Tomorrow
- The Science and Politics of climate Change, Global Super storms featurette with scientists around the world: the reality behind Day After Tomorrow, GLOBAL WATCH
- Interactive look at climate catastrophies, CITY FREEZE
- Famous Icons from around the world, IN-DEPTH LOOK BEHIND THE MAKING OF DAY AFTER TOMORROW:Pre-Production: Pre-Visualisation and concept animatics, Pre-Production: Pre-Production meeting
- Roland Emmerich and Mark Gordon, Storyboard And Concept Art Gallery Production, Eye of the Storm: Filming the Day After Tomorrow and heaps more!

As an added bonus the two- disc Special Edition also features limited edition, removable 3D, collectable artwork!

Review:
A breath-taking movie with some awsome special effects. The very real message behind this extraordinary storyline is that we need to be aware of what we are doing to our planet and the effects it could have.