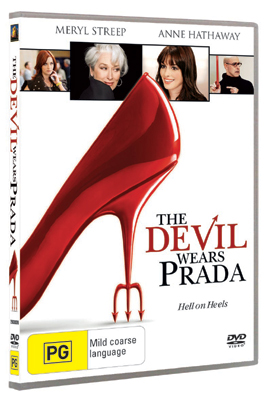 Academy Award® Winner Meryl Streep, Anne Hathaway, and Stanley Tucci, lead a stylish cast of fashionistas in the vibrant comedy 'The Devil Wears Prada' out on DVD February 7.

Surviving as the assistant to the boss from hell is ironically the job a million girls would die for in 'The Devil Wears Prada', Meryl Streep stars as Miranda Priestly, the notorious and influential editor of Runway magazine, who coolly dominates the fashion world with a finely manicured fist. Nothing stands in Miranda's way of making Runway the most successful fashion magazine in the world, including a long line of failed assistants.

Fresh-faced actress Anne Hathaway (Brokeback Mountain, Princess Diaries 2:) stars as Miranda's new unlikely, unrefined, size six assistant Andy Sachs. A total misfit in the ultra-sophisticated world of high fashion, Andy's determined to prove that she is more than a stylish slave and launch her career as a serious journalist, but at what cost?

'The Devil Wears Prada' also features performances from award-winning actor Stanley Tucci* (Maid in Manhattan, The Terminal), Emily Blunt (My Summer of Love) and HBO's hottest newcomer Adrian Grenier ("Entourage" TV series).

Directed by OscarÒ and Emmy®-winner David Frankel** ("Sex and the City," "Entourage" TV series),

'The Devil Wears Prada' is based on the internationally best-selling novel by Lauren Weisberger, which held a spot on the New York Times bestseller list for six months. 'The Devil Wears Prada' DVD arrives runway-ready with special features including a director's commentary, deleted scenes, featurettes and much more!

DVD Features:
'The Devil Wears Prada' DVD includes director commentary, deleted scenes and featurettes and is presented in widescreen and pan scan formats, features English Dolby 5.1 Surround and French and Spanish Dolby Surround and subtitles in English, French and Spanish.

Synopsis:
Based on the hilarious best-selling novel, this sinfully funny movie starring Academy Award® winner Meryl Streep and Anne Hathaway is "sensationally entertaining in every way" (Maxim). As assistant to impossibly demanding New York fashion magazine editor Miranda Priestly (Meryl Streep), young Andy Sachs (Anne Hathaway) has landed a job that "a million girls would die for." Unfortunately, her heaven-sent appointment as Miranda's personal whipping girl just might be the death of her!

Featuring stand-out performances by Stanley Tucci and Emily Blunt, plus a closet full of must-have DVD "accessories," 'The Devil Wears Prada' is a fresh, funny, fabulous masterpiece!

'The Devil Wears Prada' is out on DVD February 7th 2007.

Review: This would undoubtedly be my favourite performance by Meryl Streep.