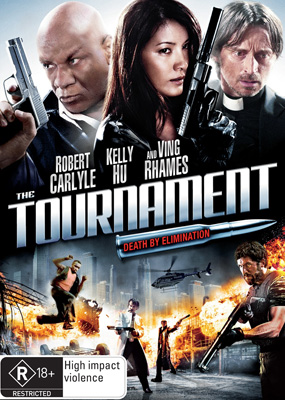 The Tournament
Cast: Ving Rhames, Kelly Hu, Robert Carlyle
Director: Scott Mann
Genre: Action, Thriller
Rated: R
Running Time: 95 minutes

"You might want to bring a steel umbrella though, it's that bloody".

Every seven years, thirty of the world's most deadly assassins face off against one another for an outrageous cash prize. There's only one rule: kill or die. As dozens of wealthy gamblers watch via closed-circuit TV, a city is overrun by brutal assassins all aiming to be the last one standing.



Review: Similar concept to the running man, but the players are all high level assassins. An unwilling contender is the previous 'tournment' winner, who has since moved on. However the stakes are high and the Tournament organisers won't take no for an answer and kill his wife. Each contestant has been implaced with a tracking device so that they can pinpoint opponent & camera locations for a continuous feed back to the high bidding gamblers. There is to be only one survivor, but when a preist unknowning swallows one of the tracking devices one of the players grows a conscious. Great high paced movie for those who love action and assassination.
The Tournament
RRP: $29.95