Stevie Jacobs Minions DVD Interview
How To Keep Your Kids Entertained This Summer: By Stevie Jacobs And The Minions

Universal Sony Pictures Home Entertainment has partnered with everyone's favourite TODAY weatherman and father of two, Stevie Jacobs, to star alongside the Minions in a new video designed to help parents keep their kids entertained this summer.

Research shows that children gain understanding about the world by seeing, touching, tasting, smelling, moving and hearing. According to the National Quality Framework, we can enhance the choice and quality of learning experiences by supporting flexible use and interaction between indoor and outdoor spaces.

Understanding the importance of balancing indoor and outdoor play in childhood development, the new Minions -Summer Entertainment' video provides parents with some tips to help inspire their kids to experience Australia's great outdoors this summer.

Stevie Jacobs said, 'We are on the road a lot and are fortunate enough to take our girls with us. We always see every outing not just as an adventure, but as an opportunity for Isabelle and Frenchy to learn something new."

'Using the Minions as an avenue to talk to children, on a level they understand, will no doubt inspire them to want to get outside and explore Australia's beautiful beaches and national parks, or create their own family adventure."

From bobbing for ducks at a theme park to jumping into waterfalls on a hike and visiting Australia's iconic landmarks, like the Minions' favourite The Big Banana, Stevie has enlisted the help of everyone's favourite yellow henchmen to provide some easy-to-understand tips that families can follow to ensure little minds are engaged and inspired to go exploring.

The video, featuring the Jacobs family including Stevie, wife Rose and kids Isabella (4) and Francesca (2) and the Minions, can be seen on The Viewing Lounge YouTube page. Minions is out now on 3D Blu-ray™, Blu-ray™, DVD & Digital with UltraViolet™.

Top Tips To Keep Kids Entertained This Summer, Curated By Stevie Jacobs And The Minions

If you're feeling like a dare devil, grab the family and hit up one of Australia's theme parks:

Zoom around on a roller coaster
Challenge your family at bobbing for ducks
Laugh at yourselves in the Mirror Maze
Take in the view from the Ferris Wheel
Finish your day with a banana ice cream – that's if the mischievous Minions don't eat them first!

2. Warm your vocal chords with the best travel songs or games to play on a road trip:

10 green bottles sitting on a wall
Wheels on the bus
Eye-spy with my little eye
20 questions
Play who can spot the Minion yellow cars?

3. Spend a day at the beach:

Play a game of family cricket
Grab a board and learn to surf – make sure you follow the surf safety tips!
Build a Minion sized sandcastle
Play a game of tag and run down the sand dunes
Have a beach BBQ

4. Take a family hike in a national park:

Pack your bag and go hiking – don't forget your boots, hat and lots of water to explore the great outdoors
Play a game of spot the animals and see if you can find some friendly Australian wildlife hiding in the trees
Find a canyon, open your lungs and play a of Mr Echo (Echo Echo)
Find a waterfall, pop your bathers on and jump right in!
Spend a night camping under the stars

5. Visit Australia's iconic landmarks:

Awe at the sails of the Sydney Opera House
Have a snorkel in the Great Barrier Reef – bring your stinger suit!
Visit one of Australia's famous zoos
Don your Akubra and hit the outback
Head up to Coffs Harbour and explore the BIG BANANA!
Stevie Jacobs Interview
Question: Can you share with us your top tips to keep the kids entertained indoors and outdoors this summer?

Stevie Jacobs: There are plenty of fun ways to enjoy the amazing weather this summer, I love taking the family for a road trip up the coast to some of the less crowded beaches to build some epic sandcastles and swim in the ocean.


Question: What do you enjoy most about the Minions?

Stevie Jacobs: They're pretty fearless little characters, and they're always getting themselves into sticky situations. Watching them try and navigate their way out of them is very entertaining.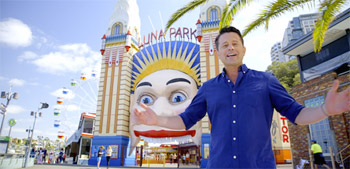 Question: What is it about the Minions that appeals to your two children?

Stevie Jacobs: I think probably the adventures they go on! Plus their Minion language is pretty hilarious, I sometimes feel like my girls have their own language between one another so that's another thing they definitely relate to.


Question: Why did you choose to be involved in the Minions -Summer Entertainment' campaign?

Stevie Jacobs: Being a weatherman I'm all about the natural elements, and I am a huge supporter of encouraging people to enjoy the natural beauties we have to offer here in this country. I love a good adventure as well – so really this campaign just ticked all the boxes for me. I also got to spend some quality time with the family whilst encouraging others to do the same, what's not to love?


Question: Can you tell us about the video you star in, alongside Kevin, Stuart and Bob?

Stevie Jacobs: What a wild ride that was. We went on a voyage of our own in search of the best family activities. The Minions gave me a helping hand and we sampled a bunch of different options – rode a roller coaster, visited The Big Banana, took a hike through an amazing national park and built a Minion sized sandcastle on one of Australia's best beaches. I even shared our favourite car games to keep the little guys entertained on long road trips. Watch the video here.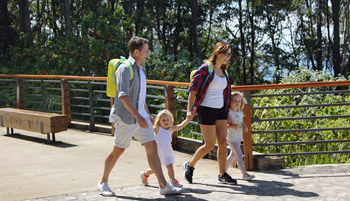 Question: What do you hope families learn from the Minions -Summer Entertainment' video?

Stevie Jacobs: That it's never too hard to do something a little bit adventurous on the weekend or when you've got some time with the family. I'm hoping that people see this video and are inspired to take a spontaneous trip somewhere fun, sunny and exciting. We are spoiled for options here, so make the most of them.


Question: Why is it important to you that family activities ensure minds are engaged and inspired?

Stevie Jacobs: Young minds are very active! Keeping kids busy and entertained is just as important as keeping your bodies fit. If they're still at that young age, you want to cherish that time before they become too cool to hang out with their parents.


Question: What advice do you have for parents of children who prefer to be inside rather than outside?

Stevie Jacobs: There are still loads of fun activities you can do as a family that don't involve having to venture into the outback. Just make sure it's engaging and interactive so everyone can get involved. There are some great board games around but if you're into something more physical then twister is always a classic family fave. Or why not have a movie night and watch Minions all together? At the end of the day, as long as you're doing something that involves everyone, you're still having quality family bonding time.



Minions DVD

Cast: Sandra Bullock, Jon Hamm, Michael Keaton, Allison Janney, Steve Coogan, Jennifer Saunders, Geoffrey Rush
Directors: Kyle Balda and Pierre Coffin
Genre: Family, Comedy, Animation
Rated: PG
Running Time: 91 minutes


The breakout stars the world fell in love with in Universal Pictures and Illumination Entertainment's Despicable Me global film franchise headline their own movie for the first time in Minions, available on Digital from October 22, 2015, and on 3D Blu-ray™, Blu-ray™ & DVD with UltraViolet™ from November 5, 2015, from Universal Sony Pictures Home Entertainment. A much anticipated prequel to the unprecedented worldwide blockbusters Despicable Me and the beloved sequel Despicable Me 2, Minions is an immensely entertaining film for all audiences. The Blu-ray™ & DVD will also come with three all-new mini-movies and even more Minions everyone will want to watch again and again especially during the busy holiday travel season.
The story of Universal Pictures and Illumination Entertainment's Minions begins at the dawn of time. Starting as single-celled yellow organisms, Minions evolve through the ages, perpetually serving the most despicable of masters. Continuously unsuccessful at keeping these masters – from T. rex to Napoleon – the Minions find themselves without someone to serve and fall into a deep depression. But one Minion named Kevin has a plan, and he – alongside teenage rebel Stuart and lovable little Bob – ventures out into the world to find a new evil boss for his brethren to follow. The trio embark upon a thrilling journey that ultimately leads them to their next potential master, Scarlet Overkill (Academy Award® winner Sandra Bullock), the world's first-ever female super-villain. They travel from frigid Antarctica to 1960s New York City, ending in -mod' London, where they must face their biggest challenge to date: saving all of Minionkind...from annihilation.


Special Features:
Three all new mini movies - Cro Minion, Competition and Binky Nelson Unpacified
Jingle Bells Minion Style

Blu-ray Special Features:
Three all new mini movies - Cro Minion, Competition and Binky Nelson Unpacified
Around the world interactive map
Behind the goggles - the Illumination story of the Minions
Jingle Bells Minion Style
Minions
RRP:$39.95
Blu-ray: $49.95
Interview by Brooke Hunter