Sandra Bullock Minions
Cast: Michael Keaton, Pierre Coffin, Sandra Bullock, Jon Hamm, Katy Mixon, Hiroyuki Sanada
Directors: Kyle Balda, Pierre Coffin
Genre: Animation, Family
Rated: PG

Synopsis: Minions Stuart, Kevin and Bob are recruited by Scarlet Overkill, a super-villain who, alongside her inventor husband Herb, hatches a plot to take over the world.

Minions
Release Date: June 18th, 2015
About the Production
Their Origin Story: Minions Begins

'In making this prequel, we began by asking the question that has been asked of us thousands of times: -Where do the Minions come from?'"
"Chris Meledandri

After the unprecedented success of both the blockbuster Despicable Me and its beloved follow up, the Academy Award®-nominated juggernaut Despicable Me 2, there was a global appetite for more stories from the world that was created in Illumination Entertainment's inaugural series. Audiences everywhere have become transfixed by the Minions and were more than curious to understand where Gru's loyal and haphazard crew came from, who they were before they met their ultimate master and what other adventures they'd been on since they appeared on our planet.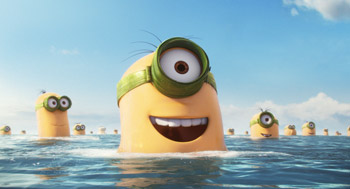 Illumination founder and CEO Chris Meledandri explains that, in their typical subversively sweet fashion, the Minions got their own way when it came to a prequel story. He says: 'We didn't set out to give the Minions their own movie, the Minions demanded it. After Despicable Me 2 was finished, we found that our team"which is made up of hundreds of the most talented individuals with whom I have ever had the privilege of working"could not stop themselves from animating these characters."

Since the Minions were introduced on screen in summer 2010, Chris Meledandri and his fellow filmmakers have watched as the tribe and their mayhem have been deeply embraced by worldwide audiences. He feels that the connection we have found with them comes down to their irrepressible spirit. The producer shares: 'This spirit comes from a combination of their design, the animators who bring them to life and their vocalisations under the direction of Pierre and Kyle, and previously Pierre and Chris. Together, they have created a persona that is just irresistible."

For Chris Meledandri, the duality of the characters' nature adds to audience's demand for more stories about the universally accessible Minions. He says: 'They're not just adorable. They're so appealing because of this contradiction between their aspiration to be bad, and their essential nature that makes them so good. We all have that side to us." That relatability and connectivity is, for Chris Meledandri, the key to all of Illumination's movies. 'The most impactful aspect of coming to see one of our films is the bond that audiences form with our characters."

To that point, since he founded Illumination, Chris Meledandri has underscored that the company's films must focus on character above all else. Nothing underscores that commitment to characterisation more than the Minions themselves. He provides: 'There are unquestionably many areas where our team has developed expertise, and they're all important, but we do have to pick one focal point that we're all serving. In my mind, that's in the development of characters that are relatable, dimensional and frequently flawed. Especially here, the Minions express themselves through comedy and have universality in terms of what they're dealing with. They are characters that lean primarily on visual experience over verbal expression."

Chris Meledandri's longtime fellow producer, Janet Healy, who has collaborated with him on every Illumination film to date, shares his passion to make films full of complex personalities. She reflects on why Minions are so beloved throughout the world: 'What appeals to everyone"no matter what country they live in or their age"is that the Minions are subversive, childlike, sincere, expressive and invincible. They're also ageless and without a specific language. People are eager to see them in their own movie, and we're very excited to give them a prequel to the Despicable Me movies that features the Minions and the story of where they come from."

As the Illumination creative family has grown over the years, one of the valuable assets to the team has become writer Brian Lynch, who worked with Meledandri at 20th Century Fox's Blue Sky Studios before Meledandri opened his production company to make films that would be distributed by Universal Pictures. Brian Lynch was brought aboard to work on Illumination's second film, Hop.

After their first collaboration, Brian Lynch was next asked to write Despicable Me: Minion Mayhem based on the series, which would go on to become an enormously popular ride at both Universal Studios Orlando and Universal Studios Hollywood. Park guests could interact up close with the Minions, and they just couldn't get enough of them.

The ride was so popular that the Illumination creative team asked Brian Lynch if he'd be interested in writing a stand-alone film about the Minions to complement the others in the Despicable Me canon. Chris Meledandri discusses the team's goal for the film:
'Illumination movies are always about characters. And in the case of the Minion movie, just like every other film, we wanted to explore dimensional personalities and characters, which we have done with our lead Minions"Kevin, Stuart and Bob."

Brian Lynch shares the reason he accepted the challenge and why he wanted their tale to be a 1969 prequel to the events that began in 2010: 'We all have a little Minion in us, some of us more than others. People have so many questions about who the Minions are and where they came from that we realised it would be a lot of fun to answer those."

To develop this intricately detailed world, Brian Lynch"who also works in the medium of comic books as a writer"immersed himself in all things Minion. Of course, when he worked with the theme parks, he'd memorised every detail of both Despicable Me and Despicable Me 2"as well as the numerous Minions shorts that accompanied the films' home-entertainment releases"by watching them repeatedly and referencing the source material religiously.

'Having Minion voices in your head can be scary, but it was really helpful in this case," laughs Brian Lynch. 'Fortunately, Pierre does the voice of the Minions, so anytime I had a question about how they would act, he knew." Crafting dialogue for the mischievous characters, however, was a bit trickier than deciding upon a narrative for them to follow. 'The hardest part is that our three leads don't speak English. Still, Pierre is wonderful at conveying what they're trying to say."

When imagining an origin story for our heroes, it was exciting for Brian Lynch to ponder what audiences have been thinking since they met the Minions: Where did they come from and how did they live life pre-Gru? 'It's great to see the Minions in this big, cruel world before Gru comes along," reflects the writer. 'He is there to protect them in the first two movies and is very much a father figure. As much as the Minions want a villain to lead them, they want a family to be a part of. In this movie, they don't have that yet and are trying to figure out that that's what they really want."

Tasked with flushing out three leads for his origin story, Brian Lynch lets us in on their distinct personalities: 'As much as they slap each other around, they're also there for each other. Kevin is the big brother, and if he weren't around, the others would have ceased to exist long ago. Stuart is the rebellious teenager type. He doesn't care about the mission as much as he does about hanging out, playing his music and talking to girls. And Bob is the wide-eyed innocent who is so excited to help out but then gets distracted by a bright light or the TV or a teddy bear on the ground." Still, it wasn't all brotherly love. 'You want them bickering. You want them having ideas that the others wouldn't, and you need them playing off each other."

Brian Lynch had a solid education in Minionese, but because the Minions often rely on physicality to get their points across, he knew he would need to rely heavily on Coffin and Balda's talented animators to help the audience understand Kevin, Stuart and Bob. 'A lot of the movie relies on physical comedy and the Minions' ability to convey emotion through their giant eyes"or eye," he explains, 'but it was really helpful to have Pierre available to call and ask, -How would they react this way? What word can we use to convey that they are scared?' It was a lot of trial and error. There were times when I wrote a scene in the script, -If this is what we could understand them saying, this is what they'd say.' Then Pierre would go and speak into a microphone and say the Minion version of that."

The Pierre of whom Brian Lynch speaks"and the filmmaker who knows Minions better than anyone else on the planet"is director Pierre Coffin, whose work alongside partner Chris Renaud enshrined Despicable Me and Despicable Me 2 in animated cinema lore and garnered Illumination an Oscar® nomination for the series' second entry. Pierre Coffin's goal with the Minions has always been for us to take them seriously while simultaneously celebrating their ridiculousness. He states: 'This movie is not just for one audience. It's for a broad audience, but we tried to be witty about it, meaning that every time there is a joke, we try putting multiple levels on it. That's the magic of animation. You can express everything for your characters with sheer physical movements."

As the nature of Pierre Coffin's craft is to give life to inanimate objects, the success in the Minions being likable and relatable is because Pierre Coffin and his fellow director, Kyle Balda, work so closely with their talented animation team to give each of the Minions distinct characterisation. Shares Pierre Coffin: 'You don't understand their words, you don't understand their grammar, but you do understand when they're in a position of conflict, if they're sad or if they're happy."

For Pierre Coffin, the Minions are the ultimate nod to his heroes of silent cinema. He explains: 'When you look at the history of films, they start out as being totally mute with actors like Charlie Chaplin and Buster Keaton. Those guys were the best storytellers ever, and it goes across generations. I showed my kids The Gold Rush, and they loved it. There are no words in it, obviously, but they were just hooked on the visuals. Everything was so timed and well-executed without any language. The Minions are all about that. They're this legacy of silent films, except that we stuck ridiculous words on them."

While Gru, Margo, Edith and Agnes are the stars of the Despicable Me series, it was time for the Minions to shine in their own movie. Explains Pierre Coffin: 'We pushed the boundaries on this movie to make it not about sidekicks. It's not about funny secondary characters. We were all in because we had a good story, good characters and felt that there was a challenge to give people something very special."

Brian Lynch agrees with his director and offers that, much like the Minions, the filmmakers are part of a very collaborative process. 'We were all committed to not putting out anything but the best, funniest version of a Minion movie that could possibly be, and this is the Minions in the big summer movie that I'd want to see. They don't have the protection of Gru; it's them against the world, and the world isn't ready for them. The Minions can take anything and keep going. They don't always get it right the first time, but they'll get it right the 100th time."

The Minions' commitment to villainy service"and accidentally stumbling toward something better for them"has served them a lot better than the masters they have accidentally offed. Director Balda states that it's all part of the universe's master plan for them: 'Home for the Minions isn't actually a physical place. It's Gru. What we've seen in the Despicable Me movies is that Gru is the ultimate evil master for them to follow. He's the one who they relate to the most, and there's a real love relationship between the Minions and him. Ultimately, that's their purpose: to find Gru and serve him."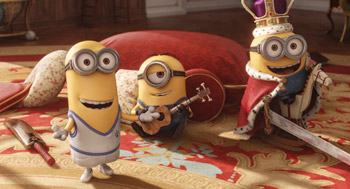 The reader can sense the behind-the-scenes' passion toward these characters and the deeply personal stories that spring from such dedicated talent. Chris Meledandri sums up what he finds to be the key ingredients of his filmmaking team's success: 'What I love about Pierre Coffin and Kyle Balda and Brian Lynch is that whenever Minions runs the risk of becoming overly precious, they undercut it with comedy so that the film never becomes sentimental, but it actually has genuine sentiment in it. You experience that with sweetness and then, very quickly, a laugh."

Super-Villains and Bank Robbers: Who's Who in Minions?

When they accidentally lose yet another master, Kevin, Stuart and Bob lead the charge for their fellow Minions in search of the next master to serve. Their harrowing journey is far from easy, but the quest that is chronicled in Minions will introduce us to everything we've ever wondered about them.

Kevin (Pierre Coffin) is the proud and protective 'big brother" who knows that Minions without a master are Minions without a purpose. It's Kevin who steps up and ventures out into the world with Stuart and Bob to find a new evil boss for his brethren to follow.

Stuart (Pierre Coffin) is the 'middle brother" of the Minions who feels hungry, mostly, and loves being a rebellious guitar player. Although the perennial adolescent has a short attention span and is a bit apathetic about the mission, he will certainly help Kevin and Bob find the biggest, baddest villain to serve.

Bob (Pierre Coffin) is the innocent and eager 'little brother" of the Minions. He embodies unconditional love for everyone and everything, and is a little nervous to go on an unknown journey with Stuart and Kevin.

The loyal, yellow, scheming and joyous Minions (Pierre Coffin) are a band of brothers who love causing mischief and mayhem almost as much as they love bananas. They are easily distracted and can be unpredictable, curious and subversively sweet. They are extremely competitive with each other. This can lead to sudden slap fights, but if someone from the outside tries to harm them or their master, they become fiercely protective.

Scarlet Overkill (Sandra Bullock) is the world's first female super-villain. She is a unique combination of quick-tempered and impeccably stylish. Kevin, Stuart and Bob are drawn to her for her ability to mastermind incredible heists, and they are simultaneously terrified of and smitten by her. Scarlet hires the Minions as her henchmen and charges them with their first mission: to embark on a criminal heist that takes them to London as she attempts to achieve her lifelong dream: becoming the Queen.

Herb Overkill (Jon Hamm) is Scarlet's mod husband and a mad scientist. Herb can usually be found in the lab inventing extraordinary '60s-inspired gadgetry while always loving and supporting Scarlet. Known just as much for his swanky sartorial choices as he is for his ability to invent, there is nothing that Herb won't do to champion his wife.

When he's not a straight-laced, nerdy dad and devoted husband, Walter Nelson (Michael Keaton) is a quite-accomplished bank robber. You read that right. Walter is the patriarch of a crime-happy family of felons who meet Kevin, Stuart and Bob on their way to Villain-Con, a secret convention in Orlando where villains gather annually. If you're a Minion who has to hitchhike across the country, there is no better chaperone.

Madge Nelson (Allison Janney) , the Bonnie to Walter's Clyde, shows you can never judge a book by its cover. Madge gleefully is the co-leader of the crime-happy Nelson family, who pick up the hitchhiking Kevin, Stuart and Bob to join Walter and their kids"Walter Jr. (Michael Beattie), Tina (Katy Mixon) and baby Binky (Tara Strong) on their way to a family stickup.

Professor Flux (Steve Coogan) has long postulated that time is, well, relative. When the Minions encounter him at Villain-Con, they found that he's invented a time machine and brought future versions of himself to help out in his lab. Now that he has (almost) perfected time travel, the professor is this close to changing what we've long held to believe is the space-continuum….

The Tower Guard (Steve Coogan) is proof positive that age doesn't matter. When Kevin, Stuart and Bob are charged with breaking into the Tower of London to steal the Queen's jewels for Scarlet, they think it'll be a piece of cake to get past this hard-of-hearing and almost-blind old man. Little do they know that he's been waiting for them for a long time….

The Queen (Jennifer Saunders) has seen everything and ruled England for decades before the Minions hit her shore. And she's about to find out what happens when a super-villain plots to steal her Crown Jewels and take her out of the game for good.

The Narrator (Geoffrey Rush) bookends this chapter in Kevin, Stuart and Bob's journey and walks us through how our heroes came to be, what they've been up to and just where they're going.

Meet Kevin, Stuart and Bob: Heroes Hit the Road

As our story begins, the Minions are currently masterless in the frigid Antarctic, having grown despondent the more time they spend without a master to serve. Over the centuries, they have had such great intentions for their numerous bosses, but in true Minion fashion, they end up accidentally getting each and every one of their masters killed. When the Minions finally do meet Gru, they're more relaxed and less insecure. In 1969, however, they're still in the middle of a steep learning curve.

While the majority of film projects concentrate on casting after the script has been written, when preparing Minions, it helped enormously that the three leading men would be vocalised by one of the directors himself. While Minionese is actually peppered with words from multiple languages, the Minions' physical comedy is what makes them universally accessible to moviegoers. Director Pierre Coffin's goal has long been for the audience to understand the intention of and the melodies behind what the Minions are saying, not necessarily the verbiage that comprises it.

As they've been around since the dawn of time"and done their fair share of globetrotting"the etymology of the Minions' language is quite international. And why's that? Well, whether it was learning the basics of ancient Egyptian from the Pharaoh, high-society French from Napoleon, proper Transylvanian from Count Dracula or simple grunts from the first of the brutish Homo sapiens, they've served so many masters across the Earth. That written, Pierre Coffin was quite thoughtful in developing unique intonations and vocalisations to differentiate Kevin, Stuart and Bob.

Pierre Coffin explains his role in creating a language that everyone"young or old"can get behind: 'I do all the Minion voices in the film, and every time I get stuck in a sequence or in a shot where I need to express something, I have my Indian or Chinese menu handy. I also know a little bit of Spanish, Italian, Indonesian and Japanese. So I have all these sources of inspiration for their words. I just pick one that doesn't express something by the meaning, but rather the melody of the words."

Chris Meledandri has his own take on the director's top-secret style: 'Pierre Coffin would probably tell you that the language is all gibberish, but I have my own theory. I've watched him over the course of these three movies, and I'm beginning to see linguistic patterns. I actually think he's creating a language. He'll deny it, but I'm convinced that he is. It's a language that, for all of us audience members, we're beginning to understand."

While one might think that the Minions would learn something from all of these masters, the fact is, according to Chris Meledandri, the reverse. He laughs: 'The Minions are characters who impact those around them much more than they actually find major growth of their own. I also think that there are qualities that Minions have that we just don't want them to grow out of, because it's so fun to watch them being who they are."

Although Kevin, Stuart and Bob are very much Minions at the core, it was crucial to provide differentiation not just to their look, but to their unique sounds. Healy says that it wasn't until the Illumination team began developing Minions that they started discovering their distinct personalities. 'It was hard at first because the Minions have always been a group that share characteristics of impatience and childishness and buoyancy," she says. 'When we decided to differentiate these three characters and track them, we realised how to make our heroes very distinct and show what each of them are thinking and feeling through their pantomime and sounds."

Producer Chris Meledandri describes the characters: 'Kevin is the older brother of the three, and he desperately wants to be heroic. Bob is the littlest, and I think of him as the Agnes from Despicable Me of the group. He just loves everybody; he's a very happy little guy. Stuart is more of the adolescent, the rebellious one. By the end of the movie, you get the sense that the three of them are their own little family."

As Kevin is the elder statesman of the tribe and filled with nothing but good intentions, he sounds a bit more responsible"sometimes stern"and is quick to admonish his younger siblings when they're too distracted by nonsense or chicanery. Stuart's sound is much more laissez-faire, and he's quite partial to a flippant 'meh." He goes with the flow but is not interested in any drama (that he didn't create). Bob's vocals are much more childlike. He is so joyous, so full of life, but also easily scared of the adventure ahead and is prone to gasps and 'ooooooh"s.

Director Kyle Balda explains that the three members of the Minion tribe that we get to know over the course of the film actually revealed themselves to the animators as the animation process evolved. He explains: 'When you storyboard a scene, you start to know who Kevin, Stuart and Bob are. You let your imagination run, and you think that Bob wants to go this way or that. So you let him go that way and see happens. You don't try to always reign in the characters and make them do what you think they're supposed to do. You play a bit, and often it can take you someplace really interesting."

Kyle Balda jokes that if our heroes had anything to say about running the production of Minions, he knows exactly what they'd have done: 'Stuart absolutely wants to do his own thing, and he would love to get in front of a camera and talk about the movie and take all the credit. Bob would just be fascinated with all the lights and the technical aspects and not know what was going on most of the time. And Kevin? Kevin would take it all very, very seriously."

Of particular importance to the filmmakers was to make Kevin, Stuart and Bob's journey not just a humorous one, but a global one. Chris Meledandri shares: 'Through the course of the movie, the Minions not only traverse time, but they also traverse geography. The movie takes you from New York City, Orlando and Australia to China, India and London, where a big portion of the film transpires."

Overkills and Nelsons: Casting the Talent

'What I love about the Minions is that you can't really understand them, but you absolutely feel what they're saying.
They emote with so much emotion that the language barrier doesn't exist."
"Sandra Bullock

As the Minions hitchhike their way to Villain-Con in Orlando, we are introduced to Scarlet Overkill, the woman who shall become their new boss. During their road trip with the Nelsons…Kevin, Stuart and Bob begin to fall in love with this urban legend.

For our part, the audience is given glimpses of Scarlet on the covers of magazines and begins to realise the enormous mark that she's made on the world of villains. Everyone in this community, especially young Tina Nelson, either wants to serve her or to be her.

Healy discusses the character's undeniable draw and why Scarlet is so crucial to a story set in 1969: 'Scarlet is a glamorous woman in this time of empowerment and emerging equality who is actively recruiting henchmen. She'll accomplish everything that a man can to become the biggest super-villain in the world of villains; she's the biggest thing since sliced bread for them. I love that Scarlet is beautiful, ambitious and forward thinking, and her husband has the ability to invent anything to make sure that she's successful. As well, they're the epitome of stylishness."

'The world has never seen a female super-villain before Scarlet," adds Chris Meledandri. 'She also happens to be the baddest of the villains, the reigning celebrity of them all. The Minions track her down to Villain-Con, a convention where villains go to sell their wares, network and look for jobs."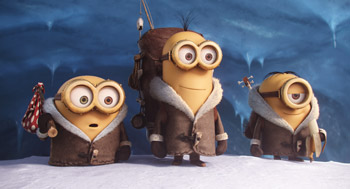 Scarlet is of paramount importance to the community of villains"whom we are introduced to discussing their craft off duty, without their weapons and with their families. Villain-Con also offered a great way to introduce dozens of the antiheroes at once and be able to sprinkle them throughout the rest of the film. Explains Brian Lynch: 'The Minions go to Villain-Con, which should be the answer to their problems, and Scarlet's giving the keynote speech in the main hall. She comes out and says what every villain is dying to hear, that she's looking for a villain, a lackey, an underling, a minion. -If you can defeat me in battle and take this ruby from my hand, then you can work for me.' The Minions accidentally fail upward and become her minions."

Casting Sandra Bullock as Scarlet was an early idea from Chris Meledandri, who hoped to juxtapose her approachable sound with the heart of a character bent on revenge and power assumption. His logic was that if Scarlet were voiced by someone with a more diabolical bent, you'd know within an instant for whom you should root. But with a performer so inherently likable as Sandra Bullock, fans will find themselves occasionally rooting for her. That is, even when she's threatening the Minions, you often understand her point of view. 'Sandra Bullock is so iconic, and she is so well known for playing incredibly empathetic characters," shares the producer. 'She brings those qualities of empathy to this super-villain and comes to the role with such strength and determination and charm, qualities that make for a compelling, dimensional character."

What attracted the Academy Award®-winning performer to the role of the world's first female super-villain was that Minions offers entertainment for all audiences. She reflects upon what piqued her curiosity to voice a character who is on such a nefarious quest: 'Great villains are always the most fun to play. It's more fun to be mean and crabby than it is to try and make nice with everybody all the time."

As Sandra Bullock discussed Scarlet's backstory with the filmmakers, she learned that Scarlet's rise to power actually made quite a good deal of sense. Growing up, Scarlet had nothing. She had no friends, no money, and she looked at the Queen as a woman of ultimate power. While many girls want to be the princess, Scarlet quickly realised that princesses have no power. With a pathological need to be loved and respected, Scarlet aspired to be the woman telling the princess what to do. Truly, if the Queen says something, you do it. She loves the Queen, and so she thinks people will love her if she has that crown.

As part of the worldwide phenomenon of Minions, Sandra Bullock enjoyed bringing Scarlet's personality to life, noting: 'My purpose in this film is to just be perpetually crabby and irritated the entire time. Scarlet's like a spoiled eight-year-old little girl. She didn't get the attention she needed growing up, so now she's going to find a way to be the Queen."

Although the Minions speak nary a word of English, the actors felt keenly aware of what was being said by them. Sandra Bullock elaborates: 'What I love about the Minions is that you can't really understand them, but you absolutely feel what they're saying. They emote with so much emotion that the language barrier doesn't exist." Evoking Scarlet, she pauses, 'We had an unspoken, beautiful relationship."

While Scarlet is breaking evil new ground in this predominantly male field, she's also headlining Villain-Con and plotting her next great heist. This annual convention happens to be where she meets our hero Minions…before she takes them across the world to meet"and to be outfitted by"Herb, her mod husband and mad scientist.

If you take away the fact that Scarlet and Herb are trying to take over the world, they have a very healthy relationship. In fact, he took her last name when they got married and is there for her in every way possible. Surmises Brian Lynch: 'If she was just this ranting evil villain, you'd wonder why the Minions would want to work with her. Herb and Scarlet are a dangerous couple you wouldn't want to cross, but you'd absolutely want to hang out with them."

For the role of Herb, filmmakers turned to lauded dramatic and comedic actor Jon Hamm, who is himself fresh off a series about the '60s. Although he's best known for his groundbreaking work in AMC's Mad Men, Hamm is equally proud of his comedic turns in Bridesmaids, 30 Rock and as a three-time host of Saturday Night Live. He was eager to lend his voice, noting: 'What I like best about Herb is that not only is he completely devoted to his wife and supporting her plans to take over the world, he really, really wants to have a good time doing it. What's the use of being a super-wealthy, super-genius, super-villain if you can't enjoy yourself?! "

Herb knows that being married to a super-villain comes with an unusual set of responsibilities, and he's stepped up to the plate. Laughs Hamm: 'One of my favorite scenes in Minions is when Herb takes Kevin, Stuart and Bob to the torture chamber. It's his objective to punish them for not living up to Scarlet's insane expectations, but they see it as just a fun day and a time to play together. As much as Herb wants to try and intimidate them, he just can't help himself but to succumb to their infectious hilarity. That's the beauty of these characters. They're wide-eyed and innocent, and all they want to do is please their masters…and laugh at butts."

Sandra Bullock liked that the filmmakers took care to portray an intricate partnership between Herb and Scarlet. She says: 'In an animated film, it's nice to see a good relationship between adults. Usually they are sort of misfits, but what the filmmakers created is a real partnership between Scarlet and Herb. They're the grooviest couple from the '60s. He's a scientist, and she's a villain. He loves and adores her and supports her like crazy, which you wouldn't expect from this period, and she loves and adores him and thinks he's brilliant, which he is."

Chris Meledandri appreciated just how much Lynch had fleshed out the character, and the vocals that Hamm gave to him. He commends: 'Herb Overkill, more than anything else, is in love with Scarlet. She is the focal point of his life, and what makes him tick is his love for his wife. He also happens to be very handy with inventions, so he's supporting her nefarious activities with all of these wild and unusual weapons."

As our Minions travel in search of their next master, by happenstance they meet the Nelsons"a family of felons"led by Walter and Madge Nelson, voiced by the inimitable Michael Keaton and Allison Janney. Meledandri provides us a bit of background into who they are: 'On one hand, the Madge Nelsons are just a happy, 1960s family who are driving across America. But they also happen to be a family of villains, and so when you or I would pull over to stretch our legs, they pull over and rob a bank."

Minions marks Keaton's foray in an Illumination film, but he shares his co-stars' excitement at being part of the Despicable Me universe: 'What I love about the character is that, on the one hand, he is this nerdy dad who is just taking his kids to Florida for a vacation. On the other, he's a serial felon who is just as comfortable robbing a bank and tossing a grenade out of the car as he is reminding his three kids to buckle up."

The recent Oscar® nominee walks us through the psyche of the Nelson family: 'They have a good, basic set of values. It gets a little skewed now and then, but they're mostly well-intentioned. But robberies are just one little piece of their world. Walter sees real value in what they do"it's something they all do well together. For him, it's not so much about the money as it is about the fun."

For the role of Madge, producers looked to longtime friend Janney, a staple of comic relief in numerous films and television series over the past few decades. For Chris Meledandri, this casting choice represented a very special connection. He recounts: 'Allison Janney and I went to high school together, and we actually acted in a play together. She was wonderful; I was awful. Over the past few years, we started to talk about finding an opportunity to work together, and I'd love to work with her in everything we do. She's such a fantastic actress."

Allison Janney shares that it was a pleasure to reconnect with a longtime friend: 'The reason I got to be on this incredible project was because of Chris Meledandri, who went to school with me at Hotchkiss. This is the first time we've gotten to work together, and I'm so thrilled. This is the marking of our first of many projects together, I'm hoping."

From the outside, the Nelsons feel quite similar to the Cleavers…they are just an average, ordinary family. But while they seem wholesome, they lead a fascinating life of crime that remains hidden from their fellow white-picket-fence neighbors. That duality fascinated Allison Janney, who states: 'Madge, in particular, is just lovely and has this wonderful high voice. She's so sweet and loving, but she also happens to be an awesome gangster lady."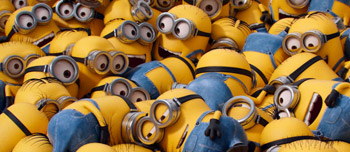 No matter how big or small the part, every voice performer who is cast in an Illumination Entertainment film has been strategically considered for his or her role. The Nelson children"Walter Jr., Tina and Binky"are portrayed, respectively, by longtime voice artist Michael Beattie, who worked with Illumination on Dr. Seuss' The Lorax; Katy Mixon, who has partnered alongside Melissa McCarthy as the scene-stealing Victoria since TV's Mike & Molly began; and Tara Strong. For her part, Strong has voiced such iconic and beloved animated characters as Bubbles on The Powerpuff Girls and Timmy on The Fairly OddParents. And if you think you've seen the last of Binky, you'd be wildly mistaken….

Joining Minions in supporting roles are Steve Coogan as both accident-prone inventor Professor Flux, who still hasn't perfected his time machine, and the Tower Guard, who protects the Queen and her Crown Jewels at all costs; Jennifer Saunders as the Queen whom Scarlet is trying to overthrow; and Geoffrey Rush as the Narrator, whose voice leads us along Kevin, Stuart and Bob's journey toward Gru.

Steve Coogan has almost become a repertory player in Illumination projects, and Chris Meledandri couldn't be more pleased by that fact. He commends: 'Steve Coogan is the man of a thousand voices. We keep going back to him in our movies. Maybe he's our good-luck charm, but what a talented good-luck charm to have."

For the part of Queen Elizabeth, the filmmakers actually changed their minds about the role she would have in the film once they heard Saunders' comedic grit and the rough and tumbleness she provided the character. Explains Brian Lynch: 'Once we put Stuart and the Queen in the carriage together, it became a smarter move for her to fight back and be feistier. Jennifer gives you the coolest version of the Queen possible. She's one of the funniest people alive."

Last, but certainly not least, is the narrator of Minions, voiced by Geoffrey Rush. Chris Meledandri explains the Oscar® winner's role in the story: 'Geoffrey Rush narrates the opening of the film, and then bookends it at the closing. He has one of the richest, most pleasing voices, but also everything he says has a touch of irony. It fits in perfectly with Minions, and helps to really define the tone of the film."

Similarly, Kyle Balda appreciated this juxtaposition, noting: 'The weight and gravity to Geoffrey Rush's voice was another way that we wanted to play against lightness of the Minions. We have his impressive narration to accompany a story of little guys who unknowingly set out on an epic adventure."

Design of a Decade: Period Influence and Animation

Directors Pierre Coffin and Kyle Balda felt strongly that if they would be making a film set in the 1960s, that it had to have a distinct visual influence from that period. They conceived the visual style of Minions with influence from the '60s so that when audiences watch it, they will feel that it has a lighting scheme that is unlike any animated film they've seen before.

In fact, Minions actually resembles more of a live-action movie from that period. 'It's so important that every film that we make is distinctive, feels fresh and feels like it's venturing into new terrain," says Chris Meledandri. 'That's not only important in terms of character and story and comedy, but it's also important in terms of the visceral experience of watching the film"what it looks like and sounds like."

Key to the success of all of Illumination's projects is the level of artistic, production and technical expertise that's gathered together to make these films. Lauds Chris Meledandri: 'Everything that's wonderful in these movies comes out of the imagination and expertise of the hundreds of people who are working on each one of them. They are the fuel that provides the engine of our ability to make them."

As Illumination Entertainment is headquartered in Santa Monica, California, and Illumination Mac Guff is housed in Paris, the Minions production was very much a global one. Chris Meledandri explains: 'In Minions, you have every department within Illumination Mac Guff, our amazing studio based in Paris, working at the highest level. Whether that's the surfacing group, who create textures so lifelike that you feel like you can literally reach out and touch the screen"because we combine photorealistic elements with caricatures to create an invented world"the animators allow you to suspend disbelief and be transported. What's extraordinary about the team working under Pierre and Kyle Balda's direction is their commitment to the small choices and the nuances of performance. It's not about the big, broad movements, but rather the subtlety and specificity."

The inimitable Illumination Mac Guff evolved from Mac Guff Ligne in Paris, an animation company with a strong technical foundation that existed for almost 30 years. When the Santa Monica-based Illumination Entertainment began, a tenet of the company was for artists to work where they live.

Under the supervision of producer Healy, Illumination Entertainment and Illumination Mac Guff have taken advantage of rapidly evolving telecommunications and established a pipeline between the companies. As their visual development artists, story artists, colorists and the like are able to use iChat and Skype and converse across time zones, there is no need for them to be site-specific, and Illumination has been able to grow key talent.

For Pierre Coffin and Kyle Balda, it was incredibly important that they never felt like they were replicating the Despicable Me films, but were rather inspired by them. From the color palette and lighting to the film's staging, Minions is very distinctive, specific and influenced by the period during which the film takes place. Particularly, they loved the look, style and clothes of the '60s, as well as the attitude of the era in which Kevin, Stuart and Bob find themselves. Indeed, this was the dawn of a new villain for them to serve: someone who was just as stylish as she was brilliantly wicked.

Kyle Balda offers that allowing the Minions to become immersed in 1960s New York City and London inspired the team tremendously: 'What we loved about setting the film in the '60s was that it allowed us to play with the music, the era and the color schemes in our production design. The Minions have been living alone in an ice cave for decades and decades. So, New York City for them is this amazing metropolis. They've never seen skyscrapers or this kind of hustle and bustle before. And as we created London in the '60s, from the designs of the cars to the double-decker buses, we wanted to make the environment more and more fantastic. That gives you even more suspension of disbelief from what you'd see in contemporary day."

Groovy Tunes: Music of the Film

Among its myriad of assets, the Despicable Me series is known for its infectious music and lyrics. So when it came time to creating the signature sounds for Minions, the production team knew that setting the film in the '60s would allow the opportunity to feature a soundtrack of music that continues to inspire and influence today's culture.

Chris Meledandri explains the rationale behind the team settling on this era: 'When we realised that we were effectively making a prequel and we started to talk about a decade where the film would land and settle, we were all drawn to the '60s. We all love it for its music, and the film is just packed with classic 1960s music throughout"ranging from The Doors, to the Stones, to The Beatles, to The Who. What I've found as a parent is that the music itself is so timeless that my sons have found that decade as they grow up. The music plays wonderfully for audience members who experience the music as nostalgia, but there are generations who have grown to love the music even though they weren't alive in the 1960s."

To take Kevin, Stuart and Bob on their groovy journey, the film is replete with the best of the '60s, including The Beatles' 'Got to Get You Into My Life," Jimi Hendrix's 'Purple Haze," The Turtles' 'Happy Together," The Spencer Davis Group's 'I'm a Man," The Kinks' 'You Really Got Me," The Who's 'My Generation" and Donovan's 'Mellow Yellow," bringing key scenes in the film to vibrant life.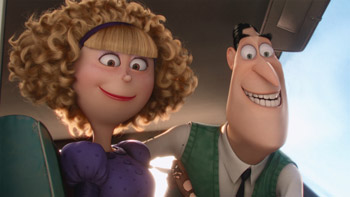 When it came time to compose the Minions score, the team looked to returning composer Heitor Pereira of Despicable Me and Despicable Me 2, a man whom writer Lynch refers to as 'a tornado of emotion." The Grammy Award-winning musician has written and produced music for films ranging from blockbuster family hits to acclaimed dramas. Of working with Heitor Pereira for the third time, Pierre Coffin commends: 'Who could orchestrate a movie better than the one who worked on the Despicable Me movies? This one was even more interesting for Heitor because it's a prequel. He was able to play around with what was the Minions' theme before the Despicable Me movies."

Heitor Pereira reflects what drew him back into the fold for Minions: 'When we worked on the Despicable Me movies, I was sitting in the audience and looking at everyone reacting to the Minions. It made me feel like, -Wow, this is now a part of their lives, and I want to do justice to this dedication from the audience.' Along these same lines, it was fun to generate the variety of personalities with the Minions through more colorful music."

Chris Meledandri discusses that it is no coincidence that they turned to this gifted composer once again: 'Heitor composed the score for Despicable Me in partnership with Pharrell Williams. With Despicable Me 2, he went on and did the whole score again by integrating some of Pharrell Williams' themes. And once again, he's composing the score for Minions. His score not only has these wonderful melodies, but he adds scale to the third act of the film, where it actually gets very big, from a perspective of the sweep of the action. Heitor has a wonderful range, from the most intimate moments to sweetness. He also understands comedy, which is elusive for a lot of composers."

Minions is the first time the audience has been able to see very distinct, individual personalities, especially in heroes Kevin, Stuart and Bob. Heitor Pereira shares how that informed the composition of his score: 'They each have their own themes. Kevin is the most fatherly in this group of three. He's always the more responsible one. Bob is the sweet and loving part of it. And Stuart is the crazy one. The music for Bob, it's more of almost like a childlike melody, and Stuart is the one who allows the music to go anywhere it wants to go."

The story of our Minions takes us through several time periods, from the Stone Age to '60s Manhattan and London. Heitor Pereira's score takes us through each era alongside Kevin, Stuart and Bob. He states: 'I took the music from their travel through time and acquired all the personalities. For example, if they are in Egypt, then we have this pharaonic-like music; if they're in the Stone Age, we have rock 'n' roll, -ooga-ooga, toomb-tah, toomb-tah,' the most basic, primal kind of sound. Eventually we get to the '60s and I get to pay homage to the music that was made at that time. I didn't do that by approximating the Minions theme in all the other themes to that period's music, but I did make an effort to record a lot of this music in studios that recorded music in the '60s."

Once our trio gets to London and prepares the ultimate heist alongside Scarlet Overkill, it was time for Heitor Pereira to create a special theme for her. He elaborates: 'Scarlet is the true villain in this movie. There's something about a woman being the villain in which she never loses her charm; the music had to capture that. So we wrote something for Scarlet that, in itself, has hidden a lot of charm."

Composing a score of this depth is no small feat. Heitor Pereira and company assembled an orchestra of 24 violins, 12 violas, eight cellos, five basses, five saxophones, five trumpets, two trombones, a tuba, a choir, a rhythm section and a drummer. Additionally, to create the British jazz sound of '60s London, the team gathered woodwinds, clarinets and piccolos, among other instruments.

Heitor Pereira shares that his collaboration with the directors and producers was an open one: 'What I love about working with this group of people from Illumination, Universal and the filmmakers is the freedom that they give me to look for a sound that is the sound of the Minions. I had suggested to Heitor Pierre and Kyle Balda, -Why don't we use the Minions' language, and get the choir to sing throughout the whole movie in that language?'"

All thought that was quite a genius idea and would transcend cultural barriers. Continues the composer: 'I'm from Brazil, but the first time I heard The Beatles, I didn't have a clue what they were singing about. But the rhythm and the waves of the sounds that the language created somehow already put me in a certain frame of mind. I find that the same goes with the Minions' language."

For his part, Chris Meledandri was so impressed by the idea. He gives: 'One of the musical elements that Heitor Pierre is using in the film is this incredible choir. He uses it for texture, and yet it brings almost a spiritual quality to the scenes themselves and amplifies that sense of wonder."


Minions
Release Date: June 18th, 2015