Stephanie Rice Sun Safety and Despicable Me 2 Interview
Sun Safety Tips

1. Slip, Slop, Slap
2. Make friends with your hat
3. Protect your face
4. Spend time in the shade
5. Drink up!



Interview with Stephanie Rice
Question: What inspired you to get involved with this sun safety campaign?

Stephanie Rice: As an athlete and an advocate for sun safety, I was really pleased to get on board with the Despicable Me 2 sun safety campaign. There are many sun safety campaigns and messages out there, but this one specifically speaks to kids which is great! The film is being released on Blu-ray and DVD at the start of summer so we thought we'd use everyone's favourite minions to deliver easy sun safety tips to Aussie kids to keep them safe these school holidays – it's expected to be super-hot this summer especially!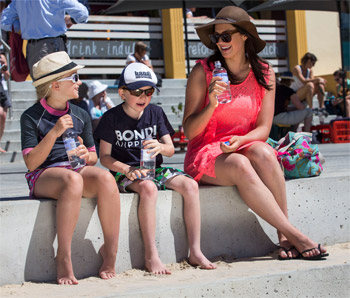 Question: Can you tell us about the campaign?

Stephanie Rice: We've created a really fun sun safety video for parents to show their kids. It stars the cute and funny Despicable Me Minions and myself explaining to kids how to stay safe in the sun. I love the Despicable Me Minions, so working with such recognisable characters to deliver an important message like sun safety, in a way that kids will understand, is really exciting.


Question: Why is it so important for kids to understand these sun safety tips?

Stephanie Rice: Skin cancer is unfortunately very common in Australia as we all know how strong our sun is, so it's important for Aussie kids to understand how to stay sun safe from an early age.


Question: Why is sun safety so important to you?

Stephanie Rice: I have trained outdoors in the sun my whole life, thankfully my family are very sun safe and educated me growing up. I am also an ambassador for the Melanoma Institute and the Cancer Council so I'm very passionate about educating people on how dangerous the sun can be.


Question: Can you share with us details about your role as a member of the Melanoma Institute?

Stephanie Rice: As an ambassador for the Melanoma Institute I go around to various schools to educate children on how dangerous the sun can be, particularly the Australian sun. It is such a deadly disease, especially in young people so it's important to be very aware and always protect yourself from an early age.


Question: What message do you hope to pass onto children in regards to sun safety over this summer holiday period?

Stephanie Rice: We hope kids will learn and remember our five sun safety tips, as shown in the video. They are so easy and simple to remember, and using the Despicable Me minions will hopefully help get the message across! They are all the simple tips adults already know to do, such as lathering on sunscreen and reapplying every few hours, spending time in the shade when the sun is at its strongest, staying hydrated, and protecting your face and eyes with a hat and sunnies.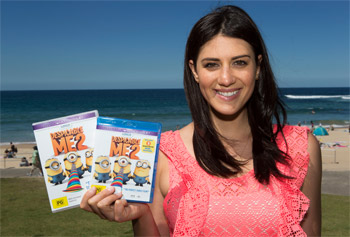 Question: How do you protect yourself from the sun, on a daily basis?

Stephanie Rice: I always used a SPF 15+ moisturiser day and night on my face and body, that way I am always protected and won't forget.


Question: What did you enjoy most about the Despicable Me 2 film?

Stephanie Rice: I just love the minions; they are so cute and cheeky!! The ending beach scene is of course a favourite.


Question: What's next for you?

Stephanie Rice: Aside from swimming, I hope to continue educating and mentoring kids, because that's what I'm really passionate about!



Despicable Me 2 DVD
Cast: Steve Carrell, Kristen Wiig, Benjamin Bratt, Russell Brand, Steve Coogan, Miranda Cosgrove, Elsie Fisher, Dana Gaier
Director: Pierre Coffin and Chris Renaud
Genre: Family, Children, Animation
Rated: PG
Running Time: 98 minutes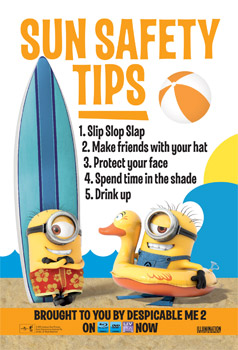 Prepare yourself for Minion Mayhem! Your favourite yellow troublamkers are back in the highly anticipated sequel to the popular animated blockbuster, and this time they're bigger than ever!

Starring Hollywood favourites Steve Carrell, Russell Brand, Kristen Wiig and Miranda Cosgrove, Despicable Me 2 is the highest grossing Universal Pictures title in Australia. With nation-wide box office figures coming in at $34.8 million and international box office figures at $396,000,000+, Despicable Me 2 is the third highest grossing film of 2013 internationally, behind Iron Man 3 and Fast and Furious 6.

Once again directed by Pierre Coffin and Chris Renaud, Despicable Me 2 finds Gru in the throes of domestic, fatherly bliss tending to his three adopted girls: Margo, Edith and Agnes. But things take an unexpected turn when Anti-Villain League agent Lucy Wilde pays Gru a visit, kidnapping him and two of his Minions in the process.

Gru reluctantly partners with Lucy and together they search for the villain that has stolen a secret Arctic laboratory. While on their hunt, Gru concludes that the prime suspect is the presumed dead super villain El Macho, whose teenage son is also making the moves on his eldest daughter, Margo. Blinded by his overprotectiveness of his children and his growing attraction to Lucy, Gru seems on the wrong tack, even as his Minions are beign quietly kidnapped en masse for some malevolent purpose…

Special Features:
Gru's Girls
Gadgets Galore
Feature Commentary with Directors Pierre Coffin and Chris Renaud

Blu-ray Special Features:
Deleted Scene – Grutiesv Mini-Movies: Puppy, Panic in the Mailroom, Training Wheels
Making Of The Mini-Movie
The Minions
Evil Minions
At Gru-Some Transformation
El Hombre Malo: The Villany of El Macho

Despicable Me 2 DVD
RRP: $39.95
Blu-ray: $44.95

Interview by Brooke Hunter