Expert Tips for Staying Healthy During Summer
Most Australians are healthy for around 360 days a year, but come Christmas time, a year's work of healthy eating can be undone in just a short few weeks. None the less, the holiday season is all about festive food … but looking after your health doesn't mean you can't enjoy yourself.

With Christmas rapidly approaching being healthy is one of the goals on our list, but how can we stay healthy when we never seem to have any spare time? We asked weight and fitness experts how we can get through the summer months and festive season healthily!


Interview with Sue Raward
Sue Raward is a Naturopath from weight loss management group The Natural Way. Sue has developed a list of practical weight maintenance tips for travelling and eating healthily during the holiday season.

Tell us about your tips for practical weight management during the holiday season:

Sue Raward: Probably I guess, the main thing, this is what we tell our weight loss clients, is not to try and decide to loss weight over the holiday season, you have to accept that Christmas is very different than any other time of the year, but if you can aim to maintain your weight, that is a great goal and it is very realistic. It is not hard to do either, providing you make an effort to select the right foods and do a little bit of exercise along the way.

What exercise do you suggest?

Sue Raward: In terms of exercise, just because the days are longer, the sun is up for longer and the mornings are warmer it is a great idea to get outside. Even if you go for a half an hour walk before you start your day off. If people are on a holiday, that is no excuse either, the holidays are nice to relax but it is also nice to get out there and see where you are and explore. If it is a beach holiday, there is nothing better than a walk along the beach, that is something they should try and integrate into their routine or even if you are staying at a hotel with a pool, do a couple of laps of the pool and just try and keep active. If you have kids, join them with what they are doing.


How easy is it to maintain our weight throughout Christmas?

Sue Raward: As I said it is pretty easy to maintain your weight, providing you make the right choices when it comes to eating, it is important to not really feel deprived of anything. Don't pig out on things that you know are bad, for example Christmas pudding, on Christmas day, while it is great and traditional, it is very high in fat and has a lot of calories. Have a smaller slice with low fat ice-cream, rather than custard, cream and the works. You can have fresh fruit instead; there is so many beautiful fresh fruits around at that time of the year, in the climate that we live in, not eating those dodgy foods is very important.

Steer away from the traditional Christmas meal of a big roast turkey and all the trimmings, go for something like seafood and cold meats with salad, it is obviously a lot healthier, lower in calories and lighter and still yummy! You won't then feel like you are missing out.

What about in regards to the increase in drinking alcohol over the Christmas period?

Sue Raward: Yes, another big concern, particularly at that time of year is alcohol and drinking. Drinking can always pack on extra calories if you are not careful, especially if you have Christmas party after Christmas party and drinks with friends. All I advise is basically the higher alcohol content of the drink the higher the calories it contains. For blokes stick to light beer rather than heavy beer, heavy beer has twice the calories of a can of light beer. Even girls drinking wine, wine is great, but you can get low carb champagne from Yellowglen and a couple of others do a low carb and calorie champagne. If you are drinking wine, make it a half wine, half soda- this way you are halving the calories of the alcohol. If you are used to spirits with mixers, mix with soda or diet soft drink rather than full strength sugar type drink.

Remember too that a good little rule is to have a glass of water between each alcohol drink, that way it slows you down and lessens the risk of a hangover the next day. Think one drink, one glass of water.


What are do you recommend we snack on, over summer?

Sue Raward: That is another mind field; there are so many high fat types of party foods around. Just cut up veggie sticks, is a good idea for things like salsas and hummus, the low fat dips; pesto, whilst it's very nice, it's very high fat, so go tomato based or even tzatziki, the yoghurt, is very good. Rice crackers are very good too; they are very low in fat.

In terms of nibbles that are not as dangerous, avoid anything that is pastry and go looking for things that are seafood, like oysters. Basically the less processed the food; at least you know what is going into your mouth. If you keep that rule as a general rule of thumb you will be good, look for cold meat slices, or canapés, or bread rounds with smoked salmon and dill, that can't go wrong compared to your deep fried foods, like spring rolls and pies- it might be good for soaking up the alcohol but it doesn't do much for your waist line.


What about when we are eating out?

Sue Raward: In general what I would say is that it is not always necessary to have a three-course meal, if everybody else is having an entrée and you think you should have an entrée too choose a salad, there is always a side salad or a mixed green salad. For the main meal, avoid having heavy, big carbohydrate meals at nighttime, try and avoid things like pastas, rice and risottos, heavy foods. Go for fresh grilled meats or seafood with salad or veggies on the side. If you're worried about the sauce it is served with then ask for it in a jug on the side, so you can control how much is going on the meat. Generally avoid dessert unless it is things like sorbet which is okay, same with fresh fruits. As soon as you start looking at cakes and cheesecakes it's a good idea to offer to share with someone and only have a spoonful or two.

Rather than having a three course meal, stick to entrée and main, you have more chance of staying healthy for the whole meal.


Tell us about The Natural Way:

Sue Raward: The Natural Way is a weight loss consultancy company and next year will be our thirtieth anniversary. We are actually a franchise business, we have franchises that usually run and operate the weight loss clinics and we currently have clinics in QLD, NSW, we have just opened our first one in Bayswater, Melbourne, then there are two in SA and WA.


How do you support your clients?

Sue Raward: The Natural Way is a network of clinics that don't rely on shakes, it is about using your own food and cooking family friendly foods, you can have a variety of eating plans to suit people's lifestyles and needs. We even have eating plans for people that allow you to go out and have a glass of wine, without that impacting on their weight loss results; which people like to know that it is being catered for.

We do one on one private consultants were you see the same consultant every week to measure weight and size as well as providing new recipes. We have our own range of herbal supplements that assist the body during weight loss. The Natural Way is very big on education and our goal is to educate in keeping the weight off, as well as addressing stress eating and other bad eating habits.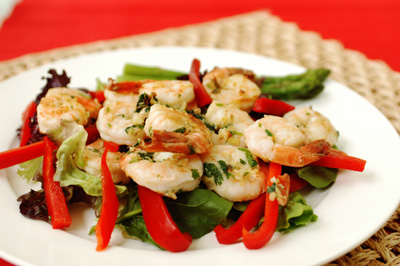 Spicy Prawn Salad
Sue Raward provided us with a healthy Summer recipe, for entertaining or as a family meal.

Serves 2
(per serve - 9g fat / 7g carb / 53.5g protein / 341 cals / 1427 kj)

Ingredients

500g uncooked king prawns
½ Tbsp olive oil
1 Tbsp fresh ginger, grated
2 Tbsp fresh coriander
2 cloves garlic, crushed
1 Tbsp lemon juice
2 cups mixed lettuce
1 bunch asparagus, trimmed and blanched
½ red capsicum, cut into long strips

Method
1.Shell and devein prawns, rinse prawn flesh.
2.Combine olive oil, ginger, coriander, garlic and lemon juice in shallow plate. Add prawns and ensure they are coated with seasoning.
3.Cover plate and refrigerate for at least one hour.
4.BBQ or grill prawns for two (2) mins each side.
5. Place prawns on tossed lettuce, asparagus and capsicum. Serve immediately.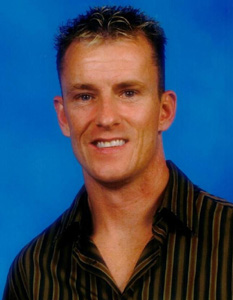 Interview with Ritchie Gibson
Ritchie Gibson is a Club Owner of Jetts Gym. Ritchie is an expert in the area of fitness and can teach readers practical ways to remain active no matter how small a hotel room, how many kids you have or what the weather outside is like.

We are very busy over Christmas, how can we stay fit if we only have a short time to spare?

Ritchie Gibson: The bottom line is if your time is limited work hard for a shorter period of time and if your time is unlimited, say if you are a housewife and you don't have any real commitments, go slower for longer because then you are burning fat. What I mean by that is in order to burn fat there needs to be oxygen present, in order for there to be oxygen present. Let's say you go for a walk and you are walking, talking, as you are walking you are taking in heaps of oxygen; therefore our primary fuel source is fat. But because you have only been walking and not extending yourselves too much, you have only burnt a small amount of calories; you may burn 70% fat and only 30% carbohydrates.

Let's say instead, you go for a run, run as hard as you possible can. When you come back you are huffing and puffing, because of this you are not getting a lot of oxygen into our system, we need oxygen to burn fat, your primary fuel source then would be carbohydrates; 60% carbohydrates but only 40% fat. Although because you have been running you've burnt a lot more calories, you may have burnt 600 calories rather than the 200 you did from walking.

The bottom line is if your time is limited work harder at a higher intensity. If your time is unlimited work slower at a lower intensity.


What tips do you have for those who want to exercise, but only have a small space?

Ritchie Gibson: There are plenty of things you can do, for example it is called compound exercise or body weight exercises. Body weight exercises are things you can do without equipment. Most people don't really have equipment and some people don't even have access to a gym. What you can do in the lounge room is squats, work your legs muscles as they are the second biggest muscles in the body, when you are performing a squat you are burning a lot of calories. So you can do squats and push ups, you can even put your hands on the lounge and do dips or you can do a shuttle run.

There is a case of a woman who was 160kgs, she had just had a baby and she couldn't loose the weight, so she put food and water in a pram and just walked all day, seven hours a day, Monday to Friday, and that's all she did, she lost the weight. Not everyone has that kind of time, but if you are pushed for time and you are just in the lounge room even getting up to turn on the television and not using the remote, is burning calories. Also you could walk to the shop instead of driving or if you are in your lounge room, do compound exercises, do sit ups, lunges or planks. There are plenty of things you can do, the biggest thing is because we live in a sedentary life style, most people, in this day and age get a little bit lazy, it is not their fault though. 20 or 30 years ago, you could go out and climb trees and play football all the time, in this day and age kids have computer games so they are a lot more sedentary.


To see results how long do we have to work out for, per week?

Ritchie Gibson: As a rule of thumb in health and fitness there is a rule called the FITT principle:
F stands for 'frequency' - how often should I train? I should train between 3-4 times a week as a minimum.

I stands for 'intensity' - how hard should I train? Now, there is a thing called your 'aerobics zone', your aerobics zone is 60-80% of your maximal heart rate. In order to train in your aerobic zone you need to stay between 60-80%, that is when you are burning the most amount of fat. However, not everyone has a heart rate monitor and they don't know what 60-80% of their heart rate is. So we use, what is called an RPE scale, it stands for Rate of Perceived Exertion, how hard you perceive you are pushing yourself. On a scale of 1 - 10, 1 being you're not doing anything, you are sitting down quite comfortably. 10 being I can't talk I'm out of breath I'm gasping for air, I've worked that hard. What you want to do is stay between 6 and 8 on that RPE scale.

A good guide of what 6 is, is if I walked up to you on the treadmill and said 'Hi, how are you?' and you replied 'Good, not to bad, I'm just a little bit tired, but well', so you can still carry out a conversation. If I walked up to you and you were at 8 and I said 'Hi, how are you?' you would say 'Bugger off'! So, it is a mixture there between 6 and 8 which is your aerobic zone.

T stands for 'time' - how long should I train for? Your minimum session should be between 20 and 30 minutes at a 60-80% heart rate, between 6-8 of the intensity, you should do that for a minimum of 20-30 minutes. That builds a 'training affect' which is exactly like bricks in a wall. Everytime you do a training session you are adding a brick to your wall, your base fitness will increase.

T stands for 'type' - what type of exercise should I do? Any type is good- swimming, cycling, running, jogging, skiing any of those are really good forms of exercise.


What mistakes do you see people making over the festive season in the gym?

Ritchie Gibson: A lot of people go into hibernation in winter; a lot of people come out in summer, due to vanity, they want to look good for summer. In winter it is a little bit colder, it doesn't happen to all but it is a general feeling we get. Our busier times are in the summer.


How can we stay motivated during the summer period?

Ritchie Gibson: There are always alternatives, set yourself a goal. That is a big one for me. Go for a bit of a run and finish off with a swim or try and drive your car to a kilometer from the swimming pool and walk or run a kilometer and then finish off with a nice refreshing swim as your reward. Or even, if you could do the same thing with a cycle, especially in the warmer months.

If you are fortunate enough to live close by to beach do the same run or walk to the beach. I used to drive to the beach and then walk or run on the sand and every three minutes I would swim 50 strokes out and 50 strokes back and then run for another three minutes, then 50 strokes out and 50 strokes back. That kept me nice and cool and increased my fitness.


Would you recommend a personal trainer?

Ritchie Gibson: Absolutely, I'm not saying that because I am a gym owner, I'm saying that simply because people don't understand the word progression. The biggest frustration you can have when you start a training program is an injury, most injuries occur due to lack of knowledge and education. The idea of a personal trainer is to educate you, motivate you and ensure that in the months and years to come you know what to do when you go back to a gym.

Ideally a personal trainer will help you set out a blueprint. I tell my personal trainers over a PT session talk to people about their goals. One particular goal might be to run a marathon that is a long term goal, a long term goal without a plan is just a wish. What you need to do is have some structure, the personal trainer gives you structure in your program in order for you to achieve your goal. Personal trainers are educated and can show you how to progressively reach your goal instead of going like a bull at a gate like most people do.


Are classes good too?

Ritchie Gibson: Basically classes are good, they improve your fitness and they improve the 'bricks in the wall' however statistics show they are more of a social activity. Groups of people like to go there and are influenced by the music and catching up with the same people, it can be a social event. As long as it is getting your heart rate up though it is good.

Personally I would recommend a personal trainer over a class because it helps you achieve your goals where as a class just helps you improve your cardiovascular fitness or your normal general fitness.


Is it more important to have a trainer when someone first starts exercising or going to a gym?

Ritchie Gibson: It is beneficial. You do need to know how to use the gym and the gym equipment. You may come in for ten minutes and walk on the treadmill and then scratch your head- if you don't have a trainer and don't really know what you are doing you feel a bit silly and you leave. It pays for the gym to help out in that respect. At Jetts we help with the personal training sessions, we have a Jetts PT were you get three personal training session for less than $60. That is because Jetts feels if you come to the gym and you don't know what you are doing you will leave, it pays for us to help you pay for the personal training, so you use the gym more and achieve your goals.


Tell us about Jetts Gym?

Ritchie Gibson: There are four Jetts Gyms in Brisbane. One in Taringa, Ashgrove, Fortitude Valley and Lutwyche.


Do you have a website?

Ritchie Gibson: Yes, the website is: www.jetts.com.au.