Lauryn Eagle Total Divas Workout Interview
To celebrate the Australian premiere of brand new series 'Total Divas" on E!, professional boxer and model Lauryn Eagle ran an exclusive WWE-inspired training session at the UFC Gym in Alexandria, Sydney.

Drawing inspiration from the ever‐popular WWE, Lauryn channelled her inner Diva and demonstrated the exercises these indomitable women are put through on a daily basis – just in time for summer!

Question: What types of exercises are included in the WWE-inspired training session?

Lauryn Eagle: I based the workout on what the UFC and WWE girls do in their training and used my own knowledge, as a boxer. I integrated UFC, boxing and WWE in the workout. We got down and learnt wrestling, defence and attack moves, boxing and tabata training, which are all very similar to the Total Divas show.


Question: Can you talk us through the 45-minute workout you designed with inspiration from the WWE Divas?

Lauryn Eagle: For the first part I taught them different movements that they can apply in the UFC ring such as sprawls, set outs, forward rolls, backward rolls, goanna walks and wall crawls; these are all attack and defence moves. I made the group get their technique right then I put them through their paces working on the technique and running back over a 20m distance.

The second part incorporated the striking which is the boxing and movement as a circuit using a boxing bag; the routine involved punching for four, then four sprawls ect and we did about ten minutes of that.

The third and final part of the workout incorporated tabata training which is a strength technique that a lot of the Total Divas use and so do UFC and WWE fighters. It involves 20 seconds on and 10 seconds off, you repeat that eight times. We did tabata training with boxing using 1kg weights in each hand. We then ended with a stretch.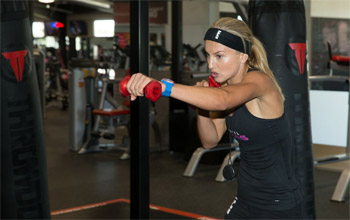 Question: Which of these exercises should we add to our daily routine?

Lauryn Eagle: It may be a good idea to look the exercises up, on the internet, to know technique-wise how to do them. It would be good to incorporate the sprawls, set outs, forward rolls, backward rolls, goanna walks and wall crawls into your daily routine by doing them for 20 seconds then incorporate a 20m sprint or do them for 20m and then sprint back to the start, repeat.


Question: Why should we practice tabata training?

Lauryn Eagle: Tabata training is a quick exercise to incorporate into your routine because it is only four minutes of your time and you can include any exercise you like, using the system. The tabata training system involves 20 seconds on and 10 seconds off, you repeat that eight times and it is the quickest way to build lean muscle mass because it is an aerobic and anaerobic exercise which is very rare; tabata training tones up your body, very quickly.


Question: What are the benefits of these exercises?

Lauryn Eagle: Now so, more than ever, women are wanting results and they are falling in love with boxing. If you look at any boxing class, it is filled with women and this has increased over the last twelve months. For any type of success whether that is career or sport, you have to work hard for it, as it doesn't get given to you on a platter and I think you have to work hard to gain success in your fitness and your daily balanced lifestyle. The benefits of these exercises is results and if you incorporate any of these into your program you are going to get results, in fact UFC is one of the most difficult things you could do, as they work very hard; they fight for two – five minutes per round but although that doesn't sound like a lot the intensity is extremely high and anyone who crosses over to boxing or fighting knows how difficult it is.

The benefits are weight loss and toning and because of that I have been incorporating a lot of this style into my boot camps and I've seen dramatic results in measurement drops. And, of course the benefit of mental toughness, exercise is great for mental health and learning to push past your own personal pain barrier.


Question: What originally inspired you to get into boxing, as a career?

Lauryn Eagle: Unfortunately it wasn't on good circumstances, my father passed away in a boating accident and I went from water-skiing to boxing. Boxing was a coping mechanism to deal with my Dads passing and because I'd always loved boxing it was easier to fall in love even more and it became a passion of mine. Since then I have had 11 fights and I've been learning the technique and skills ever since then, I've learnt even more about the strategy behind it as I fell in love more with it.

I've learnt the most from my losses and it shows a good reflection on life because you can't always win.


Question: How important is your diet to your fit lifestyle?

Lauryn Eagle: Extremely important! It's 70-80% diet and 20% exercise; I find exercise aids your mental state of mind and it is very good for refreshing yourself due to the fact that it releases endorphins and makes you better for the day. We are in very busy capitals and we work a lot, everyone is very ambitious these days and time restricted which is why some people don't get the time to exercise, every day and if they don't, I believe that as long as they're eating well and maintaining a balanced lifestyle, then it doesn't matter. I do believe incorporating exercise into your weekly program is essential but a healthy and balanced diet is the most important.


Question: Is your training similar to the 45-minute program you ran?

Lauryn Eagle: A little bit, give and take a few of the wrestling moves that I am hopeless at. I've learnt overtime the importance of not overtraining and the best motto I've ever learnt is -to train smart not hard', I was too arrogant when I was a young kid to listen but now I have taken it on board and it has been the best thing, for me. I would never work out for more than an hour, I don't think anyone needs to, but make sure that hour is a 110% quality session. I try to train every day but if I don't I make sure that I watch what I eat and train harder the next day.


Question: What's next for you?

Lauryn Eagle: I have just launched my business Eagle Fitness (http://eaglefitness.com.au) and I am working on expanding that including a kids program, boot camp and apparel. Still boxing and hopefully fighting in New Zealand too. I'm studying nutrition too!



Total Divas
Australian Premiere Thursday, October 17 at 8.30pm only on E!

Two pop culture giants converge when E! grants viewers a first-ever look into the world of the WWE Divas in the all new docu-series. 'Total Divas" will follow the lives of five well-known Divas – both in and out of the ring – highlighting the electric personalities that have helped make WWE the most successful organisation in sports entertainment history. The series opens with an unprecedented look inside the most-anticipated WWE event of the year, WrestleMania®, marking the first time that any television series was granted exclusive behind-the-scenes access. Prepare for some explosive competition when 'Total Divas" premieres Thursday, October 17th at 8:30pm only on E!

Meet the Divas:

The Bella Twins
Nikki and Brie Bella are half-Italian, half-Mexican sisters that have quickly become two of the most popular Divas in history, each with their own solo reign as WWE Women's Champion. A self-admitted "tomboy" with a feminine side, Nikki originally planned to play professional soccer until a leg injury ended her career. From there, she followed her twin sister Brie to the WWE. Brie made her debut on SmackDown in 2008. Outside the ring, both Nikki and Brie have found love with fellow WWE legends, John Cena and Daniel Ryan.

The Funkadactyls
Few rivalries run as thick within the WWE than between the Bellas and their tag team nemeses The Funkadactyls. This ambitious team is comprised of Naomi, a former dancer and WWE NXT contestant and Cameron, one of the feistiest Divas in the industry.

Natalya
The WWE is in Natalya's blood as the daughter of the legendary Jim 'The Anvil®" Neidhart and the niece of Bret 'Hit Man®" Hart and Bruce Hart. Inside the ring, Natalya is joined by her cousin David and her fiancée 'Tyson Kidd®," forming The Hart Dynasty. Outside of the ring, Natalie and Tyson are busy planning their wedding, and holding nothing back from the cameras.

Divas-in-Training
Jojo Offerman and Eva Marie are the newbies of the bunch, eager to step into the ring and prove their place. The two couldn't be more different; Jojo is sweet and reserved while Eva is a rebellious spitfire who immediately clashes with the established Divas.

Don't miss a minute of the action when 'Total Divas" premieres on Thursday, October 17th at 8:30pm only on E!


Interview by Brooke Hunter