Gary Martin Living Valley Springs Interview
The co-founder of Queensland's world renowned health retreat Living Valley Springs, Gary Martin is a modern day healer. With his team of over 50 naturopaths, therapists and helpers, he has directly improved the lives of over 14,000 people since opening in 1990.

'For over two decades Living Valley Springs has aided in helping individuals overcome addictions , allergies , asthma , obesity , depression , diabetes type 2, Multiple Sclerosis, chronic fatigue syndrome, prostate disease and a variety of lifestyle-related conditions and health problems", says co-founder Gary Martin.

Stroke victim Carolin Buchanan, checked into Living Valley Springs seeking Stroke recovery after being told by doctors she would never walk again or be able to move her left arm. Carolin says about her time at Living Valley Springs:

'I checked into Living Valley Springs for a 24 day programme. The attention I received and the results achieved were absolutely amazing. I extended my stay to 38 days, then to 52 days.

'The naturopaths designed a programme to encourage the growth of new nerves. I can now walk long distances. I even climbed half way up Cooroora Mountain. I can move my arm and hand again. I can even drink a glass of water with my left hand. Everyone was amazed when I lifted my left leg like a ballerina", concludes Carolin.

Carmel Egan was diagnosed with Multiple Sclerosis (MS) and was directed by her doctor to start immediate daily injections of an immuno-suppressive substance for the rest of her life, and was told to "hope for a cure". Carmel goes on to say:

'Under Gary Martin's care I commenced a treatment protocol that offered the potential to arrest the progress of the disease, and facilitate a reversal of symptoms and return to health. I commenced a program based on blood chemistry, hair analysis and dental examination. The safe removal of my amalgam fillings was a fundamental step in the treatment protocol.

'I am the healthiest and most energetic I have felt for many years. I credit Gary with having been instrumental in saving my life. His enthusiasm and belief in my ability to recover gave me the confidence to embark on, what was for me, an adventure into the unknown", says Carmel.

Living Valley Springs is a not for profit organisation which is located amongst 180 acres of lush green hills, valleys and pristine countryside in Noosa Biosphere Reserve, which pride themselves on empowering people to take charge of their life and live in the best health. Their signature program is the TEN DAY CLEANSE, which rejuvenates the system, restoring vitality and enhancing physical and mental performance.


Interview with Gary Martin
Question: What is the Living Valley Springs?

Gary Martin: Living Valley Springs is a genuine lifestyle retreat and therapy centre staffed by a team of qualified, enthusiastic and competent carers. In addition to professional naturopathic care, treatments, counselling, fitness training and general pamper, the team at Living Valley Springs provides education in the principles and habits that produce optimal wellness and longevity.


Question: What inspired you to co-found Living Valley Springs?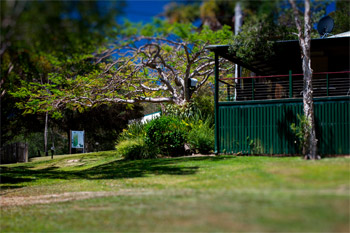 Gary Martin: For nearly twenty years I searched for answers in relation to a serious state of compromised health. I was underweight, suffering with severe headaches, yellow skin, low energy and a short fuse. It turned out to be mercury poisoning resulting from a mouthful of dental amalgam fillings. Once I established the cause, and had the fillings replaced, I became keen to help others who, like me, had searched for years for answers to their health issues. Leaving the finance industry, I embarked on the study of natural medicine and alternate therapies at the age of 33. In the mid 1980's, as a novice naturopath, I found that I could achieve remarkable results by taking unwell people into my home for ten days, re-educating them and treating their conditions. For several years my wife and I operated from our home in north NSW. Inspired by many amazing successes, we purchased a 145 acre property in South East Queensland in 1990 to establish a genuine health retreat. From humble beginnings, with an initial crew of five, we have grown to a team to over fifty. Living Valley Springs is a family business.


Question: Can you talk us through what a visitor to Living Valley Springs, can experience?

Gary Martin: In the words of many of our guests over last 24 years, 'The Living Valley experience is life changing." Often like cars, our bodies fail to give optimum performance when they are not properly tuned. At Living Valley Springs an effective and personalised tune-up is accomplished for most people in ten days. The program includes a thorough health assessment, including live blood analysis; a variety of personalised therapies, daily steam saunas and hydrotherapy; exercise classes, cooking tutorials, lifestyle planning consultations and health lectures; emotional counselling, one-to-one fitness training, detoxification strategies, exotic meals, juices, protein drinks, etc. The program itself, along with the individual attentions, delivers a profound healing experience.


Question: Who should visit Living Valley Springs?

Gary Martin: Living Valley Springs is a brilliant place for anyone who is serious about attaining optimum health. From young executives who just need a break to older folks whose health has been severely compromised, the team at Living Valley Springs is there for everyone. Personalised assessments, care and edification provide solutions for most cases of sub-optimal health.


Question: Can you explain the types of lifestyle-related conditions and health problems Living Valley Springs helps individuals overcome?

Gary Martin: Many people come to Living Valley Springs to rest and rejuvenate. Some come to learn and adopt healthy lifestyle habits. Some come just for the fitness aspect and others predominantly for counselling. Some come to overcome addictions, while others attend to address specific ailments such as high blood pressure, asthma, diabetes, fatigue, MS, depression, arthritis, headaches, and cardiovascular disease, various auto-immune or neurological conditions, obesity, etc. Some even attend for post-hospital rehabilitation.


Question: How do you help these individuals overcome lifestyle-related conditions and health problems?

Gary Martin: In addition to providing individualised therapies and naturopathic care, we teach our guests eight basic fundamentals in relation to wellness and longevity. Based on the theme, -Newstart', these include Nutrition, Exercise, Water, Sunlight, Temperance, Air, Rest and Trust. Also, when our guests complete their program, they leave with an individualised nutrition plan and lifestyle guide, along with a supply of specific supplements. Follow-up consultations are then conducted at least every three months on site or over the phone, until an optimal state of health is permanently established.


Question: Are you able to talk us through what is required for someone with Multiple Sclerosis who visits the Living Valley Springs?

Gary Martin: As with all cases of compromised health our first priority is to ascertain the cause. We believe that the body is designed to win. Unhealthful conditions are changed and wrong habits corrected. Then nature is assisted in her efforts to expel impurities and to re-establish right conditions in the system. In addition to dietary changes, exercises and counselling, dental revision is often imperative. Our naturopaths work closely with a panel of biological dentists who deal with oral infections, heavy metal contaminants and dead teeth. This approach has proved to be very successful in resolving cases of MS and other neurological and autoimmune diseases.


Question: What is involved in the Living Valley Springs process of recovery for chronic fatigue syndrome?

Gary Martin: As with any other condition, our first priority is to ascertain the cause. With a Sherlock Holmes approach, our naturopaths thoroughly investigate the medical & dental history and lifestyle habits of every client. As CFS can result from a variety of interferences, including viruses, infections, toxic exposure, malnutrition, oral disease, emotional upsets, etc., it is essential that each patient be assessed individually. Treatments may involve various forms of hydrotherapy, dietary changes, nutritional support, dental revision, physical therapies, muscular-skeletal work, etc. The long-term success in resolving cases of CFS at Living Valley Springs is mostly due to our skill in ascertaining the cause in relation to each individual.


Question: What is the cost for treatment at Living Valley Springs?

Gary Martin: A ten day (nine night) all-inclusive program can range from $4300 to $5750, depending on the room type. This includes three naturopathic consultations, six therapeutic treatments, lectures, meals, exercise classes, daily steam saunas, etc. Extra treatments, private fitness sessions and life coaching can be arranged. Everything else is included.


Question: Can you tell us about the Ten Day Cleanse at Living Valley Springs?

Gary Martin: Our signature program, the Ten Day Cleanse, is designed to gentle detox the body while providing individualised nutritional support. The program is divided into four parts. Phase One – Detoxification – A variety of organic protein drinks, fresh juices, minerals and tonics assist in cleansing out toxic waste. This process is enhanced with multiple daily steambaths, mild exercises and personal treatments. Phase Two – Regeneration – Highly nutritious meals using organically grown produce strengthen the entire system, while steambaths and more treatments continue the cleansing process. Phase Three – Deep Tissue Cleanse – For two days protein drinks, organic juices and herbal teas initiate a deeper level of detoxification. Phase Four – Exhilaration – Beautifully prepared meals once again strengthen the system. Eyes and hair shine, skin glows and energy levels reach new heights.


Interview by Brooke Hunter