Fashion forecasters are predicting a huge decrease in panty lines, muffin tops, and tummy rolls this year, thanks to the long-awaited arrival of the world's leading shapewear brand and celebrity darling, SPANX.
"Across the globe, women everywhere have at least one thing in common: we want our bums to lookslimmer, firmer, and panty-line-free!" explains Spanx founder Sara Blakely. "Spanx has beenoverwhelmed with requests from fashion-forward Australian women, begging us to bring our shapingsecrets overseas."
Spanx sparked an undergarment revolution in the U.S. with its use of innovative fabrics, designs, andcomfort features, all designed to minimize figure flaws and help women look slimmer withoutsacrificing comfort. Fashion-loving women from Beyonce, Gwyneth Paltrow, and Katie Holmes, toNicole Kidman and Oprah Winfrey swear by SPANX. Oprah named SPANX Footless Pantyhose asone of her "Favourite Things" and said she wears SPANX every single day.
This November, SPANX is launching the following styles exclusively at David Jones: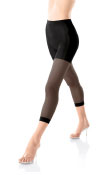 Footless Super Control - Footless Body-Shaping Pantyhose with Super Control($54.95 AUD)


o Footless Super Control brings extra tummy support with a sized, non-bindingwaistband and a soft, adjustable, non-binding leg band that can be placedanywhere between the knee and ankle, so ladies can get the great body shapingfrom pantyhose and still wear sandals or open-toed shoes.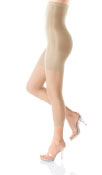 High Falutin' Footless - High-Waisted Footless Body-Shaping Pantyhose ($54.95 AUD)


o Fabulous figures are on the rise with these body-shaping pantyhose. Extra tummycontrol extends all the way up to just under the bra line to smooth the tummy,midriff, thighs and rear. High Falutin' is perfect under pants, evening gowns andform fitting suits, especially clothing that accentuates the midriff.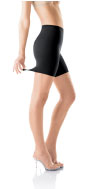 Power Panties - Mid-Thigh Shaper ($59.95 AUD)


o The world's first performance underwear combines the comfort ofregular underwear, the feel of hosiery and the power of a shaper fromwaist to mid-thigh.
o With a cotton gusset, comfortable waistband (no binding cord) andpatented no-leg-band design, women everywhere are tossing out theirthongs and proudly putting on their Power Panties!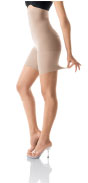 Higher Power - High-Waisted, Mid-Thigh Shaper ($69.95 AUD)


o This high-waisted Power Panty eliminates VPL (Visible Panty Lines) and slims,smoothes and shapes the figure from the lower thighs up through the entire midriff.The soft non-binding waistband at the top and the no-leg-band bottom make HigherPower a comfortable body shaper that can be worn all day and into the evening.
o Higher Power has a cotton double gusset to make life a little easier when MotherNature calls!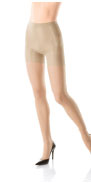 All the Way Super Control - Full-Length Pantyhose with Super Control Panty($54.95 AUD)


o Body-shaping pantyhose smooth your rear and thighs with an extraboost of tummy control. The comfortable, non-binding waistband makesAll The Way wearable all day and into the night.
o Get the ultra sheer look women crave -- and the durability they demand.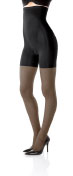 All the Way Up! - High-Waisted Full-Length Pantyhose ($54.95 AUD)


o These ultra-sheer, high-waisted, body-shaping pantyhose extend up to the braline and whittle the entire middle with a soft waistband that stays put.
o All the Way Up has a cotton double gusset for when Mother Nature calls.
All styles are available at select David Jones in black and nude colors and in sizes Athrough D.
ABOUT SPANX
Eight years ago, Sara Blakely began her mission to make the world a better place, one butt at a time. Afrustrated consumer-turned-entrepreneur, Sara invented SPANX footless pantyhose and revolutionizedthe hosiery and shapewear industry. Obsessed with creating comfortable, slimming garments thatminimize figure flaws, Sara reinvented shapewear with innovative designs and smart features and wonthe hearts of fashion-loving women, from Oprah Winfrey to Gwyneth Paltrow. SPANX is available inupscale American stores and boutiques including Nordstrom, Neiman Marcus, and Saks Fifth Avenue,and is exclusively available in Australia at select David Jones stores.
Stockists details contact: Jet International on 1 800 300 430