Sally Obermeder Jeans for Genes Day Interview
Children's charity Jeans for Genes has today announced its new partnership with Sally Obermeder, one of Australia's most popular media personalities. Sally will front the charity's Jeans for Genes Day campaign which is now in its 23rd year.

The mum of one will be donning her denim and calling upon Australians of all ages to get involved in this year's fundraising mission. Jeans for Genes Day is an event of Children's Medical Research Institute (CMRI) and all money raised goes directly to research aimed at curing childhood genetic diseases, which currently affect 1 in every 20 Aussie kids.

From humble beginnings and the simple idea of going in denim mufti for a gold coin donation, Jeans for Genes Day has raised over $65 million in just over two decades. This year, for the first time ever, Aussies can -text-to-donate', using their mobile phone to make a $5 donation to the charity which automatically gets added to their phone bill.

Throughout the years the fundraising effort has been spearheaded by legion of volunteers known as -Genies' who tirelessly rally colleagues, students, families and friends to dig deep in the lead up to Jeans for Genes Day.

Sally Obermeder takes on the role of -Chief Genie' this year urging Aussies to register their office, school, family or friendship group to take their denim to crazy new heights on Friday 5 August.

Sally said, 'I'm honoured to be part of Jeans for Genes Day 2016, it's a cause very close to my heart and there are so many ways for everyone to get involved. I'm looking forward to seeing how creative people get with their denim this year."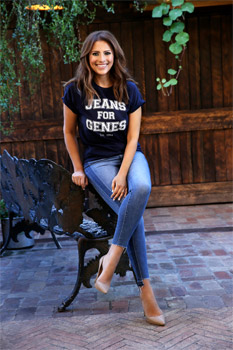 Jeans for Genes National Campaign Manager, Barry Kenyon, said, 'We're hugely excited to have Sally involved in this year's campaign. The public support for Jeans for Genes over the past 20 years has been overwhelming and we hope to turn all of that public support into vital funds for CMRI.

"Now in our 23rd year, we're aiming to make Jeans for Genes Day 2016 the biggest ever. Of course, we want to see people going crazy with their denim on Friday 5 August. But we're also hoping the new text-to-donate platform will give a real boost to our search for cures to childhood diseases like cancer and genetic disorders. Making a donation has never been so easy," he said.

Further, Sally Obermeder will attend the Jeans for Genes Excellence Ball on the 24th of June. Formerly known as the Jeans for Genes Gala Dinner and Art Auction, this year's ball has a focus on excellence, including those who inspire and excel in their field. An inspiration herself, Sally will conduct an uplifting Q&A with Ellie Cole, four-time Paralympic gold medallist.

Jeans for Genes Day will take place on Friday 5 August. Participants can share their denim outfit using #JeansForGenesAU

For more information or to register your support visit jeansforgenes.org.au



Interview with Sally Obermeder
Question: What inspired you to become an ambassador for Jeans for Genes Day?

Sally Obermeder: As a mum and a cancer survivor, the incredible work of the team at the CMRI is really important to me. It's a shocking statistic that 1 in 20 Aussie kids are born with some kind of genetic disease. I'm fully behind the CMRI in its mission to help reduce this statistic so future generations of children can lead healthy lives. I would be thrilled if in some way I'm helping raise public awareness.


Question: What is Jeans for Genes Day?

Sally Obermeder: Jeans for Genes Day is a national day when Aussies wear their jeans to raise much-needed funds for research into birth defects and diseases such as cancer, epilepsy, and a range of genetic disorders.


Question: And, what message do you hope to spread this coming, Jeans for Genes Day?

Sally Obermeder: I've come on board to help raise public awareness of Jeans for Genes Day and the work of CRMI. We want to encourage Aussies to become Genies ahead of Jeans for Genes Day on Friday 5 August to help raise important funds for the charity.

We also want to champion some of our amazing Genies who have raised significant amounts of money for CRMI over the last 23 years. It is important that we spread the word on some of the amazing work the CRMI is doing with the money donated through Jeans for Genes Day.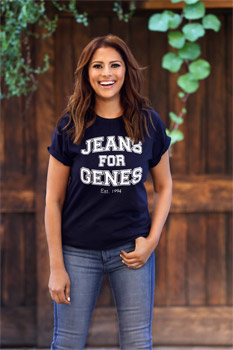 Question: What is your goal as Chief Genie?

Sally Obermeder: This year I'm daring everyone to don as much denim as possible on Jeans for Genes Day. Classic, acid washed, ripped, faded, stressed, double even triple denim - get creative!


Question: How can Australians participate in Jeans for Genes Day?

Sally Obermeder: There's lots of ways to get involved with Jeans for Genes Day this year. You can sign up to be a Genie at Jeansforgenes.org.au from NOW. You can also make one-off donations through the website.

There is Jeans for Genes merchandise available at local schools and offices and donations can be made at major outlets including Big W, Jeanswest, and Lowes.

This year - for the first time ever - people can make donations using their mobile phone via text-to-donate. You just text jeans to 1997 6484 and $5 will automatically be added to your phone bill and the donation will go straight to Jeans for Genes!

And most importantly don as much denim as you can on Friday 5 August!


Question: What are you looking forward to most at the Jeans for Genes Excellence Ball?

Sally Obermeder: I'm looking forward to my Q&A with the lovely Ellie Cole and to celebrating the scientists and doctors behind the wonderful work of the CMRI.


Question: How does Ellie Cole inspire you?

Sally Obermeder: Ellie is a gorgeous, ambitious young woman who despite her hardships has kept fighting and thriving. She is a great role model for women everywhere.


Interview by Brooke Hunter