Felicity Wever UNICEF and Domestos Interview
1 in 3 women worldwide don't have access to a toilet (that is 2.4billion people!) and are forced to go out in the open, which exposes them to shame, risk of attack, the spread of disease and rape.

This means there are more than 800 million women and girls between the ages of 15 and 49 years old are menstruating who don't have a toilet to use. This affects so many other areas of their lives…...It forces women and girls to miss six days a month from school and work which makes them fall behind and prevents them from supporting their families.

These women benefit in so many ways by having a clean, safe toilet to use - it improves their confidence, nutrition, productivity, gender equality and tackles poverty. To help end this sanitation crisis UNICEF and Domestos have partnered and are committed to help 25 million people have a access to a toilet by 2020.

All readers have to do is buy a specially marked bottle of Domestos from July to December 2016 where each bottle contributes directly to the sanitation crisis. More information here http://www.domestos.com.au/article/category/990542/our-mission

To help bring this issue to life Domestos and UNICEF recently put a -see through loo' at Bondi Beach to see how people would feel about having to go to the toilet in the open on YouTube.



Interview with Felicity Wever, UNICEF
Question: Can you talk about the dangers associated with 1 in 3 women worldwide not having access to a toilet?

Felicity Wever: Toilets are vital in empowering girls and women in particular. Good sanitation reduces the spread of disease and improves education outcomes.

When there aren't proper systems in place for people to have access to clean water and good sanitation, their health can suffer and disease can spread.

For girls and women in particular this is an extra challenge because they are the ones who take the lead on taking care of their families. A lack of access to a toilet means they do not have somewhere safe and private to go to the toilet so they risk embarrassing situations, harassment and violence. It also means that young women may choose not to go to school when they are menstruating. Missing school once every four weeks has a real impact on their education and their futures. Ensuring girls can stay in school means they can keep learning and break cycles of inequality and poverty.


Question: How has Domestos partnered with UNICEF to end this sanitation crisis?

Felicity Wever: Domestos is supporting UNICEF water, health and sanitation programs in 20 countries to help change attitudes, provide access to good sanitation to ultimately ensure women and their communities can be healthy and thrive. Australians can support by buying a specially marked bottle of Domestos from which a portion goes to tackling the sanitation crisis.


Question: How can Australians aid in ending this sanitation crisis?

Felicity Wever: You can help by spreading the word and by purchasing a bottle of Domestos from now until December – a portion of the sales go towards helping UNICEF to carry out our work so by doing this, you can help empower girls and women on the other side of the world.


Question: Can you share Ritu's story, with us?

Felicity Wever: When I visited a UNICEF supported school in Zimbabwe, I met a girl by the name of Aliah who really touched my heart. She is disabled and uses a wheelchair to get around. Before her school had toilets and access to clean water, it was really difficult for her to fill up her water bottle and go to the toilet in privacy. She has amazing friends who would help her and push her around in her wheelchair.

Despite the challenges she faced, Aliah was so motivated and her dream was to go to school and have the same opportunities as other girls. Now that toilets have been installed at her school, she is so incredibly happy because she can take herself to the toilet in private and she has more time to focus on learning at school. It's completely changed her life.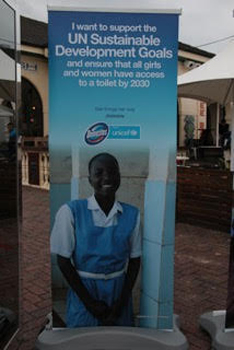 Question: What does your work with UNICEF involve?

Felicity Wever: UNICEF works in 190 countries around the world and water, health and sanitation is a big focus for us. This includes installing toilets in communities who would otherwise not have access and teaching children from a young age about the importance of simple things like washing your hands to prevent disease and stay healthy.

I head up International Programs for UNICEF Australia and I'm based in the Sydney office. Everyday, I talk to colleagues in different countries around the world about the programs we deliver and I regularly travel to see UNICEF's work first-hand in places like Zimbabwe and Myanmar.


Question: What message do you hope to spread, with this campaign?

Felicity Wever: I hope to spread the message that it possible to tackle the global sanitation crisis and that real gains have already been made. There's more work to do and we can all help.

It's also important to remember that it's about more than a toilet. By building sanitation facilities, we are also giving women an opportunity to build a better community and a better future for their own children.


Interview by Brooke Hunter