Conan Visser ICANIWILL Children's Charity Interview
The children's charity, ICANIWILL have just launched ICANIWILL GRANT-A-WISH. The not for profit organisation aims to grant wishes to children who have been bullied or discriminated against.

WEBSITE icaniwill.com.au
FACEBOOK icaniwillaustralia
INSTAGRAM @icaniwillaustralia



Interview with Conan Visser; Founder & President ICANIWILL Children's Charity
Question: What is ICANIWILL Children's Charity?

Conan Visser: An organisation on a mission to eradicate bullying and discrimination in the next generation by implementing mentor programs in schools free of charge. By making charity cool and fun, we successfully influence a large amount of senior students to volunteer to mentor a child with special needs or one struggling socially. Via this we bridge social indifferences and empower the student body to eradicate these social issues. By doing this, we will also reduce other social issues such as domestic violence in the next generation.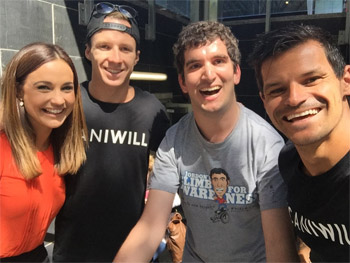 Question: What was the inspiration behind the creation of ICANIWILL Children's Charity?

Conan Visser: In 2010 two doctors came to Conan Visser, an experienced but expensive Personal Trainer as a last resort to obtain support for their 13 year old boy with special needs.

Luckily they could afford the assistance that changed his life. Sadly, 95% of families in their situation can not.

You wouldn't believe this story meeting him today!

Conan Visser (Founding President) has helped a number of parents overcome misconceived theories developed from the moment their child had been diagnosed with a special condition - basically being told what they CAN NOT DO. Conan realised that being a non-authoritative figure (A Mentor) and simply believing in these amazing children it boosted their self-confidence so they can be, do and overcome anything.

Once you bridge the social gap, it boosts the self-confidence of children with special needs because they feel as if they can fit in and become an integral part of society.

After realizing a lack of personal support from non-authoritative figures and how effective it was, 'ICANIWILL' was established with the goal to change the lives of tens of thousands of children exactly the same way Conan changed Nolan's life.

We make charity COOL and FUN for under 30's, encouraging them to volunteer to become a Senior Mentor to a child with special needs and/or any other child who might be struggling socially. This bridges social indifferences and strives to maximise human potential for all involved. We then empower the Senior Mentors to eradicate any bullying and discrimination culture within the school. This will also then result in lowering other social issues such as domestic violence.


Question: Can you explain the new campaign, ICANIWILL Grant-A-Wish? Who does ICANIWILL grant wishes for?

Conan Visser: We grant the wish of children with special needs who have had a tough time at either school or home. This was established to grant the wish of children that had been bullied at and/or discriminated at, to the point that they were losing the self-confidence to chase their dreams. By introducing them to a successful leader in the field they wish to pursue, we hope that the experience of having one of their idols spend time and express how they believe in them, will give them the boost in confidence that they need to keep working towards their goal. It is basically what ICANIWILL does, but with high profile people for the children that are really struggling and at risk.

We also auction off a RIDE-A-ALONG at our corporate events to give others the opportunity to grant the wish of a child at risk and experience first hand what we are doing and why it is so important. We then video the entire experience for all involved and 1 professional shot is taken at the opportune moment to go make up one of the MONTH's for our 2017 ICANIWILL calendar.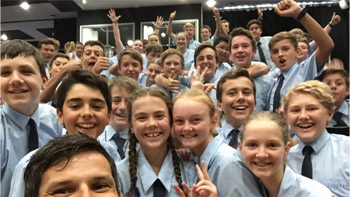 Question: Can you share Bronte's story, with us?

Conan Visser: Bronte was the first child to ever DUNK the Principal of a school in JELLY in front of the entire school with ICANIWILL last year. After our program began running in her school, Ormiston State School, Bronte attended our 2nd birthday in June last year. Which hosted many celebrities from various professional to teach the children in their given field. Unfortunately at the last minute the Brisbane Roar couldn't make it on the day and Bronte came all the way from the Redlands just to see them and play soccer with them. Bronte didn't want to play football with Ash Harrison, go on the fire truck, play in the supercars, nor play gridiron, go for a run with The Hog (Hog's Breath) or even be in the fashion parade by Mura Boutique (which was also Madeline Stuart's first ever fashion parade that she walks dat before becoming an internet sensation).


Question: What is ICANIWILL Grant-A-Wish doing for Bronte?

Conan Visser: The first wish granted is for Bronte, a little girl in year 3 with Down Syndrome. Bronte will see her favourite team, the Brisbane Roar, play against Melbourne Victory on Saturday March 12. To make this a once in a lifetime experience for Bronte, ICANIWILL have organised the ultimate Brisbane Roar experience which will include:

A pre-match tour of the home team changing rooms and inner sanctum with one of the roar players and the chance to hang out with the team while they warm up.
Bronte will be selected to toss the coin pre-kick off with the referee and team captains out on the field.
Bronte will watch the match from the Triple M Football Lounge while enjoying a great meal.
Post-match, Bronte will meet the players, take photos and get autographs.
Brisbane Roar will present Bronte with a signed Jersey.
Transport to and from the match will be provided by Brisbane Roar FC Partner, Yellow Cabs.


Question: Who supports ICANIWILL Children's Charity?

Conan Visser: ICANIWILL Ambassador Madeline Stuart (International model with Down Syndrome 580,000 FB followers)
ICANIWILL Ambassador Jordon Milroy (bravely featured in the ICANIWILL A Current Affair Story)
ICANIWILL Ambassador Gemma White - (Miss Galaxy Contestant passionate about making a difference to these children)
ICANIWILL Ambassador Brisbane Roar player Corey Brown
ICANIWILL Ambassador 3 year V8 Ute champion Ryal 'the kid' Harris
SketchShe - 3 amazing Sydney girls, Internet superstars who have been featured on Ellen
Brisbane Lions players Tom Rockcliffe & Pearce Hanley
LNP Lord Mayor Graham Quirk
MP Di Farmer
Councillor Shayne Sutton
Plus many more...


Question: How can Australians support ICANIWILL Children's Charity?

Conan Visser: By following and sharing our social media @icaniwillaustralia (Facebook, Instagram & Twitter) and heading to www.ICANIWILL.org.au to make a donation or get involved by volunteering, sharing our cause or sponsoring a school, one of our events or providing pro-bono work.


Question: What's a typical day like, for you at ICANIWILL?

Conan Visser: I used to be in a school everyday running one of our programs, but now the organisation has grown so quickly with such a demand for our unique FREE support, I spend 7 days working on the strategy, marketing, partnership and government compliance. Running a charity in Australia requires a lot of work, a lot of paperwork and we need to engage a large amount of people, companies and government departments to continue to try to change these cultural issues. But, It's not all stress, paperwork and meetings, today I get the pleasure to go out to Bronte's school with Corey Brown (Bris Roar) and organise an entire school assembly to give Bronte and her brother Max the news that we are granting their wish with the once-in-a-lifetime experience with the Brisbane Roar this weekend. You should see who's wish we are granting in 2 weeks in Sydney with SketchShe…. Goosebumps.


Question: What's next for ICANIWILL?

Conan Visser: After our recent social experiment was featured on A Current Affair and went international viral, ICANIWILL has been contacted by Education Queensland in order to expand at a rapid rate. The next challenge is to create the systems, policies and procedures to take us from 26 schools in Brisbane to over 400 schools between Gold Coast and Brisbane. Our goal is to use these systems to expand around Australia rapidly once we fulfil the current requests.


Interview by Brooke Hunter