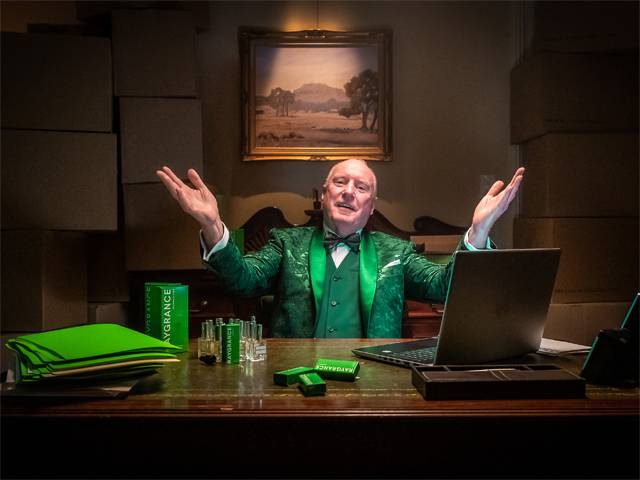 GoDaddy and Ray Meagher release Raygrance Number 1, Eau de Entrepreneur, inspiring Aussies to get online and embrace their inner entrepreneur

GoDaddy, the world's largest technology provider dedicated to small businesses, and TV legend and entrepreneur Ray Meagher are back with a new and unexpected venture, Raygrance Number 1, the celebrity fragrance and Eau de Entrepreneur we didn't know we needed but were so desperately missing.

Partnering once again with GoDaddy to bring his business idea to life online, Raygrance Number 1 is an exotic blend of hard work, perseverance and triumph; a captivating blend of all things Ray Meagher.

Ray Meagher's new fragrance will be sold exclusively online at www.raygrance.com.au and retail for $15 including postage, with all proceeds to be donated to Cure Cancer, a charity that funds lifesaving cancer research from our brightest young scientists.

With a new research study by GoDaddy showing that 59% of Aussie small businesses are without a website, with the launch of Raygrance Number 1, Ray Meagher and GoDaddy intend to again show Australian small business owners just how easy it is to get online.

"I'm the least tech-savvy bloke out there! But building a website with GoDaddy Website Builder is so easy I've been able to do it not once, but twice," says Ray Meagher, Entrepreneur and Founder of Ray's Flamin' Hot Sauce and Raygrance Number 1. "So go on, head to www.raygrance.com.au and grab a bottle of Raygrance Number 1 for that special someone just in time for Valentine's Day. And if you're a small business owner, head over to www.godaddy.com.au to get that long overdue website! What are you waiting for?," adds Ray.

Despite the slow adoption of websites by small businesses, GoDaddy research highlighted that small business owners are optimistic about the future and the value that a professional website can bring to their business, with:

• 65% of the opinion that having a website makes a business look more credible and professional
• 59% say that having a website provides a good way of receiving customer inquiries
• 58% believe that it opens up new business opportunities
• 56% believe having a website means that their business can be found on Google

Plus, those who own a website feel they are reaping the rewards, with the majority of small businesses that operate a company website (61%) believing that it has had a significant commercial impact and contributed as much as 25% growth to their business.

"It's important for people to know just how easy it is to build a website for their business. You do not need complex coding know-how to build a professional website. With GoDaddy Website Builder, your small business website can be up and running in less than an hour," said Tara Commerford Vice President and Managing Director Australia and New Zealand.

With his second online business launched, Ray Meagher looks forward to seeing other small business owners and entrepreneurs follow his lead and take their ideas online too.