Nintendo DS Style Boutique
Bring out your inner fashionista and become the manager of your own chic boutique with Nintendo presents Style Boutique™. Available on Nintendo DS® or Nintendo DSi™, Nintendo presents: Style Boutique allows you to work your way up from a shop assistant, to owning your very own boutique!
Buy shoes, clothes and accessories to sell in your boutique, help customers with fashion advice and customise everything from the name of your boutique, the interior design and even the music! The customers who visit your shop have different personalities, needs, interests and budgets, and it's up to you to make them look their best in your clothes so they come back for more. With over 10,000 items of clothing and accessories to choose from, and 16 different brands, Nintendo presents: Style Boutique is a game that combines fashion flare, and fun with a business element.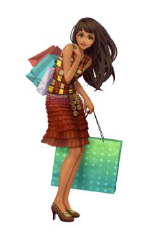 Running your own boutique takes dedication to make it a success, you must get the style right for each customer or you'll soon be out of business! Once your store collects enough money, then it's time for you to go shopping to replenish your stock. You'll find different clothing options and styles available at various times of the year, as the game adapts to the change in real-world seasons based on the calendar settings of your Nintendo DS or Nintendo DSi system.
If being able to create and sell your own collections isn't enough, you can even style a complete look! Visit the Beautician or Hair Salon in Nintendo presents: Style Boutique to change your look as often as you like! Here you will also be able to keep up to date with the latest fashion magazines. Taking on the advice you have read in the magazines, you will then be able to make decisions on what is the coolest stock to buy for your boutique!
With Nintendo Wi-Fi Connection, you can invite up to three friends who have Nintendo DS or Nintendo DSi systems and copies of Nintendo presents: Style Boutique to compete in a fashion runway contest to see who has the best eye for fashion. If two players have Nintendo presents: Style Boutique, and are within 30 feet of each other, they can connect their Nintendo DS or Nintendo DSi systems locally to visit each other's stores.
What young girl hasn't dreamed of owning a fashion boutique, now you can role play to your hearts content with Style Boutique. But don't think it's easy, cause every customer is different, have you got what it takes to run a fashion boutique and stock your store with designs to suit all types of people.
For more information on Nintendo presents: Style Boutique, visit:
http://gamesites.nintendo.com.au/nintendo-presents-style-boutique