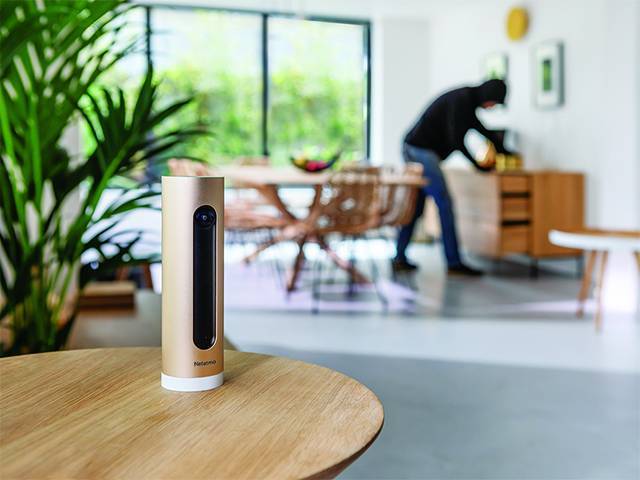 Netatmo Smart Indoor Camera | Prices from $269 | Available at Bing Lee, Amazon and online at Legrand Australia
The only Smart Indoor Camera that comes with unique and revolutionary facial recognition technology allowing the camera to recognise faces of both people and pets. A fantastic option for both renters and homeowners looking for home security systems with access to all its features without any subscription fees charges. The Netatmo Smart Indoor Camera uses motion sensors and can immediately alert you if an intruder has been detected in your home with a picture of their face and a video recording accessible directly from you mobile phone. Particularly beneficial to monitor your home or pets whilst you are at work or away – you can also deactivate pet detection alerts or alerts for familiar faces so that you are not alerted to or recorded when your pets or family members are moving around the house. You can save up to 32 recognisable faces, including your pets! Convenient and easy to use, it works in conjunction with the Netatmo Security app that can be downloaded via smartphone or accessed from a web browser. You can also add additional products to increase your security such as the Netatmo Indoor Siren and Window and Door Sensors.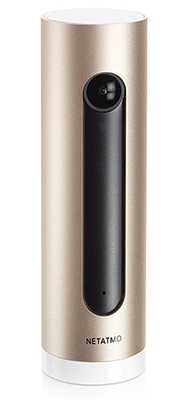 Product Features:
Alerts: Sends real-time alerts if an intruder is recognised in the home complete with a picture of their face and video recording.
Facial Recognition: recognises family members and pets allowing you to keep an eye on your loved ones and pets. Unlike other 'Big Brother' security cameras that continuously film everything, Netatmo Smart Indoor Camera protects both your home and the privacy of your family. With the option to disable video recording and notifications for familiar faces, your loved ones can relax in the privacy of your home, knowing they aren't being watched or recorded.
Easy Setup: The Smart Indoor Camera's setup is straightforward: place the camera indoors, facing your entrance, plug it in and download the App. Identify your loved ones with a simple click. That's it!
Track with an app: Works with Apple Homekit and/ or the Netatmo Security App.
Add additional products: further increase your home security by adding additional products such as the Netatmo Indoor Siren and Window and Door Sensors.
Review:
At first glance, the Netatmo Smart Indoor Camera doesn't look like a security camera which means it's blends into your home. The black bar on the front contains a discreet camera and the small LED underneath let's you know whether it's on or off. On the back there is a slot for your 8GB microSD card (included), an Ethernet port to connect to your home network to store to your Dropbox account or server.
Your Netatmo Smart Indoor Camera has a 130 degree view which gives you decent coverage of a room, but ideally positioned in a corner. It records in Full HD 1080p, and also records in night vision so you can re position for parties or keep an eye on things. Quality is good enough to monitor your home.
Our favourite feature about the Netatmo Smart Indoor Camera is the ability to recognize different faces, over the first few weeks the camera learns regular faces and then automatically recording and notifying you anything it detects a stranger. Profiles can be set up for different people in the household, with notifications ie when kids get home from school. You can also ask it not to send notifications everytime family members walk past.
Netatmo Smart Indoor Camera works with Alexa, Siri and Google Assistant so you can ask the camera to livestrem on your TV.
Resonably priced, the Netatmo Smart Indoor Camera is a great option to intergrate a camera into your home with style, with no additional storage fees.