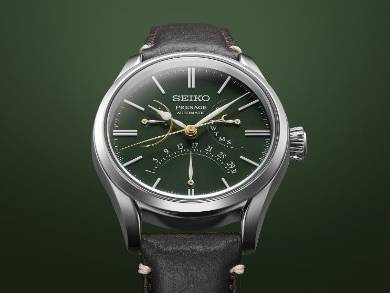 Kanazawa is where Lacquer artist Isshu Tamura produces works using techniques unique to Kanazawa Urushi lacquerware. With this new watch, Mr. Tamura expresses the beauty of summer in Kanazawa and the Hokuriku region. The green Urushi dial evokes a moss garden and the watch hands in gold capture the sunlight falling through the trees. Equipped with Caliber 6R24, the watch's date, day of the week, and power reserve hands move like a Japanese fan, each day revealing a different and unique expression.
Traditional Japanese crafts using Urushi are highly valued worlwide for their beauty and practicality.
The Urushi dial crafted by Tamura, is an expression of his aesthetic sense and is a fusion of traditional craftwork techniques handed down from generation to generation with modern manufacturing technology.
The dials are finished using an innovative manufacturing method that directly combines metal with Urushi and traditional craftwork techniques that produce a smooth surface.
As Urushi continues to harden without solidifying, it does not deteriorate and its durability continues to increase with time.
The Urushi applied to the dial must have a beautiful luster, yet be thick enough not to interfere with the movement of the hands, requiring a high level of skill to produce.
Lacquer Artist Isshu Tamura
Born in 1957, Isshu Tamura trained in the traditional Kaga Maki-e gold lacquer technique of Kanazawa under master craftsman Ikko Kiyose. After honing his skills in the technique, Mr. Tamura set out to produce unparalleled original works of art.
He has executed his technique in Kaga Maki-e not only in lacquerware, but also in the creation of luxury fountain pens and wristwatches which have received worldwide acclaim for their elaborate detail and fine beauty.
SPB295 Watch
RRP: $2995.00