The MYER Fashions on the Field centre stage is set to light up the famous Flemington lawns for another electric competition at the 2005 Melbourne Cup Carnival. Now in its 43rd year MYER Fashions on the Field boasts a staggering record prize pool of over $300,000 including a SAAB 9-3 Linear Convertible, a trip for two to the Dubai World Cup in March 2006 flying Business Class with Emirates Airline and loads of MYER Gift Vouchers.



Launched by the Victoria Racing Club (VRC) in 1962 as an initiative to woo more women to the races, the original fashions on the field concept has gone from strength to strength and has been replicated by race clubs around the world. The VRC's MYER Fashions on the Field at Flemington remains Australia's largest and most prestigious outdoor fashion event and has cemented its place as the pinnacle fashion event of the Spring Racing Carnival.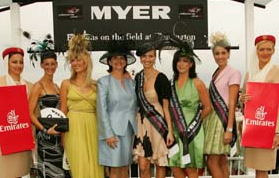 Such is the success and popularity of the Women's Classic Racewear category, in 2004 the VRC and MYER decided to make it a National Competition holding state competitions in New South Wales, Queensland, South Australia and Western Australia with the winner flown to Melbourne to compete against the Victorian Winner - determined over the first three days of the Melbourne Cup Carnival in the National Final on Crown Oaks Day.
So wherever you are from around Australia, come and express your own sense of racing style and you could be off to Flemington to be a part of the thrill and excitement of the Melbourne Cup Carnival by entering MYER Fashions on the Field in your state.
How To Enter
Entering MYER Fashions on the Field is as simple as turning up on the day of your competition, filling in an entry form and handing it to event staff during the registration times displayed below:

Or visit the official Victoria Racing Club website.