The Iron Lady
Cast
: Meryl Streep, Jim Broadbent
Director
: Phyllida Lloyd
Running Time
: 105 minutes
Synopsis
: The Iron Lady tells the compelling story of Margaret Thatcher, a woman who smashed through the barriers of gender and class to be heard in a male-dominated world. The story concerns power and the price that is paid for power, and is a surprising and intimate portrait of an extraordinary and complex woman.
Release Date
: December 26th, 2011
Interview with Meryl Streep
For almost 40 years, Meryl Streep has portrayed an astonishing array of characters in a career that has cut its own unique path from the theatre through film and television.
Ms. Streep was educated in the New Jersey public school system through high school, graduated cum laude from Vassar College, and received her MFA with honors from Yale University in 1975. She began her professional life on the New York stage, where she quickly established her signature versatility and verve as an actor. Within three years of graduation, she made her Broadway debut, won an Emmy (for Holocaust) and received her first Oscar® nomination (for The Deer Hunter). In 2010, in a record that is unsurpassed, she won her 16th Academy Award® nomination for her role as Julia Child in Nora Ephron's Julie and Julia.
Ms. Streep has pursued her interest in the environment through her work with Mothers and Others, a consumer advocacy group that she co-founded in 1989. M&O worked for ten years to promote sustainable agriculture, establish new pesticide regulations, and the availability of organic and sustainably grown local foods. She also lends her efforts to Equality Now, and Women for Women International, organisations that work to support and protect the human rights of women and girls worldwide, and Partners in Health. She is a member of the Vassar College Board of Trustees and the American Academy of Arts and Letters. She has been accorded a Commandeur de L'Ordre des Arts et des Lettres by the French Government, and a Lifetime Achievement Award by the American Film Institute, and this year, The National Medal of Arts by President Obama.
Question:
What was your initial response when director Phyllida Lloyd approached you to play the role of Margaret Thatcher?
Meryl Streep
: When Phyllida told me she had a film that circles Margaret Thatcher's life and the issues around a woman leader, I was immediately interested. There aren't many women leaders; there aren't many filmmakers who are interested in what it means to be a woman leader.
To think about the barriers that Margaret Thatcher broke through to become the leader of the United Kingdom was to put yourself in the head of a woman in the late 70s, when she really emerged as the leader of her party. And I keep trying to tell my daughters how different the world was then, yet how similar some things remain.
It was interesting to follow a woman who grew up during the War and follow that through post-war Britain, a time of privation and rebuilding, and to see someone put together their own philosophy and put it into action in practical solutions for what she saw as the deficits in her country's economic well-being. It was, watching someone who happened to be a woman solving big world problems, in a way that women were not expected to do.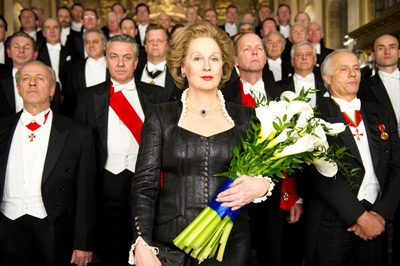 Question:
What was the chronology of the shoot?
Meryl Streep
: The second day of shooting, when I was just barely off the airplane from Connecticut, talking like this, we shot the scene in the Cabinet meeting, where she's most in command and also most coming apart.
To answer your question, they did not help me at all by shooting this in any kind of chronological order! But it was actually, I think, good to jump in with such an ambitious scene right away because it really made me pull together like a Marine, you know, get ready to battle, and I did battle every day of that shoot.
Every day I wake up and I think, 'thank God I'm not the leader of the free world; I'm not President Obama'. Oh, what a job! One thing you really do come away with after playing a character of Shakespearean proportions is an appreciation. I feel very humble and daunted by the prospect of what she really took on her shoulders. It's an enormous, terrifying, devastating position to be consigning people to risk of death, and then to put your head on the pillow at night. People think there is no toll and we do look at public figures as if they're monsters or gods, and you know, the truth is everybody falls in the middle.
Question:
The press reported that you visited the House of Commons prior to making this movie. What was that visit like and what did you learn from it?
Meryl Streep
: It was wonderful to get the feeling of the protocol and how people behave in the House of Commons. We had access to the back stage, or whatever they call it; the little offices through which the members enter the Great Hall. It's at the same time intimidating to stand in a hall where in 1066, people were standing and having their first parliamentary meeting, and then to walk into the House of Commons and see how small it is. It was touching to see how small it is for the size of the history that's been created there, and the size of the personalities that were contained by those walls, the size of the ideas that emanated out from there. And to see how personal it is; how they sit opposite each other and either scream at each other or look bored. It's quite adversarial.
Question:
What was it like then to re-create those scenes at the dispatch box?
Meryl Streep
: It was high pressure. In a way, it put me into the head of Margaret Thatcher; Margaret Thatcher at that time was one of the few women in politics. There were other women, but she was one of the few who rose to the top.
And she did that not by dint of her media savvy, or whatever it is that people build their political careers on in the current system, at least in my country. It wasn't how friendly you appear; it was how competent. She had to be more prepared, better prepared, have thought of all the questions that anybody could possibly ask her - and also questions that never would occur to be asked, she had to have the answers for those things too - because she had to be better than any man in that position in order to keep that position. There was so much riding against the idea of a woman being leader.
So that was thrilling. And to watch the archival footage of her, which I had some access to, and to see how ready she was and how completely deep her preparation and how eager for the battle she was and how on the balls of her feet and wanting the fight; boy, that appetite is thrilling. And that's what it took; that's what it took to be leader.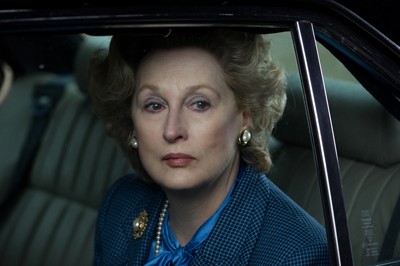 Question:
Richard E Grant was having fun saying that the gentlemen who surrounded you, cabinet colleagues; they're the mothballs of equity?
Meryl Streep
: No, no, not the mothballs. He said - we're the moths; we're the moths surrounding the flame. And Richard E Grant has fun wherever he goes, I will say that. He does make a party; he's really great fun to sit around. All those gents were so great to me and welcoming in this territory where I really don't belong as the interloper, the American.
But in a way I had courage to play Margaret Thatcher because she was an interloper in this, you know, Oxbridgetonian Conservative Party into which she marched undaunted. And I thought, well, if she can do it, I can do it.
Question:
And Anthony Head playing Geoffrey Howe?
Meryl Streep
: He's so important; that moment when Geoffrey Howe stood up in the House and gave his resignation, because he was her rock, and a judicious voice and someone she could count on, and when he turned, the whole thing flipped; that was it.
Anthony is a gorgeous actor and he's someone who's personally so compelling, but he plays a modest man so beautifully and with such humility that I thought that was great. You feel his pain and his chagrin. And it was very important that you identify all these individual people; their personalities. And each one of the fellows came in with a full biography of the person that they were representing; not that they were impersonating them, but they were trying to represent something true of that person and the part they played in this drama.
Interviews:

Meryl Streep The Iron Lady -
www.femail.com.au/meryl-streep-the-iron-lady-interview.htm
Damian Jones & Abi Morgan The Iron Lady -
www.femail.com.au/damian-jones-and-abi-morgan-the-iron-lady.htm
Phyllida Lloyd The Iron Lady -
www.femail.com.au/phyllida-llyod-the-iron-lady-interview.htm