Felicity Ward and Daniel Henshall Any Questions for Ben? Interview
Question:
Can you quickly sum up the storyline of Any Questions for Ben? for those that don't know a lot about the film?
Daniel Henshall
: The film is about a guy who seemingly has everything (the life, the car, the apartment, the money, the job and the ladies, plenty of ladies) and he gets invited to his old school and it's quite an honour to give a speech about where his at in life. He comes into contact with one of his classmates the beautiful Alex (played by Rachel Taylor) and she is a lawyer in Yemen and she gives this great, intelligent speech and straight after her Ben gives a speech, not as grounded and maybe not as intelligent and he doesn't have any questions asked, at the end of his speech. That starts an unraveling for him, questioning who he is and what he is doing and the soul searching starts from there. That is the premise of the film.
Felicity Ward
: Told in a hilarious fashion!
Question:
Yes, the film has a strong message but it is so funny!
Felicity Ward
: That is one of the things I love about the film! You go through the film and you are laughing, you get emotional and getting carried away with the characters; then at the end of the film you realise that the issues and concepts they're dealing with…
Daniel Henshall
: are very close to home.
Felicity Ward
: Very close to home and pretty profound but they do it in such a palatable, digestible way.
Daniel Henshall
: With real characters and we can all laugh at them because they are parts of ourselves. Very relatable characters.
Felicity Ward
: I think there are one or two people in the film that the audience are represented by, where they say 'yes, say that to them'!
Question:
Felicity Ward your character Em gives Ben solid advice throughout the film.
Felicity Ward
: I've had women approach me about the scene where I am leaning against the window, talking to Ben and I give him the hard word. Women will say "that scene, in the apartment, I just wanted you to get right up him"!
I think that Ben asks Em for the advice in the film and then he doesn't take it on. I think that my character, Em, knows that it's Ben's prerogative and as an adult he will do whatever he likes but she isn't going to condone it and she knows about his rotation of women and how he treats them and she accepts that he is a grownup who makes his own decisions. But when it comes to her friends and when it comes to love she really says to Ben that I've been with you on every trip and every adventure emotionally and I am happy for you but I've got to step out of this one, because you're behaving badly.
Question:
Do you think if you had Ben as a friend, in real life, your advice would be similar?
Felicity Ward
: Yes!
Daniel Henshall
: Absolutely!
Felicity Ward
: Yes, I do. I think that is why I loved Em so much because it wasn't that far away from how I think about relationships and how I think about my male friends who may not behave as well. The wonderful thing is that I would assume that when I am trying to describe Em you would think of her as a ball buster and that she's not very fun. But she's not.
Daniel Henshall
: She's so much fun!
Felicity Ward
: She is a normal, complex character.
Daniel Henshall
: She is so vibrant!
Question:
Can you explain a little about your character?
Daniel Henshall
: I think Nick plays the opposite of Em. Nick is a lot more quiet and settled - his not so sure of himself in the beginning of the film and I think that he learns throughout the film that what he didn't have, he had all along (looking at Felicity Ward). I think that's what makes him quietly confident and at ease with himself, which is nice.
Question:
Would you say Melbourne is one of the main characters in the film?
Felicity Ward
: Totally!
Daniel Henshall
: Yes!
Felicity Ward
: It should get another film soon, it's got an agent.
Daniel Henshall
: It's should get a nomination (laughing).
Felicity Ward
: Best Supporting Actor (laughing).
Question:
Whilst filming did you get to travel to places in Melbourne, you hadn't been to before?
Felicity Ward
: Yes.
Daniel Henshall
: Definitely, Yes! How great is the Rooftop Cinemas? Right in the middle of Melbourne, tucked away.
Felicity Ward
: It's all the little secrets, that's Melbourne!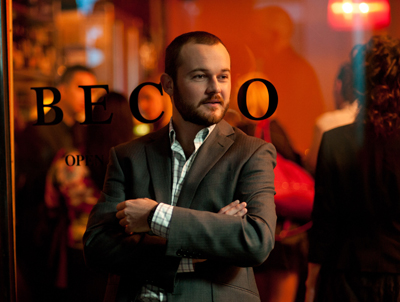 Question:
What do you hope audiences take away from the film?
Felicity Ward
: I've been asked that before and I don't actually know because I think the wonderful thing about the film is that everyone will take their own experience away from it and I love that it is a slow burn in terms of how you process the themes in the film. I think different people will find different things that are more important than others. Does that make sense?
Daniel Henshall
: Definitely! I think that above all that, is people will come away having a good time regardless, as there are so many different jokes in the film which are so well pulled off by the cast and so well written.
Felicity Ward
: So well written.
Daniel Henshall
: The cast didn't have to do a great deal to get those jokes, out there. The film shows so many different situations that we have all been in, that we can point out and laugh at. At the core of it, it is that question and understanding that we are all fellable and even though we can all laugh at ourselves it's true that we do all need to question 'Where is my life going?' and 'Who am I and what do I want to get out of it?' I think the film shows this, extremely well and as Flick (Felicity Ward) said, it's a slow burner and it comes up on you and you realise at the heart of everything, the heart of having a great time you need to know who you are and what you're doing and you need to feel good about that before you can get anywhere.
Question:
Have either of you had a quarter life crisis?
Felicity Ward
: Absolutely had a total quarter life crisis at 26 and 27 (singing). I would expect that people will ask this question of me. I think that it will trigger something for people who are around the age of 26 and 27 who see Any Questions for Ben. I had a 25 year old journalist approach me and say "I walked out of that film and went oh my gosh"!
Daniel Henshall
: I had the same thing, I had a women approach me and said "I feel so good about the film and I feel so unsure about who I am and the film made it very true for me". It is a great question.
Felicity Ward
: One of the things that actually set the quarter life crisis off for me when I was 26, is that I had someone read me a little paragraph by a Jewish philosopher, Hillel, and this might sound a little bit hardcore but it says "If I am not for myself, who will be for me? And when I am for myself, what am 'I'? And if not now, when?" When I read that, it actually changed my life! Any Questions for Ben is a hilarious hour and a half version of that quote.
Question:
What was the most memorable aspect of filming?
Daniel Henshall
: There was a lot. I love actors and there are so many great cameos in this film and it was a buzz to meet those guys and work with them. I also enjoyed going to difference places; I got to see a lot of different places in Melbourne that I hadn't seen before.
Felicity Ward
: It sounds really daggy but the friendships were the highlight for me. It was such a joy to come to work because I knew I got to hang out with these guys; especially with Daniel Henshall because we got along so well and same with Rachel Taylor and I, we clicked from the moment we met.
Daniel Henshall
: Yes, Rachel is awesome.
Felicity Ward
: I was a little bit apprehensive about how people were going to receive me. Starting a new job, any job, people will wonder what the people will be like and if they'll get along. It's imperative to get along off screen to create onscreen chemistry.
Daniel Henshall
: Absolutely, because then you can trust each other and yourself and you can go as far as you need to go.
Felicity Ward
: And you can mess around! At the bit at the end of our wedding, where we wear the Simpson stuff...
Daniel Henshall
: That's us being dags; you forget the cameras are even on.
Felicity Ward
: We just had so much fun.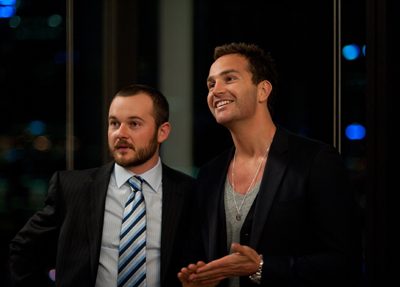 Question:
Can you tell us a little bit about the wedding scene?
Felicity Ward
: We had lots of dance lessons!
Daniel Henshall
: We did, we had lots of lessons.
Felicity Ward
: They didn't show the lift.
Daniel Henshall
: There was a lift!
Felicity Ward
: Maybe they didn't want to take away from the moment of Alex and Ben looking at each other because they have a real moment.
Daniel Henshall
: Yes, Alex and Ben!
Felicity Ward and Daniel Henshall
: Is the film really about them? (in unison)
Question:
Can you talk about working with Rob Sitch?
Daniel Henshall
: Loved it!
Felicity Ward
: Everything that anyone has ever fantasised about how awesome it was going to be - it's that! It was the best.
Daniel Henshall
: It is. Rob Sitch is so giving, his so intelligent, he is so on the money and he has a great strength and if you're not feeling up to it, he'll give you a buoyancy. He is so focused which allows you to be bought up as well, he know what his doing and…
Felicity Ward
: his calm.
Daniel Henshall
: His so calm. His constantly saying "great".
Felicity Ward
: So reassuring and I think that I expected him to be a little sterner. Even though he was nice in rehearsals I thought that he would be a bit more quiet and impatient when directing but he was just delightful the whole time. Rob Sitch would be rooting for you, behind the camera.
Daniel Henshall
: They want you to do the best you can and they really love when you excel and they love that you're a part of the film. When you're doing well it says yes to them in so many ways, they have given you the job and it's working; you're doing well, you're shining and they like you!
Felicity Ward
: I think the difference is that other people (human condition) believe that if you're hard on someone they will want to perform more and sometimes that works, but in this environment the support was beautiful.
Question:
Do you find it easy to jump on set when you're working with your friends?
Felicity Ward
: So easy! Some days were 15-16 hours and it could be 4am and they'd be 100 extras standing around…
Daniel Henshall
: You're doing it together, that's the great thing about a team, if you have a complaint you don't need to say it because you know the next person is thinking it and you can have a laugh and move on.
Felicity Ward
: No one got angry! No one yelled. In the four and a half weeks I was on set, out of the seven, I didn't see one person raise their voice apart for someone saying "And Ready".
Question:
How was the premiere for Any Questions for Ben?
Daniel Henshall
: It was great, really great reception. It was huge, so many people turned up.
Felicity Ward
: I had some friends come along and watch and they loved it.
Daniel Henshall
: They did, yes.
Felicity Ward
: They love us, our characters and every time I get a complement about Em they go straight to Daniel Henshall and give a complement about Nick..
Daniel Henshall
: Same, same.
Question:
How was it watching Any Questions for Ben, with your friends and family?
Felicity Ward
: To be honest I liked it more the second time.
Daniel Henshall
: First time you are watching yourself and the edit then you are watching everybody around you and how it is put together because it is always different from the page. You miss a lot when you're laughing too - the second time I didn't realise I'd laughed over bits.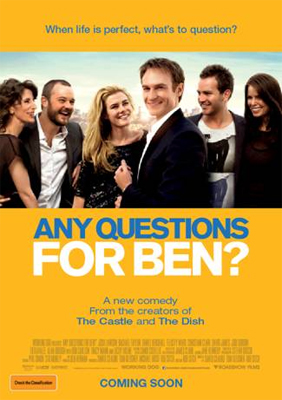 Any Questions for Ben?
Cast
: Josh Lawson, Rachael Taylor, Daniel Henshall, Christian Clark, Felicity Ward
Director
: Rob Sitch
Genre
: Comedy
Rated
: M
Synopsis
: For 27-year-old Ben (Josh Lawson), life couldn't be better. A well paid job, friends, parties, girls and nothing to tie him down. But when he is invited back to his old school to join several other ex-students including Alex (Rachael Taylor) and Jim (Ed Kavalee) in talking about their personal achievements, something goes wrong.
Ben is the only speaker not to be asked a question by the school kids. This triggers a year of soul searching and looking for answers in all the wrong places. From his best friend Andy (Christian Clark) whose solution is that they both take another holiday, to his mentor Sam (Lachy Hulme) who loans him a sports car in the belief that there's nothing like excessive speed to resolve emotional turmoil.
Not even Ben's father (Rob Carlton) or friends Nick (Daniel Henshall) and Em (Felicity Ward) can offer much in the way of meaningful guidance. Of course, it's not easy seeking enlightenment in nightclubs, or on the ski fields of New Zealand, and when you start dating a Russian tennis star things can get really complicated.
As the poster boy for a generation desperate to tick every box, Ben begins to suspect that the meaning of life may well reside in the things he's already doing and a girl he used to know.
Release Date
: February 9th, 2012
Interviews
Christian Clark and Josh Lawson Any Questions for Ben? Interview
:
www.girl.com.au/christian-clark-and-josh-lawson-any-questions-for-ben-interview.htm
Felicity Ward and Daniel Henshall Any Questions for Ben? Interview
:
www.femail.com.au/felicity-ward-and-daniel-henshall-any-questions-for-ben-interview.htm
Lachy Hulme Any Questions for Ben? Interview
:
www.femail.com.au/lachy-hulme-any-questions-for-ben-interview


Any Questions For Ben? Cast and Crew Notes:
www.girl.com.au/any-questions-for-ben
Any Questions For Ben? Review
:
www.girl.com.au/any-questions-for-ben-review
Interview by Brooke Hunter