Julie Gavras Late Bloomers Interview
Cast
: Isabella Rossellini, William Hurt, Joanna Lumley, Simon Callow
Director
: Julie Gavras
Genre
: Drama
Running Time
: 88 minutes
Synopsis
: In writer/director Julie Gavras' delightfully warm and wise romantic comedy, the inestimable Isabella Rossellini and Academy Award-winner William Hurt play a couple whose 30-year marriage is starting to run into trouble.
Hurt is Adam, a London-based architect horrified to find himself the recipient of awards that suggest he's reached the end of his career, while wife Mary (Rossellini), taken aback by an unexpected health scare, sets a course of radical action in league with her vivacious best friend Charlotte (Joanna Lumley). As Adam & Mary respond to these challenges in completely opposite and unpredictable ways (successfully infuriating each other in the process), their three adult children plot to find ways to keep them together...
With luminous supporting performances from a mix of established and upcoming British acting talent (including Simon Callow, Kate Ashfield and Luke Treadaway), Late Bloomers is an elegant and engaging portrait of marriage, and the joys & realities of getting on.
Release Date
: February 23rd, 2012
Interview with Julie Gavras
Question:
What does the film title mean?
Julie Gavras
: "Late bloomers" is an expression commonly used to define late fulfilment in life, which is the case of the couple in this story…
Question:
When did you first think about Late Bloomers?
Julie Gavras
: Amen was released 10 years ago. My father went round the world and to all the film festivals with that film, and each time it was shown, a retrospective of his works was also shown. After a year of this, I started to find it quite harrowing... It was rather extraordinary for my father: to realise that his work was appreciated so much, yet at the same time, it felt very end of life-ish, very sort of "this is his last grand film"!
The idea to use this as a story took form when he was being honoured once again, this time for the 40th anniversary of Z. Then I thought it could make a story. A story about the fact that at some point in one's life it is the view of others that makes us feel old rather than the actual state one is in really.
So, I imagined the life of this architect who is awarded a prize for his career's work and all the incredible things that occurred during it. Because the architect, just like my father, above all wished to continue working without age becoming a problem.
Question:
Why did you choose an architect?
Julie Gavras
: An architect works in a rather similar fashion to a film director. The same genuine artistic creation combined with taking into account the sometimes heavy technical and financial elements. And as far as family life goes, following an architectural project through to the end is very similar to shooting a film...
I was inspired by Paul Andreu, an architect I admire greatly, who started his career young, which was quite rare for his generation. Just like William in the film, he only designed airports for a long time: Abu Dhabi, Charles de Gaulle 1 and 2... Just like they say my father always makes the same type of film… These parallels amuse me, in the same way as coinciding the crowning of his entire life's work with the proposition to design retirement homes!
Question:
And the desire to tackle the passing time theme as a romantic comedy?
Julie Gavras
: The idea I had was only good for the beginning, I needed to find a way to develop it. And as I adore romantic comedies, I thought a romantic comedy would provide a very good backdrop: the contrasting couple, the course of the story with a well-chartered development, with intense moments such as the first meeting, love, heartbreak, separation and reunion. I was not basing this on a book as with my first film, but on conventions of the genre, which made reassuring markers. Obviously, what amused co-writer Olivier Dazat and myself most was to take these settings and codes and divert them. Because in this type of story, the protagonists are closer to 20 or 30 than 50 or nearly 60...
Question:
So, you co-wrote the script with Olivier Dazat...
Julie Gavras
: I wrote Blame It On Fidel all by myself based on the book and Olivier Dazat came in as aconsultant. For this original script, however, I did not feel up to writing it alone and I was less afraid of "sharing the writing". Olivier intervened immediately, I wrote the pages, he read them, we discussed them and then I got back to work on them. It's good to have someone to discuss things with; ideas pop up quicker. And Olivier is 50; therefore he has experienced life situations which are extremely valuable for the film subject...
Question:
Is the family you depict inspired from your own?
Julie Gavras
: I do not have any grandparents, but the set of siblings is the same as my family's: an elder brother, a younger sister and a younger brother. Similarities stop here though; it was just for the markers.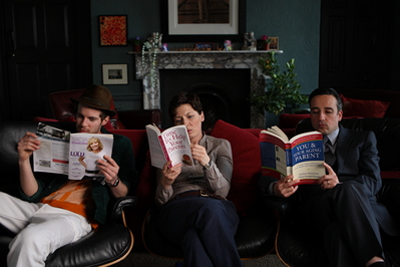 Question:
How did you come to cast Isabella Rossellini and William Hurt in the roles of Mary and Adam?
Julie Gavras
: Seeing that age was the subject of the film, I did not want cheat with the age of the actors! I wanted two actors who were the same age as Adam and Mary, but who didn't look it, like so many 60-year olds today.
As for Isabella, it was an obvious and immediate choice because I found out one day she had made a series of short 1-minute films called Green Porno about insect sexuality. In a very pretty pasteboard décor, the over 50-year old actress is disguised as an insect, wearing just a leotard and cardboard eyes to look like a fly! She shows such a complete freedom and serenity regarding her body and age that I thought she'd be perfect for the role. I knew it would not be a problem to get her to say she was nearing 60, which is often a critical age for many actors.
William Hurt was a different story. The first time I went to the movies alone was to seeKiss Of The Spiderwoman which he played so extraordinarily. He is one of the stars though whom I discovered the silver screen. He's a great actor, both romantic and imposing, even scary, which was perfect to portray this father placed on a pedestal by his family. I also liked the idea that Isabella and William had never worked together before and this would be their first time as a couple. I really wanted this first.
Question:
And the rest of the cast?
Julie Gavras
: Arta Dobroshi, who plays Maya, starred in Lorna's Silence by the Belgian Dardenne brothers. She may not be recognised because this time she has long hair and is made-up. Her role was difficult because she did not have a lot of acting to do: she was simply present and expresses little by little that she had fallen in love with her boss. In each scene, Arta manages to mark that slow evolution. I had not thought of her, it was casting director Kahleen Crawford, who cast the actors for Ken Loach's latest films, who suggested her because Arta had just moved to London.
Kate Ashfield plays the daughter, and Kahleen was sure about her straight away. We did interview other actresses, but I quickly realised she was right. She had the leading female role in Shaun Of The Dead, a comedy about zombies starring Simon Pegg.
I had noticed Aidan McArdle, who plays the elder, right at the beginning of casting, though as he is not very tall, I was not sure it would work with William, who is very, very tall. So we kept on looking. And then in the end, we went back to him as I was satisfied with no-one else and my worries about height were absurd...
As for Luke Treadaway, I had already seen his twin brother in Fish Tank, but Kahleen called Luke in and then we met and got on perfectly well.
Question:
How did you work with them?
Julie Gavras
: We had a fortnight of rehearsals in London before shooting, requested by William. I did not do that on my first film as the main roles were played by children and I did not want to loose their spontaneity, which was all the more necessary as the shooting was short. Having rehearsals first allowed us to imagine both the couple's history and the family's. This was important because the family is multi-cultural with an Italian mother, a father with American roots and three children who are English because they were born and raised in London.
During the rehearsals I decided to "Italianize" the family... Isabella taught "her children" a few typical Italian gestures and we changed the daughter's first name from Irene toGiulia...
Question:
Was shooting in English in London a way to extend the tribute to English romantic comedies?
Julie Gavras
: Yes, and as the point of departure of the film was very close to me here in France, going to England was a way of putting distance between all that and myself, and also to create the family's own identity. Even if at the beginning I naively and confidently set off to London thinking it would be just like any other European city... before discovering, during the location research and discussions with colleagues, that it was far from being the case. And in fact it was working in their world which is so different from mine that has made the film so particular. For example, for Adam and Mary's apartment I would never have dreamed of green and purple walls... But it worked... I must say that the film's production designer, Eve Stewart, also did the settings for The King's Speech. I had noticed her work when I went to see The Damned United before leaving London.
Going back to shooting in London, I had the impression it allowed me to rid myself of inhibitions, to really have let myself go because I was away from home.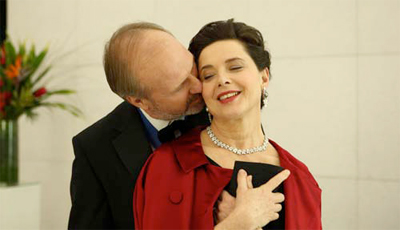 Question:
Why London and not New York?
Julie Gavras
: Too far away! And anyway, London is the city of grand architects such as Norman Foster who are world famous. And it is also a very cosmopolitan city, which corresponded perfectly to this multicultural family.
Question:
And what was it like shooting in English?
Julie Gavras
: It is not my mother tongue, but I speak English. On the set, I spoke French to cinematographer Nathalie Durand, Italian to Isabella and English to the rest of the crew. It created some very amusing moments of confusion and made shooting atmosphere much warmer because everyone took more care to understand and make sure they were understood. Because we also had to deal with different accents on set (Scottish, Irish, etc.)
Question:
Was getting into Mary's head natural for you or did you need to question women of that age?
Julie Gavras
: Since Amen, I have observed and questioned people around me a lot. For example, I was told about the part with the glasses when Mary puts her make-up on, I would never have thought of that myself. Or the exasperation experienced when one of your children gives you a hand up… And to get ideas for these scenes, I read a lot of things before writing: novels, essays and articles... I even subscribed to a magazine for the retired called Senior Plus. It came by post at home for two years and my husband couldn't stand it!
Question:
In general, when films talk about couples reaching a crisis, it is usually through lack of physical desire. But Mary and Adam still get on very well under the covers...
Julie Gavras
: Yes, which is very important because if they didn't get on in bed anymore, they wouldn't get on about much at all anymore! Everything would have slipped away due to the lack and we would no longer be interested in their specific problem: their radically opposite ways of approaching the age of 60.
Question:
Does the senior generation appear to be a particularly interesting angle for you to broach our current society?
Julie Gavras
: Yes, because it's a generation that has reinvented everything. When I started taking interest more generally in the way society "treats" the retired sector - the seniors, as it is now the established term - I discovered a category that is overanalysed by the media and in studies. It is a changing population which is attractive because it is growing in our rich countries. It is a new generation, the baby-boomers generation that is now reaching 60. A generation that has seen the world modernise, transform and that thought it would never grow old. And at the same time, reaching 60 is a no man's land, a land in between ages that needs inventing... not as young as one thinks one is, though not as old as others may think. As Charlotte says, they do not have any models...
Mary may worry about her wrinkles, but the worst part is when she tries to go back to work. Once again, I based this on reality, thinking of retired people's voluntary work. I think that, considering that neither are paid for their work, telling voluntary retired workers that it's a good way of staying in touch with the world, or telling 20-year old trainees that it's good for their future, is revolting.
Question:
This brings us to one of the funniest scenes in the film: when Mary applies to work for a humanitarian aid organisation...
Julie Gavras
: Joanna Bobin, who plays the woman who receives Mary, is a stand-up comedy actress. She has a wonderful sense of rhythm... and she is excellent as a reconverted business woman. Her cold pragmatism is unexpected at the association with such humanistic values.
Question:
As in all romantic comedies worthy of the name, second roles are very important and colourful.
Julie Gavras
: Contrary to the main characters, who require delicacy at work, it is possible to be far more excessive with the secondary characters. It's sheer bliss to think up and to write. And once we had decided to shoot the film in London, it was obvious we needed to convince Joanna Lumley and Simon Callow to be in the film. In my opinion Absolutely Fabulous and Four Weddings And A Funeral are two pillars of British humour...
Question:
With Charlotte's (Joanna Lumley) Gray Panthers, things get quite funny...
Julie Gavras
: The Gray Panthers really exist, at least in France and in the United States. They were highly fashionable in the 90's. The Gray Panthers campaigned a lot for laws on welfare and rights for the elderly. There are very few men among them. It's a sort of Women's Lib that has grown old and fights for new causes now. I also added an element to this group inspired by London: English accents. Each one has a specific accent - Scottish, from the south, etc
Question:
And there is the freshness of the oldest character: Nora, Mary's eccentric mother...
Julie Gavras
: That's part of the pleasure of making a family evolve, along with all its little oddities. Nora has looked after two generations and says 'enough is enough!' To play this exuberant grandmother we were looking for very well-known actresses. And then one day, Doreen Mantle came into casting wearing a down jacket and two pairs of glasses, one propped on her forehead. She had just shot an advert, she was late and got the script pages mixed up... When I saw her, before she had even said a word, I knew she was the one for the role.
Question:
Another ludicrous situation is the aqua gym course Mary tries to take...
Julie Gavras
: Again from experience, except that I do the opposite from Mary: I only go to clubs with women older than myself, like that I feel like I'm in great shape! I knew it would be worth it visually: brightly coloured floating pool noodles and bathing caps, the girls' unbearable advert smiles... We enhanced the lines of course, even though that's what it's really like in, even for older women: they observe each other, look to see who has the best cleavage... putting a group of women together in swimming costumes provokes amusing things immediately!
Question:
Even when your characters get themselves into comical or ridiculous situations, like Mary at the pool, you still look at them fondly, they are never pathetic.
Julie Gavras
: I've always had a problem with films when you can sense the director doesn't like his characters. But in my line of work, I don't even ask myself that empathetic question because I naturally relate to the characters. Of course they are put into absurd and cruel situations, even horrible situations like the scene at the humanitarian organisation. The more the situation is horrible, the more it can be twisted...
Question:
A little girl in Blame It On Fidel, 60-year olds in Late Bloomers... You never make films about people of your own age!
Julie Gavras
: Yes, this gap allows me to hide and have fun, but in the end, the little girl's point of view in Blame It On Fidel and Mary's point of view in Late Bloomers are my points of view. My characters all have something in common: they are starting a new period in life and are looking for their place in the family, in society, in the eyes of others and in their own eyes. And this "how to find one's place" is a questioning close to heart that keeps coming back to stir me...
Interview by Claire Vase.