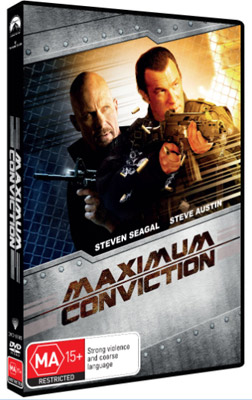 Maximum Conviction DVD
Cast: Steve Seagal, Steve Austin, Michael Pare
Director: Keoni Waxman
Genre: Action
Running Time: 96 minutes

Former Special Forces and Black-Ops Operative Tom Steele, now works for a private security firm and is given his current assignment of decommissioning an old prison.

After successfully completing the operation, Steele is celebrating with friend and team-leader, Manning, when two mysterious female prisoners arrive to inform him that they must be housed in the prison for one night. Steele decides to grant their request in order to move on to his next assignment.

Before he knows it an elite force of mercenaries, led by another former Special Forces Operative Chris Blake, make an assault on the crippled prison and begin a violent search for the new prisoners. Becoming an army-of-one, Steele battles Blake and the mercenaries in an effort to reach and protect the female prisoners. Meanwhile, Manning organises his team and commences an assault of his own - to get Steele out. Inside the prison, the ensuing cat and mouse game comes to an action packed and violent climax as Steele, Manning and Blake's mercenaries collide. But who will survive?
Maximum Conviction
RRP: $34.95