Alice in Wonderland DVD
Cast
: Johnny Depp, Anne Hathaway, Helena Bonham Carter, Crispin Glover, Matt Lucas, Marton Csokas, Tim Pigott-Smith, Lindsay Duncan and Mia Wasikowska as Alice
Voice Cast
: Stephen Fry, Alan Rickman, Michael Sheen, Timothy Spall, Christopher Lee, Paul Whitehouse, Barbara Windsor
Director
: Tim Burton
Genre
: Family, Fantasy, Drama
Rated
: PG
Running Time
: 108 Minutes
In one of the most anticipated DVD releases of 2010, Tim Burton brings to extraordinary life one of the most celebrated stories of all time when Alice in Wonderland is released to Disney DVD and in a Blu-ray™ Value pack on the 1st of July 2010.
In a modern twist to the fabled tale, Alice (Australia's own Mia Wasikowska) is a grown women of 19-years trapped in a world of stifling etiquette and still struggling with the death of her adventure father Charles. As a child her barmy dreams of a place called Wonderland would be consoled by her father; yet even now Alice feels like she does not belong in the real world.
About to be proposed to in a lavish garden party by Hamish (Leo Bill), son of her late father's business partner, the 'madness' begins again when Alice inexplicitly sees a rabbit in a waistcoat. Giving chase, Alice falls down a hole, again about to re-enter that magical, mysterious and dangerous world known as Wonderland.
Once shrunken to fit through a small door at the bottom of the hole, Alice is greeted in Wonderland by the White Rabbit (Michael Sheen), the Dormouse (Barbara Windsor), a Dodo bird (Michael Gough) and the Tweedles (Matt Lucas), all of whom are unsure as to whether they have found the 'right' Alice.
The decision is made to take Alice to Abosolom the Blue Caterpillar (Alan Rickman) to consult the scroll that contains the history of Wonderland. Abosolom advises that the scroll reads that on the Frabjous Day, Alice will slay the Jabberwocky; something Alice immediately declares not possible!
But before anything further can be determined the Knave of Hearts (Crispin Glover) and the red-carded soldiers arrive with a beast aptly named a Bandersnatch, causing everyone to run. Alice, believing she is still in a dream, stands her ground and is badly scratched, saved only by the Dormouse who pokes the creature in the eye, plucking out one of the eyeballs.
Now in possession of the scroll, the Knave of Hearts informs the Red Queen (Helena Bonham Carter) about the prophecy of Alice killing the Jabberwocky, the most powerful creature in the land and the key to her reign.
Alice, continuing her journey into Wonderland, encounters the Cheshire Cat (Stephen Fry) and the Mad Hatter's (Johnny Depp) who is overjoyed to see her, knowing that Alice is the best chance to end the Red Queen's terror across Wonderland.
But when the Hatter is captured, Alice enters the Red Queen's court unrecognised, advising the queen she is actually 'Um' from Umbridge, to attempt a daring rescue. It is here that Alice discovers the whereabouts of the vorpal sword, the mystical instrument needed to slay the Jabberwocky.
With Alice's identity discovered, she escapes with the sword to the White Queen's (Anne Hathaway) castle on the eve of Frabjous Day, and the scene is set for the battle for the liberty of not only Wonderland, but for Alice's ability to return to the real world.
Special Features
:
The Mad Hatter
Finding Alice
Effecting Wonderland
Alice in Wonderland DVD
Buy Now from Fishpond
Jennifer Todd Alice in Wonderland Interview
www.femail.com.au/jennifer-todd-alice-in-wonderland-interview.htm

Tim Burton Alice in Wonderland Interivew
www.femail.com.au/tim-burton-on-alice-in-wonderland.htm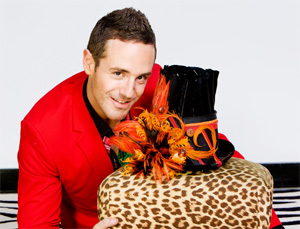 Top 10 Hat tips
By celebrity stylist & designer, Donny Galella
To celebrate the release of Alice in Wonderland to Disney DVD and Blu-ray 1 July 2010, Australia's official Alice in Wonderland DVD Ambassador, Donny Galella, has created ten Top Hat Tips that will make the Mad Hatter proud.
Inspired by Johnny Depp's now iconic character in the film, Donny reveals his millinery secrets...
1. A hat is the ultimate accessory to top off your look. Because of its visibility (clearly seen at eye-level), a great hat can really finish off your outfit and make the strongest statement of all the accessory options. Allow your hat to project your personality and sense of style. Most importantly a hat should frame your face.
2. The basic rule for hats over the seasons is: for Autumn/Winter - your hat should be felt or wool based and for Spring/Summer - straw, sinnamay or fabric based hats. Fascinators and headbands can be worn all year round.
3. There are loads of hat styles, the most popular styles are: pillboxes, cloches, berets, trilbys, turbans, floppy brimmed styles and a fusion style called 'Hatinators' (a cross between a hat and a fascinator). If you want a style that will last you forever, you can't go past the classic elegance of a pillbox style hat. Often worn by the eternally chic Jackie O and Audrey Hepburn.
4. Choosing a hat style to suit your face shape. If you have a strong angular face (such as Sarah Jessica Parker), try wear rounded style hats. If you have a rounded face (such a Jennifer Hudson), then choose a hat with angular lines or a broad brim such as a trilby. Heart shaped faces suit most style hats, especially styles that sit high on the head. Narrow faces need a full rounded crown, such as a cloche. Long faces (such as Tori Spelling) need some softness, so something feathery would be ideal.
5. Choose a style to bring out your features or detract others. Shorter people can use tall hats (with a tall brim or high feathers) to make them look taller. If you have blue or green eyes, then choosing a hat with peacock feathers for example will highlight your eyes. If like the 'Red Queen' if you have a large forehead, then choose a hat with a large brim.
6. Hat colours - keep your hair colour in mind. If you're a brunette or have black hair, then a dark coloured hat will blend in with your hair and not stand out. To make more of a visual impact try choosing a coloured hat that will stand out.
7. Look after you hats by investing in hat boxes when you store them away. Try filling the hat with tissue paper, as this will help prevent the crown from crushing. A lint brush is a handy tool, to take off the dust.
8. To find the perfect hat: you can buy one from a good department store, a hat shop, get one made by a milliner, vintage shops or have a 'hat swap' party with your friends. It's a great get together for the girls, and you all go home with a new hat. Accessory shops often have seasonal hats that are very affordable.
9. The great 'Fascinator debate' - each year I get asked if the fascinator is in vogue. Fascinators are the "L plate" of headwear; they're great for your first or second race meet. Once you've mastered the fascinator try and progress to a hat. It's better to wear a fascinator, rather than nothing on your head at all.
10. Don't over accessorise, let your hat do all the talking. When wearing a statement hat, don't overdo the jewellery and accessories. Definitely don't pair a hat with a big pair of earrings, the will be way too over the top.
Donny Galella - Bio
Donny Galella - is a Sydney based designer (of clothes and headwear), stylist and TV presenter. His self titled fashion label 'GALELLA' launched in mid 2004. This is why he has been selected as Alice In Wonderland on DVD's official ambassador.
As a self taught designer he began by creating contemporary headwear, millinery and accessories. Donny's first three headwear collections quickly earned him the title of 'Milliner to the stars'. His label was soon stocked at leading retailers around Australia including Myer. In late 2007, Donny identified a gap in the menswear market, so he designed and released his debut menswear collection and began his crusade to help the men of Australia to dress better.
For the past two years he has hosted regular fashion segments for various high-rating TV programs.
As one of Australia's most recognised and talented stylists, he has worked on numerous campaigns for some of Australia's leading magazine publications. He has also styled runway fashion shows, commercials, hosted 'Style Sessions' and was recently named a Westfield Fashion Stylist which saw him host 100 style sessions for Westfield and numerous styling and makeover stage shows.
Donny's creations and styling clients have included: Sophia Loren, Sir Richard Branson, Carson Kressley, Kelly Rowland, Peaches Geldof, Kate Ritchie, Jennifer Hawkins, Melissa Doyle, Sonia Krugar, Kylie Gillies, Larry Emdur, Jodi Gordan and many more.
He kicked off 2010 with the huge honour of being named an 'Australia Day' ambassador. In 2009 he was named 'Golden Slipper Festival Ambassador' alongside Kate Ritchie.
For more information on Donny Galella feel free to visit www.galella.com