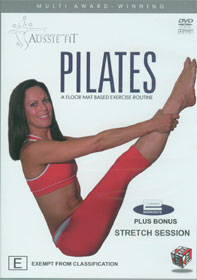 "You will feel better in 10 sessions, look better in 20 sessions and have a completely new body in 30 sessions" Joseph Pilates.

Pilates is a non-impact exercise program for the mind and body that will strengthen your back and flatten your stomach, improve posture, flexibility, co-ordination and muscle endurance. Stengthen and lengthen your entire body with these popular Pilates mat exercises. Pilates is ideal for all fitness levels and ages.

This is a mat based exercise routine that will help you develop inner strength and a balanced body. Pilates will give you a body that looks fit, feels revitalised and moves with ease.

Easy to follow, clear and simple instructions will get you started to renewed core strength and a new sense of well being. Presented by registered Fitness Leader and certified Pilates mat and reformer instructor, Karlie Bombardier, you will learn the basic Pilates principles and begin to see the new stronger refreshed you.