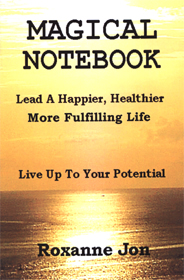 Magical Notebook exemplifies how our lives are filled with choices. Learning to take responsibility for our actions are difficult; however following the suggestions in Magical Notebook we find new steps to improve our self worth.

How would you like to learn some of the most fundamental principles about those aspects of life that could be holding you back, and how you can break free of those constraints?

Writer and experienced life coach, Roxanne Jon has helped many people with the lessons that she has learned. Using quotes from leaders from all lifestyles, each chapter illustrates self-improvement skills everyone could benefit from. She has distilled this knowledge in the Magical Notebook.

In clear and straightforward language, the author explains as to how your perception becomes your reality, the powers of purpose and faith in your life, methods for freeing yourself of fears and the blaming of others, and various techniques to cleanse your mind of negative beliefs, confusion, and jealousy. Once that positive foundation has been created, you then learn how to analyze your life, make better decisions, say "no" to life's negatives, improve your physical and mental health, achieve your goals and enjoy key relationships in your life.

This exciting new publication is chock full of proven principles and techniques, as well as generous number of workbook questions (with corresponding answer section) that are design to help readers of any age learn how to lead a happier, healthier, more fulfilling lives.

"The power of this notebook lies in the seemingly "magical" tools it provides. Ambitious? Yes. But deservedly so, and in the crowded and increasingly stale world of self-help books, Magical Notebook is a breath of fresh air that will likely be breathed deeply by many appreciative readers. "
-Ellen Tanner Marsh, New York Times best-selling author.

Discover the valuable magic in Roxanne Jon's Magical Notebook today and live up to your potential.

About the Author
Roxanne Jon is a writer and experienced life coach, who is driven to help people live the most fulfilling lives that they possibly can. She is well suited for this career path, as she gains true happiness from making a difference in the lives of the people she encounters, and now also her readers.

Books are available to order at www.Booksurge.com & www.borders.com and through additional wholesale and retail channels worldwide.