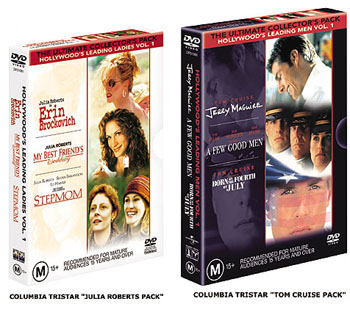 For guaranteed pure entertainment this Christmas as well as a dose of Hollywood glamour Columbia TriStar Home Entertainment has tripled the number of reasons to wrap up a DVD with the release of their stunning Hollywoods Leading Ladies and Hollywoods Leading Men Collectors Packs.

Hollywood's Leading Men Volume 1, features man-of-the-moment Tom Cruise in three of his biggest successes. Topped with hours of bonus added features, this pack is the ideal gift all-round. Mega-star Cruise is completely drool-worthy as a sports promoter in the romantic comedy, Jerry Maguire, a favourite for anyone who¹s ever dared to dream.

In one of his most riveting performances, Cruise shines in the star-studded smash-hit, A Few Good Men. Packaged as a special 10th Anniversary Collector¹s Edition, this DVD is jam-packed with extra hours of entertainment and boasts two featurettes, insightful audio commentary from director Rob Reiner, scene selection (animated and audio) cast and crew biographies and a theatrical trailer.

Rounding out this colossal package is the unforgettable Academy Award winning Born on the Fourth of July. With filmographies and production notes included, this DVD - based on a true story - is nothing short of a masterpiece.

What better gift to deliver this Christmas than the darling of Tinseltown into your living room? Containing three must-have hits, Hollywood¹s Leading Ladies Volume 1, features the gorgeous Julia Roberts. Leading this compulsory collector's pack is the Academy Award winning Erin Brockovich, the role that won Julia international acclaim as well as a Best Actress Oscar. Enjoy more of Erin with 30 minutes of never-before-seen deleted scenes with optional commentary by director Steven Soderbergh and become part of the movie making experience and go behind the scenes with a "making of the movie" featurette. Keep the entertainment rolling with "the real Erin Brockovich" featurette, isolated track of songs and Randy Newman¹s music score and enjoy profiles of the stars.

Bring it home and bring it on with the touching drama Stepmom. Also boasting a behind the scenes featurette and cast and crew filmographies to enhance the total viewing experience, Stepmom is a moving story about the tears and joy of two women sharing the one family.

Finally, prepare to laugh time and time again with My Best Friend¹s Wedding, the high-spirited romantic comedy that serves up something wild, something new, something touching and something truly hilarious.

Each pack is sure to be a winner under the tree this year!