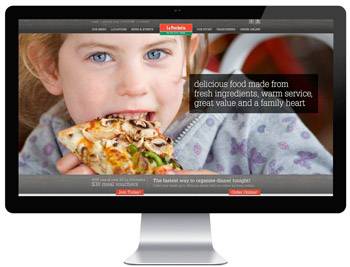 La Porchetta Restaurants Innovative Website
La Porchetta has launched a fantastic new website, making it easier than ever before for consumers to find their nearest restaurant, order online from the new menu, organise family functions and parties for all ages, and be up-to date with latest news and events.

And by signing up online to the new With Love La Porchetta Newsletter, they'll have the chance to take home lots of prizes from our regular promotions!

La Porchetta CEO, Sara Pantaleo, said 'Our new website has stemmed from listening to our customers and ensuring our band is ever-evolving and relevant to our customers especially in this competitive and fast-paced environment.

'La Porchetta's new website with its fresh, dynamic look is first of the many exciting marketing initiatives and programs rolling out in the coming months."

Sara further added, 'We are also excited to announce an exciting promotion on the website, again all part of connecting with our customers."

Customers who sign up for the With Love La Porchetta Newsletter"packed with tips, promotions and lots more"will have a chance to win one of more than 50 $30 La Porchetta vouchers.

This exclusive offer runs until 15 December 2014.

See more about La Porchetta at www.laporchetta.com.