THE KILLER INSIDE ME
Starring
: Casey Affleck, Kate Hudson, Jessica Alba, Simon Baker
Director
: Michael Winterbottom
Run time
: 108 minutes
Synopsis
: Based on the novel by legendary pulp writer Jim Thompson, Michael Winterbottom's THE KILLER INSIDE ME tells the story of handsome, charming, unassuming small town sheriff's deputy Lou Ford.
Lou has a bunch of problems. Woman problems. Law enforcement problems. An ever-growing pile of murder victims in his west Texas jurisdiction. And the fact he's a sadist, a psychopath, a killer. Suspicion begins to fall on Lou, and it's only a matter of time before he runs out of alibis. But in Thompson's savage, bleak, blacker than noir universe nothing is ever what it seems, and it turns out that the investigators pursuing him might have a secret of their own.
The Killer Inside Me
In Cinemas August 26
www.killerinsideme.com
KATE HUDSON INTERVIEW
Question
: This was your first time working with Michael Winterbottom. How was the experience?
Kate Hudson
: I love how it's a very, very closed set. There are not that many people in the room. Normally, you have 20 people, but here you have 4. It feels nice, really intimate. He has no script supervisor, who normally makes sure that everything is in order and follows continuity, so there's a freedom in what you do.
It feels a lot more like doing a play. I think it allows a nice intimacy between the characters. He also knows exactly what he wants. He knows what he needs to tell the story so he doesn't linger on things.
Question
: What's so interesting about this role for you?
Kate Hudson
: I found it interesting how we perceive Amy Stanton's character: she's this sort of school teacher who is a cheery, happy, perfect girl of the times, who has everything put together and comes from a good family, but underneath it all is this very desperate woman who wants to be loved by this man. She's quite fragile. She 'loves huge' and yet underneath there's this girl quite open to abuse and needing something from that type of relationship. She seems to have the desire not to get everything she needs out of love. And for some strange reason I could respond to that.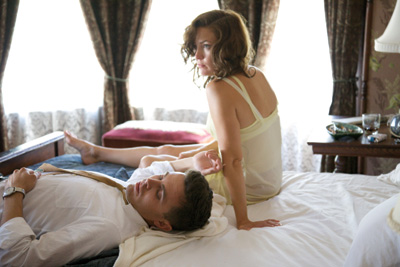 Question
: Did you explore the character with a psychologist?
Kate Hudson
: I didn't need to. I've been exploring with a psychologist for a very long time! (laughs) I always talk about my characters with a psychologist. I find it interesting to find parallels in my own life.
They say actors live many lifetimes in one and it's hard sometimes to cross the boundaries of where the roles seep into real life. Subconsciously you carry characters with you for longer than you wish to. So I always like to really figure out who this person is and where the similarities are. And with this character I had to draw on some things that are uncomfortable in order to make it feel honest. I think the perfect world for Amy is probably sadomasochism;I think there's an element of that in her. She needs something like that in her life. Lou, Amy's partner is played by Casey Affleck. You worked with him before on 200 CIGARETTES (1999) andDESERT BLUE (1998). DESERT BLUE was my second movie! We were all in a small town in Nevada for a couple of months, so we got to know each other very well. Right after DESERT BLUE we did 200 CIGARETTES. It was just such a great time; we were all coming up and getting work for the first time. So we were a very playful group, we did go out a lot and had a lot of fun. So it's nice to revisit the good old times at a new stage in our lives where Casey and I are both parents. It's so weird that we're still working actors eleven years later.
Question
: What was it like when it came to the most difficult, sexually provocative moments with Casey?
Kate Hudson
: Thank God we've known each other for so long. I thought to myself: Oh my God, I can't believe I am actually getting spanked, I'm actually doing this, because it's quite graphic. But to do it with Casey on a closed set made it more comfortable. When you're doing these scenes you have to feel a level of intimacy with the person, to make you feel comfortable. Whereas in this case, you are so respectful of the other person, everything is very much sort of laid-out. Amy Stanton seems to be a departure from your recent roles.
Question
: Are you looking forward to more dramatic parts?
Kate Hudson
: I really am. But by the way: this is more than dramatic, this is like melodrama. It was so hard to be in that relationship. When you're trying to figure out a six-page scene it feels very bizarre, but when you connect to it you recognize how familiar it is. Whether you see friends that go through an abusive relationship or friends that need love and aren't receiving it. They know that something is missing and they just do anything for it to kill the desire of meeting somebody. Some people need the fight to kind of feel that they're alive... until it kills them, which is really what her character is. That theme, that simple concept, is so accessible, it's a real metaphor for a lot of difficult relationships that people have. It was pretty intense.
The Killer Inside Me Interviews
Michael Winterbottom - www.femail.com.au\michael-winterbottom-the-killer-inside-me.htm
Kate Hudson - www.femail.com.au/jessica-alba-the-killer-inside-me.htm
Jessica Alba - www.femail.com.au/kate-hudson-the-killer-inside-me.htm
Casey Affleck - www.femail.com.au/casey-affleck-the-killer-inside-me.htm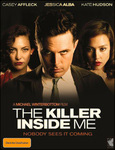 BASED ON THE NOVEL
BY JIM THOMPSON
James Myers Thompson (1906 - 1977) was an American author and screenwriter, known for his pulp crime fiction.
Thompson wrote more than thirty novels, the majority of which were original paperback publications by pulp fiction houses, from the late-1940s through mid-1950s. Despite some positive critical notice, notably from Anthony Boucher in The New York Times, he was little-recognized in his lifetime.
Only after death did Thompson's literary stature grow, when in the late 1 980s, several novels were re-published in the black LIZARD series of re-discovered crime fiction.
Thompson's writing culminated in a few of his best-regarded works: THE KILLER inside ME, savage NIGHT, A HELL OF A woman and pop. 1280. In these works, Thompson turned the derided pulp genre into literature and art, featuring unreliable narrators, odd structure, and surrealism.
During his tenure in Hollywood, he collaborated with Stanley Kubrick on paths OF GLORY and THE KILLING. His novel THE GETAWAY was adapted into the 1972 Sam Peckinpah film of the same name, starring Steve McQueen andAli MacGraw. His works saw eight subsequent screen adaptations including the James Foley- directed AFTER DARK, MY sweet and multiple Oscar-nominee THE GRIFTERS.