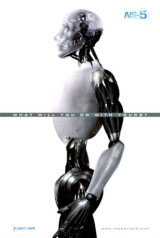 Starring: Will Smith, Bridget Moynahan, Alan Tudyk, James Cromwell, Bruce Greenwood, Adrian Ricard, Chi McBride, Jerry Wasserman, Fiona Hogan, Peter Shinkoda, Terry Chen, Shia LaBeouf
Director: Alex Proyas
Genre: Science Fiction/Thriller
Rated: M low level violence
Running Time: 125 Minutes

The 3 Laws Of Robotics
1. Buy iRobot for a friend
2. Grab iRobot on DVD as soon as you can
3. Hold onto the DVD whatever the damage
Twentieth Century Fox Home Entertainment is pleased to announce the release of the new Will Smith blockbuster - I, Robot - available to own on both single and double disc DVD as well as Video.

Will Smith stars in this action thriller inspired by the classic short story collection by Isaac Asimov, and brought to the big screen by dynamic and visionary Australian director Alex Proyas (Dark City, The Crow). In the year 2035, robots are an everyday household item, and everyone trusts them, except one, slightly paranoid detective (Smith) investigating what he alone believes is a crime perpetrated by a robot. The case leads him to discover a far more frightening threat to the human race. I, Robot uses a spectacular, state-of-the-art visual effects technique to bring a world of robots to life.

In Australia, I, Robot took over $13 million in Australia and opened at number one in nine countries around the world! Now consumers have the option to buy the film on single disc or double disc DVD - packed with loads of special features the double disc includes:
- 3 Audio commentaries,
- 6 featurettes: The Making of I, Robot featurette; Day Out of Days: The I, Robot Production Diaries featurette; Post Production: CGI and Design featurette; Sentient Machines: Robotic Behaviour featurette; About Science Fiction and Robots featurette; The Filmmakers' Toolbox - Composting Breakdowns:Visual Effects "How To's" featurette
- Gag reel
- Stills Gallery
- Extended and Deleted Scenes
- Easter Eggs

The iRobot double disc DVD is packed with over 4 sensational hours of bonus material and is available in special edition lenticular packaging making it the must have Christmas gift.

Review:
Realistic and believable possible future of robotics and their evolution. Sensational special effects and an outstanding performance by Will Smith.