Gail Elliott Little Joe Woman Love in Exile Spring Summer Collection Interview
After a successful international modelling career in the 80's and early 90's during which time she worked with Gianni Versace, Calvin Klein, John Galliano, Dior, Dolce & Gabbana, Ralph Lauren, Gucci, Prada and Marc Jacobs just to name a few,
Gail Elliott
started her Little Joe Woman label working from New York alongside her husband, Joe Coffey, in 2002. As a husband and wife partnership the label has truly evolved from the sexy little slip and lingerie line that they started nearly 10 years ago! 2011 marked Little Joe Woman's second ever show at RAFW and a host of celebrities and fashion industry VIPs attended to celebrate and show their support.
For more information please visit
www.littlejoeny.com
Interview with Gail Elliott
Question:
Can you talk about your second show experience at RAFW?
Gail Elliott
: I really enjoyed the experience of our second Little Joe Woman show at RAFW although I was much more nervous this time, perhaps I'd been a little naive last year. This year we had the support of some wonderful sponsors including Lancôme, L'Oreal Professional, Quintessentially and MINI Countryman as well as one of my closest friends walking in the show, Yasmin Le Bon.
Question:
What inspired the Little Joe Woman Love in Exile Spring Summer collection?
Gail Elliott
: The collection was loosely inspired by the documentary Stones in Exile, which is about the time the Rolling Stones spent in the south of France creating the album Exile on Main St. Love in Exile has a very Mediterranean feel, with inflections of the 70's incorporated into the silhouettes.
Question:
How much planning went into having Yasmin Le Bon fly to Sydney exclusively for Little Joe Woman?
Gail Elliott
: There wasn't too much planning involved. Yasmin and I are very close and we were chatting on the phone discussing what plans we both had for the upcoming months. When I heard Simon (Le Bon) was on tour, two of her daughters were at boarding school, her eldest daughter was on a modelling assignment and she'd be alone, I asked her to come to Sydney to visit us and be in our Little Joe Woman show as the timing was perfect. With the generous support of Qantas, three weeks later Yasmin was on a plane to Australia.
Question:
What originally inspired you to begin your own brand whilst continuing a career in modeling?
Gail Elliott
: In every career there's a natural progression to keep growing and evolving. Working in the modeling industry I gained so much experience in the fashion industry and the design processes involved - I lived in New York for 24 years and worked with so many talented designers - Karl Lagerfeld, Gianni Versace, Marc Jacobs, Calvin Klein, Ralph Lauren and many, many more. It started with a love for vintage silk slips and that's how the Little Joe Woman label began.
Question:
How did it feel to have so many celebrities and fashion industry VIPs attend your RAFW show?
Gail Elliott
: It's always so flattering to have the support of well known people in the fashion and entertainment industry. Seeing editors from Vogue and Harper's Bazaar and all the major magazines attending your show when everyone is so busy, is very humbling.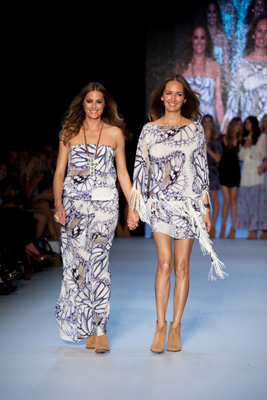 Question:
Do you most wear the label Little Joe Woman?
Gail Elliott
: I wear Little Joe Woman, vintage and any other labels we carry at our stores like Nicole Richie's Winter Kate, Citizen of Humanity jeans, House of Harlow jewellery, Teresa Ruiz leopard print cashmere scarves and Fluxus t-shirts. For me our stores are like walking into my closet because I'd wear everything they carry. I have quite a large collection of vintage Alaia, Chanel, Hermes, Burberry and Gucci that I love to mix with my clothing.
Question:
When you design your clothes, specifically who do you design them for?
Gail Elliott
: I design for myself, friends and family. People who like to dress in a way that is effortlessly sexy, in pieces that are timeless, can be worn for seasons to come, and that most of all, make you feel good.
Question:
Why is it important for you to work with your husband, Joe Coffey, on Little Joe Woman?
Gail Elliott
: The business was started by Joe and I in New York in 2002, and as the business has evolved so has our work and personal relationship. I love being able to turn to him to ask his advice and work on the next exciting project for Little Joe Woman. It's such a pleasure to be able to come to work together, share the same office, travel together and experience everything the way we do. Our label will be stocked at David Jones starting with the Love in Exile collection in July, and we're opening our sixth store at Gould St, Bondi Beach at the end of June, which we're very excited about!
Interview by Brooke Hunter