During the 1940s, Walt Disney's studio produced an amazingly diverse range of product including animated shorts, instructional and industrial films to aid the war effort, and early live action movies. But a number of the classic animated features produced by the studio in this decade have been largely overlooked - until now!
Among these 'missing' classics are Saludos Amigos, The Three Caballeros, Make Mine Music, Fun and Fancy Free and Melody Time. None of these movies have been previously released on DVD and most have not even been available on VHS for more than 15 years!
These titles are an important part of Disney's early history and star many of Disney's most popular characters such as Mickey Mouse, Donald Duck and Goofy. No video or DVD collection is complete without these 'missing' classics!
Each of the five missing classics is available on DVD and video at all leading DVD and video retailers from 19 November 2003.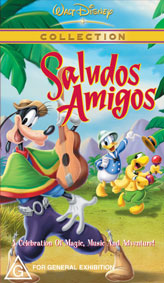 Saludos Amigos
Saludos Amigos was first released in American theatres on 6 February 1943. With Europe in the throes of war during the 1940s, America established a 'good neighbour policy' with South America. The Latin American influence took America by storm and Disney, like many others, was inspired. Walt Disney charted a plane to visit several countries on the South American continent with some of his staff to produce a series of cartoons inspired by the sights and sounds of these nations. The result was called Saludos Amigos, a hybrid featuring four separate animated stories, each made up of live-action footage shot by Walt and his crew during the trip, and animated characters.
Saludos Amigos stars Donald Duck, Joe Carioca and Goofy. It includes travel footage with Disney artists and features Donald Duck as the typical American tourist at Lake Taticaca. It also includes the story of a little aeroplane called Pedro who bravely negotiates the treacherous mountains to deliver mail from Chile to Mendoza.
The following segment, El Gaucho Goofy, was inspired by the crew's visit to the Pampas region and features Goofy as he attempts to demonstrate the equipment used by a Gaucho. The final sequence takes place at the Carnival in Rio. Here a tropical bird called Joe Carioca takes Donald Duck on a tour of South America, with the aid of a paintbrush that fills in the background as they progress.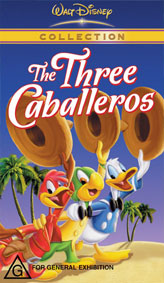 The Three Caballeros
The Three Caballeros was first released in cinemas on 3 February 1945. Production of The Three Caballeros had begun during the war however there were significant delays in its completion because the studio's staff were required to produce government material. After completion there was a further delay as they waited to get enough technicolour prints to release the film in cinemas.
The Tree Caballeros expands upon Saludos Amigos and is a bright, fast moving collage of sights and sounds. It has been likened to Disney's Fantasia and while it caused controversy amongst film buffs in 1945, it has recently become one of the most admired Disney features amongst film aficionados.
In the film, animation is mixed with live action. It stars Donald Duck, Joe Carioca and Panchito and has strong Brazilian and Mexican influences in music, storylines and settings. Amongst the short stories are; "Aves Raras" (Strange Birds) which features Pablo the Penguin and the crazy aracuan bird. Next is a short story about Little Gauchito and his Flying burrito (donkey), then Donald Duck is featured in a trip around Brazil, guided by his friend Joe Carioca. To conclude, Donald Duck joins with Joe Carioca and Panchito (a Mexican Charro Rooster) to sing the Three Caballeros.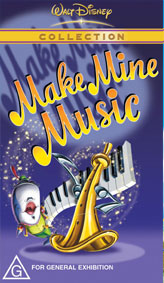 Make Mine Music
Released in theatres on 15 August 1946, Make Mine Music was Disney's first feature release since the war and was very highly anticipated.
After the success of Fantasia, Disney was encouraged to produce a similar feature using the format of animated shorts set to popular music. In 1944, Walt began to plan Make Mine Music. While Walt originally planned for the film to include a range of musical styles, Make Mine Music developed to focus on popular music, although several classical pieces remained.
Make Mine Music includes "A Rustic Ballad" about the fortunes of two feuding families, "A Jazz Interlude" with Benny Goodman and his orchestra, a musical recitation of "Casey at the Bat" set in a base-ball park, "Peter and the Wolf" which is a fairytale to music told by Sterling Holloway and set to Prokofiev's music, Benny Goodman returns in "After You've Gone" which features a clarinet, piano, drums and bass in an animated chase set to music and the popular Opera Pathetique, featuring "The Whale who Wanted to Sing at the Met".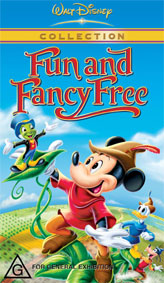 Fun and Fancy Free
Fun and Fancy Free was originally released in American cinemas on 27 September 1947 after the war and helped the Disney studio to regain its momentum. It is one of the few Disney feature films to include the 'short feature' stars Mickey Mouse, Donald Duck and Goofy.
At the beginning of the film Jiminy cricket sings, "I'm a happy go lucky fellow" before embarking on a story about Bongo the Wonder Bear. In this story, Bongo is a unicycle riding, tightrope walking, juggling circus bear! Bongo escapes from the circus into the forest where he meets a lovely lady bear. Bongo is not familiar with the forest, but nonetheless, tries to win her heart.
After Jiminy finishes telling the story of Bongo, he hops across the road to attend a party where a story is being told about the plight of three starving farmers - Mickey, Donald and Goofy. In this segment (called "The Happy Valley"), the three friends are so hungry that Donald suggests they eat their cow. Mickey convinces them they should sell the cow instead and with the money, he buys some magic beans. Here, the story becomes a tale of Jack and the Beanstalk, a tale where the three friends try to outsmart and escape the giant.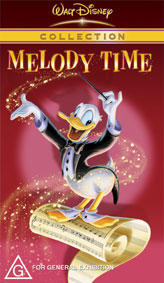 Melody Time
Melody Time was originally released in cinemas on 27 May 1948. Melody Time was the last of Disney's musical features created in the 1940s and is considered the best. It comprises of seven 'shorts', each a delightful story in itself.
The first is "Once upon a wintertime" which features a boy and girl ice-skating on a frozen lake.
"Bumble Boogie" is a jazz interpretation of 'the flight of the bumble bee' and features a bee flying in a world of musical staffs and notes.
"Johnny Appleseed" is the delightful story of Johnny who takes his guardian angel's advice and travels around the country planting apple trees everywhere he goes. Johnny's apple trees bring much happiness and when it comes time for Johnny to die, he plants his apple trees in heaven too. The narrator explains that the clouds are actually apple blossoms.
The story of "Little Toot" is set to music and depicts how a young tugboat proves himself by saving a ship and bringing it to port during a storm. The next feature, "Trees", is a collage of trees pictured in light, rain, dark, sunset, shadow etc and is the most 'arty' short amongst the seven featured.
"Blame it on the Samba" is a sequence starring Donald Duck, Joe Carrioca (who also appears is Saludos Amigos and The Three Caballeros) and the crazy aracuan bird (who also appears in The Three Caballeros) as they are led on a crazy samba dance.
The final segment is the story of Pecos Bill who was brought up by coyotes out on the prairie. Pecos Bill meets Slue Foot Sue and they decide to get married. When Slue Foot Sue tries to ride Pocos Bill's horse however, he throws her off. Sue falls to the ground but bounces off her bustle, which bounces her into the air, closer and closer to the moon until she does not return. Heartbroken, Bill returns to the coyotes where he howls at the moon every night for Slue Foot Sue.
Order Now from CD Wow