Cricut, the creative technology company that has brought precision smart cutting machines to millions of households worldwide, launched Cricut Joy™, the first ever compact smart cutting machine that allows an easier, more convenient way to personalise everyday items.
Cricut Joy is designed to motivated the creative pursuits of a growing consumer market, a community of people who want personalised, handmade items, but either currently purchase these items or make them infrequently. They are not fully committed to crafting as a hobby due to barriers like lace of time. Catering to that market and hobbyists, Cricut designed a simple and approachable smart cutting machine to encourage the mindset, "I can make it myself".
"Cricut Joy was designed as a simple and accessible solution for people to explore their creative talents," says Tom Crisp, Head of Design at Cricut. "At only 5-by-8 inches (15cm), the machine can be used almost anywhere in your home giving you the flexibility to make projects wherever you are – plus it looks just as good on the kitchen counter as it does on a bookshelf."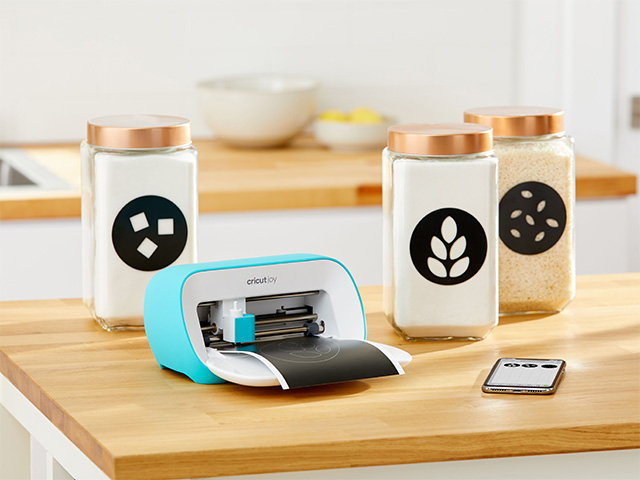 As the smallest smart cutting machine to hit the market, Cricut Joy takes the technology of Cricut's larger cutting machines and reengineers it to have comparable power in one-third of the space. This innovation is based on technology found in robotics, CNC machinery, or other automated devices. Cricut machines function like a printer but rather than depositing ink, the machine precisely cuts materials.
Cricut Joy is not only 75 percent lighter, but also introduces two new features not currently available in Cricut's product portfolio. With he introduction of an all-new line of accessories and continuous designs up to 20 feet (6 metres) with Smart Materials™ - imagine cutting 100 stars to decorate your child's room within minutes. Additionally, consumers can use the uniquely designed mat (patent-pending) to create customised greeting cards easier than ever before.
Along with the ability to cut, the machine can also draw and write on a variety of popular materials such as iron-on, vinyl, and Cricut's revolutionary Infusible Ink™ system to custom projects. Personalise everyday items like apparel, home décor, technology items and gifts. Or make custom stickers, decals, labels and more in as little as 15 minutes. Other key technological and design elements include:
Compact 5" x 8" (15cm) and less than 1.8kgs size that sets up instantly and packs away easily
Accurate precision and speed of Cricut's full-size smart cutting machines at 75 percent less weight and one-third of the size
Buttonless design with Bluetooth wireless connectivity for designing and cutting
Free downloadable design app Design Space available on PC, Mac, iOS, and Android
Cuts over 50 different types of materials
Access to nearly 130,000 images and ready-to-make projects in Design Space
Load and go sensor technology that facilitates automated loading of materials and detection of material length (a feature previously not available on any machines in the market)
Sing combined housing unity to hold blade or pen tools
Off-axis motor design that reduces the carriage size by 73 percent
Cricut Joy comes with:
Cricut Joy machine
Power adapter and cord
Cutting blade with housing
StandardGrip Mat, 11cm x 16cm
50 ready-to-make projects accessible online
Materials for a practice cut
Cricut Joy is available at TVSN, Spotlight and Craft Online.
RRP: $329
Review: What a clever machine the Cricut Joy is. As a first time user I wasn't really sure how I could use this, but I'm quickly learning how many useful things that can be made with Cricut Joy. So what can we make? Greeting cards, cake labels for bake sales and parties, signage for parties, graduation and work, or decals to decorate your room. Why not organise your pantry with creative labels for your jars or decals for your sports bottles. This clever machine can even create custom iron on labels, great idea for kids clothing, camps.
Easy to use for novice to experienced crafters, very handy business tool for startups and small business, you can even make shopfront decals to promote your sales and special offers. It's portable, lightweight, with a wide range of templates available through the cricut joy app. Check out our unboxing and my bottle label. There is more than 1 use for the Cricut Joy, not only will it bring out your creative side, it's a handy business tool for your on the go needs, check out the customised signage we made for Female.com.au.


If you would like to how to use this fabulous machine, here is a really helpful video https://www.youtube.com/watch?v=BaWSaWij5yA
Cricut Joy | RRP $349 | Available at Spotlight, Harvey Norman, Big W, and other leading retailers

Cricut Joy™ makes it more convenient than ever to personalise your life. This compact smart cutting and writing machine creates customised labels, vinyl decals, iron-on transfers, birthday banners, and more. Start with a suggested project or create your own from scratch, Cricut Joy handles the rest. Small enough to take anywhere, and powerful enough to cut repeated shapes up to 6 meters long, Cricut Joy makes it possible to make something unique for you – or anyone – at a moment's notice.