Starring: Geena Davis, Donald Sutherland, Harry J. Lennix, Kyle Secor
Directors: Rod Lurie, Vince Misiano, Jesse Bochco, Dan Lerner, Bobby Roth, Rick Wallace, Daniel Attias
Producer: Joel Fields, Rod Lurie
Genre: TV Series
Rated: M15+
Running Time: Season 1

MacKenzie Allen becomes the first woman American president after she ascends to the job following the death of president Teddy Bridges.

Geena Davis lights up the screen as President Mackenzie Allen, earning a Golden Globe® Award for Best Performance By An Actress In A Television Series - Drama, in the show's inaugural season. Experience all the captivating drama as an acclaimed cast, including Emmy® Award winner Donald Sutherland, joins Davis for every thrilling episode of Season One. When the President dies in office, his independent Vice President ventures into territory no woman has ever entered before.

Now the nation's first female Commander in Chief must balance the pressures of running the country and the responsibility of raising a family - while facing a sustained torrent of underhanded attacks from the Speaker of the House (Sutherland). It's an exhilarating blend of suspense and drama that gives a unique look at the inner workings of the White House. Experience all 18 tension-charged episodes of this acclaimed series in Season One, plus never-before-seen special features including deleted scenes, interviews, audio commentaries and so much more.

Special Features
"Pilot" Episode Commentary With Show Creator Rod Lurie
"The Elephant In The Room" Episode Commentary With Writer/Producer Dee Johnson
A Conversation With Madam President
20 Deleted Scenes
White House Humor: Bloopers And Outtakes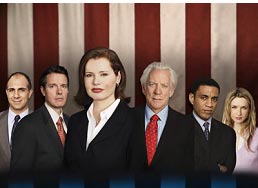 Prepare yourself as the United States of America is set to have its first female President - and its not Hilary Clinton!

Watch all the compelling drama unfold as the hit-television series COMMANDER IN CHIEF is released to DVD for the first time in a special Inaugural Edition box set.

It all begins when the US President dies suddenly and Mackenzie Allen (GEENA DAVIS - 2006 Golden Globeâ Winner for Best Performance by an Actress in a Television Series) is thrown into unknown territory and becomes the first ever female Commander in Chief.

Allen has the pressure of the nation in her hands. Her life becomes a balancing act as she tries to overcome her toughest critics and lead the country into a brighter future, all while attempting to maintain some form of normality in her family life.

As Speaker of the House and Allens archrival, Emmyâ Award Winning Donald Sutherland (CITIZEN X) joins the all-star line up in COMMANDER IN CHIEF, which includes Harry Lennix, Ever Carradine and Kyle Secor.

Loaded with never-before-seen bonus features, including A Conversation with Madam President, Deleted Scenes, Bloopers and much more, COMMANDER IN CHIEF is a must-see television series that will not only inspire you but have you on the edge of your set for hours on end.

Review: What a powerful series that embodies the strength of a woman with the courage to stand up and be counted and do the right thing for her country. Inspirational!